NC Unemployment Skyrockets. Millions Could Lose Health Coverage or Face Higher Premiums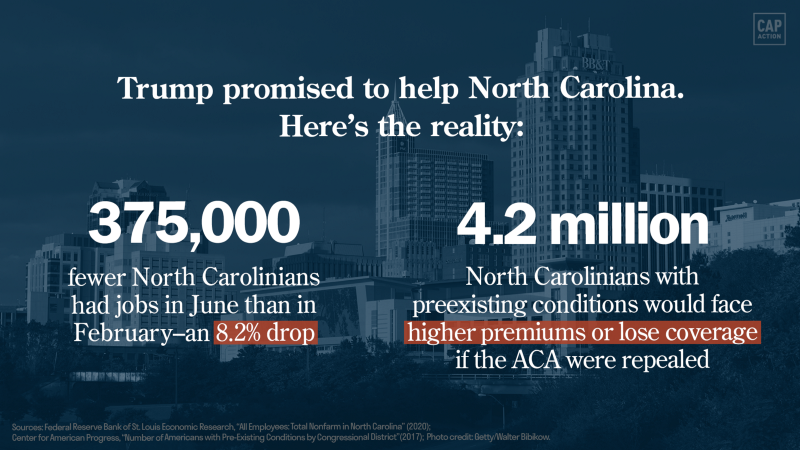 Today, President Donald Trump traveled to Morrisville, North Carolina, to tour the facilities of the FUJIFILM Diosynth Biotechnologies' Innovation Center, which is involved in developing components of a potential COVID-19 vaccine for the biotech company, Novavax. Novavax was granted $1.6 billion under President Trump's Operation Warp Speed for mass production of a vaccine.
In North Carolina, President Trump's political support has withered in recent months to the alarm his allies. President Trump's visit to the state comes as the U.S coronavirus daily death toll spikes and as nearly half of North Carolinians say that the impacts of the coronavirus are worsening in the state. As a result of the Trump administration's failed response to the coronavirus crisis, the unemployment rate in North Carolina exploded from 3.2 percent in February to 12.8 percent in May. As of this month, nearly 1,200,000 North Carolinians, representing 22.5 percent of the state's February labor force, have filed for unemployment benefits since the beginning of March.
In total, 375,000 fewer North Carolinians were employed in June compared with February — an 8.2 percent decline. Meanwhile, a new report shows that if the administration-backed lawsuit to repeal the Affordable Care Act (ACA) succeeds, 4.2 million North Carolinians with preexisting conditions will face higher premiums or lose coverage altogether.
In previous visits to North Carolina, President Trump made sweeping promises to working families on kitchen-table issues such as health care and the economy, but in reality, his administration has led the country and North Carolinians into a deep recession.
Learn more about how the Trump administration's policies and broken promises have hurt North Carolina families below.
Health care
Promise: "[W]e can repeal and replace Obamacare and save health care for every family in North Carolina." — Donald Trump in Raleigh, North Carolina, November 7, 2016
Reality: The Trump administration has doubled down on its commitment to taking health care away from millions of Americans while offering no viable replacement plan. Below are several ways North Carolinians would be harmed if the administration fully repeals the ACA:
Profits and wages
Promise: "I will be the greatest jobs President that God ever created…our poorer citizens will get new jobs and higher pay and new hope for their life." — Donald Trump, October 5, 2016
Reality: President Trump promised voters that he would prioritize the interests of the middle class. Instead, his administration is rewriting the rules to reward corporate interests and making it harder for working Americans to get ahead:
The Trump-appointed director of the Consumer Financial Protection Bureau proposed rolling back restrictions on predatory payday lenders that require them to ensure borrowers can repay loans.
The Trump administration abandoned a rule designed to ensure that middle-class workers are properly compensated for working overtime, lowering the Obama-era income threshold so that fewer workers are covered. Under Trump's proposed threshold, 278,000 North Carolinians would lose overtime protections, costing them a projected $38 million in lost wages each year.
Trump's Department of Labor weakened rules that required financial advisers to act in the best interests of their clients. Now, sophisticated investment advisers can effectively exploit consumers by offering conflicted financial advice, costing North Carolina retirement savers an estimated $427 million per year.
Taxes
Promise: "This is going to cost me a fortune, this [Tax Cuts and Jobs Act] — believe me. Believe me, this is not good for me." — President Donald Trump, November 29, 2017
Reality: The Tax Cuts and Jobs Act gave significantly larger tax cuts to the wealthy than to low- and middle-income workers.
In fact, 960,000 North Carolina households either received no tax cut or experienced a tax increase after the law's passage. In contrast, three North Carolina corporations — Duke Energy, Honeywell, and SPX — and 50 other Fortune 500 companies paid zero federal income taxes in 2018.
Instead of spending this windfall to improve workers' wages or on capital investment — as the tax bill's supporters claimed the company would — Honeywell spent billions on stock buybacks to enrich its executives and shareholders. And the company was not alone: Annual U.S. stock buybacks hit a record high in 2018 following the TCJA's corporate tax breaks. The tax bill's provisions for workers and families expire over time, while its benefits for corporations were made permanent.
The positions of American Progress, and our policy experts, are independent, and the findings and conclusions presented are those of American Progress alone. A full list of supporters is available here. American Progress would like to acknowledge the many generous supporters who make our work possible.