'There should be no Mueller report.'
It's another day in Trump's America—and another day to stand up for what's right. Get the facts to fight back.
Center for American Progress and CAP Action CEO Neera Tanden on the tragedy in New Zealand:
"On behalf of the Center for American Progress, I want to convey our shock and sadness at the horrific killing of Muslims at their places of worship in Christchurch, New Zealand. This abhorrent act of terrorism shows that violent, right-wing extremism is a serious and growing threat—both around the world and at home…It is time for our nation's leaders to recognize that hateful rhetoric—including the president's own words—can lead to the promotion of conspiracy theories, the demonization of immigrants and minorities, and, ultimately, to violence."
Read her full statement here.
TRUMP: "THERE SHOULD BE NO MUELLER REPORT."
In his most obvious attempt to interfere with the special counsel investigation to date, Trump tweeted this morning that "there should be no Mueller report."
In the wake of a horrific tragedy in an allied country—and at a moment when the world's leaders are expressing support and profound sadness—Trump chose to tweet a self-serving rant about the unfairness of the Mueller probe. After just one tweet acknowledging the tragedy in New Zealand, Trump launched into a partisan tirade riddled with hatred and lies.
Let's think. Why would Trump, the man whose campaign and inner circle are under investigation, want to prevent the investigation's findings from going public?
Just this week, the country learned that Trump's corrupt former campaign chairman, Paul Manafort, will spend 7.5 years in prison.
The Manafort sentencing has serious implications for the Trump-Russia investigation. Watch the Moscow Project's Max Bergmann explain: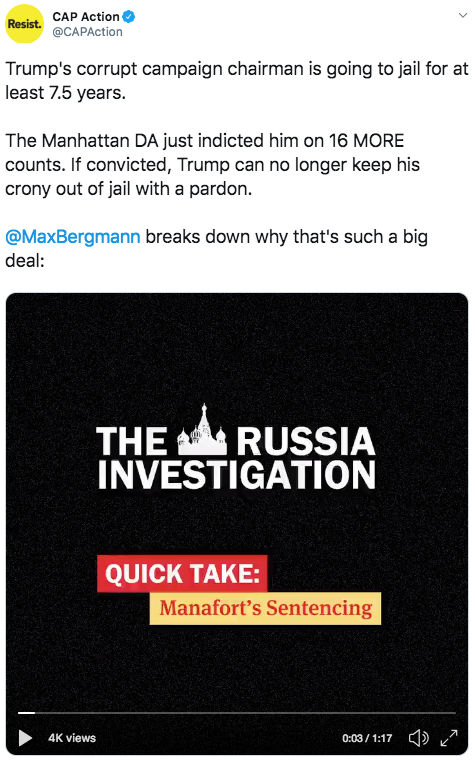 OFF-KILTER: THE BILLIONAIRE BOONDOGGLE
The Off-Kilter team talks with Pat Garofalo, author of The Billionaire Boondoggle: How Our Politicians Let Corporations and Bigwigs Steal Our Money. But first—Indivisible's Chad Bolt and CAP Action's vice president of communications Jesse Lee swing by the studio to recap Trump's latest budget.
Listen to this week's episode here.
The positions of American Progress, and our policy experts, are independent, and the findings and conclusions presented are those of American Progress alone. A full list of supporters is available here. American Progress would like to acknowledge the many generous supporters who make our work possible.