No showers, inadequate food, sexual assault
It's another day in Trump's America—and another day to stand up for what's right. Get the facts to fight back.
Trump's administration knew about the abuse for months—and did nothing
New reporting reveals that abuse of migrant children in U.S. detention facilities is even more widespread than previously thought—and the Trump administration has known about it and done nothing for months.
Speaking to caseworkers, children described being denied access to showers, blankets, and pillows, and also said they received inadequate food and water. If they complained, they were often punished, in one case by having their sleeping mats taken away from them.
One 14-year-old girl reported that she was sexually assaulted by a Homeland Security Officer: "Minor reports officer asked her to lift her shirt up to bra line and put his hands inside her bra and touched her breast…He groped her body, her breast and private parts as well."
Share this article on Facebook and Twitter to spread the word: These are children. They are cold, scared, hungry, and alone—and our government is doing this to them.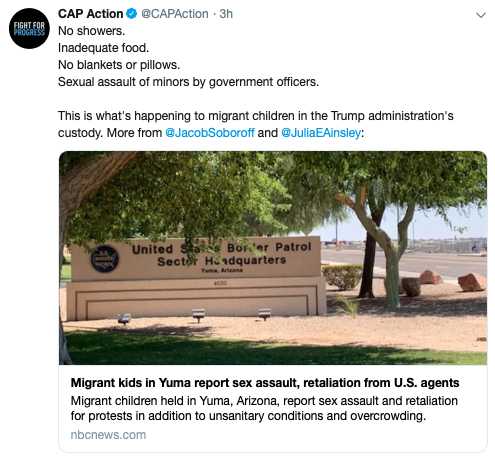 Enough is enough. Call your member of Congress today and tell them to #CloseTheCamps: 202-224-3121
Secretary Acosta must resign or be fired immediately
The more details that come out about Secretary of Labor Alex Acosta's role in helping alleged sexual predator Jeffrey Epstein escape a potentially lengthy federal prison sentence for his crimes, the clearer it becomes that Acosta has no business overseeing ANY department that protects vulnerable people from the misuse and abuse of power.
Earlier this week, billionaire Jeffrey Epstein was arrested and pleaded not guilty to charges of sex trafficking of minors, the latest in his disturbing history of alleged sexual crimes. In 2008, Epstein received a significantly reduced sentence for pleading guilty to prostitution charges thanks to a deal Acosta made as the U.S. Attorney in Miami. Under the terms of that deal, Epstein was sentenced to 18 months in a local Florida jail with the ability to leave for work six days a week. He served just 13 months. The deal enabled Epstein to avoid prosecution on serious allegations involving sexual abuse of underage young women.
Instead of condemning Epstein, and Acosta's role in his incredibly light sentencing years ago, or expressing sympathy for the survivors (who were kept in the dark about the deal at the time) Trump says he feels "very badly'" for his labor secretary.
As outrage and calls for Acosta's resignation have built, Trump had a choice, as former George Bush speechwriter David Frum put it: "The Trump people had 12 hours to decide whether they wanted to escape the Epstein scandal or own it. They chose to own it. Why?"
Maybe Trump isn't condemning Acosta's actions because of his own sordid history with Epstein. This includes a 1992 event at Mar-a-Lago where two dozen women reportedly were flown in to provide "entertainment" for Trump and Epstein, the only male attendees. Consider how Trump described Epstein in 2002: "I've known Jeff for 15 years. Terrific guy…He's a lot of fun to be with. It is even said that he likes beautiful women as much as I do, and many of them are on the younger side."
The positions of American Progress, and our policy experts, are independent, and the findings and conclusions presented are those of American Progress alone. A full list of supporters is available here. American Progress would like to acknowledge the many generous supporters who make our work possible.