No toothbrushes, soap, or sleep
It's another day in Trump's America—and another day to stand up for what's right. Get the facts to fight back.
Children are being held in "filthy, overcrowded, and increasingly dangerous conditions"
The Trump administration's treatment of migrant children in its custody is nothing short of child abuse.
Attorneys who work with migrant children visited two Border Patrol detention camps, where they found hundreds of children being held in "filthy, overcrowded, and increasingly dangerous conditions." Forced to sleep on mats on a concrete floor, denied soap and toothbrushes, and forced to care for one another, these children are being wildly mistreated in U.S. custody.
Congressional Democrats have proposed policy solutions to address this crisis, which Trump has dismissed outright. Republicans in Congress simply let Trump's cruelty continue.
Share this article on Facebook and Twitter to make sure everyone knows how migrant children are suffering at Trump's direction: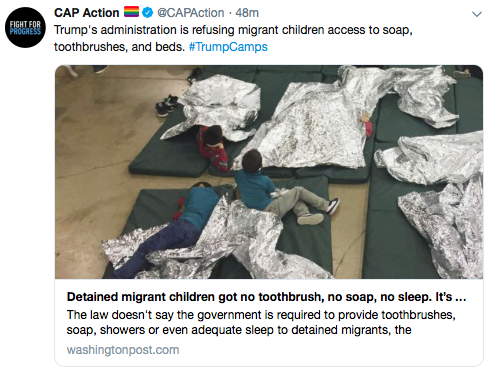 Trump is using these children like pawns

Immigrant families and migrant children are nothing more than political pawns to Trump. He's ripping families apart and detaining children for the sole purpose of inflaming his base. Just days after he launched his re-election campaign, Trump threatened raids designed to deport (and, in some cases, separate) immigrant families. He's showing no remorse for the chaos and pain caused by his family separation policy, or the hundreds of children suffering in U.S. custody, and instead is using families as pawns in his anti-immigration agenda.
As the New York Times Editorial Board wrote today, "There's no excuse for mistreating children at the border." Read their piece to learn about what you can do to help end the abuse of these children.