If it's not your body, it's not your business
It's another day in Trump's America—and another day to stand up for what's right. Get the facts to fight back.
Abortion is health care

A group of nearly all white, male Alabama Republicans passed the most restrictive abortion ban in the country last night. The law would ban abortion at every stage of pregnancy—with no exceptions for rape or incest—and would criminalize the procedure for doctors, who could face up to 99 years in prison.
They know their law is unconstitutional, but they are betting that Brett Kavanaugh and Senator Susan Collins are liars, and that if they barrage the Supreme Court with cases to gut Roe v. Wade, eventually they'll get the five votes they need to overturn it.
Amid heinous lies from Trump and Vice President Pence about Democratic support for infanticide, Republican-controlled states are passing what amount to total abortion bans and trigger laws that would ban abortion the moment the Supreme Court allows it. These pieces of legislation have clear goals: to gut Roe v. Wade, attack women's rights, and endanger our health.
As the Alabama abortion ban bill goes to the governor's desk, share this news on Facebook and Twitter to make it crystal clear: Abortion bans are an unconstitutional attack against women. They threaten our health and impede our rights, and we we won't stand for it.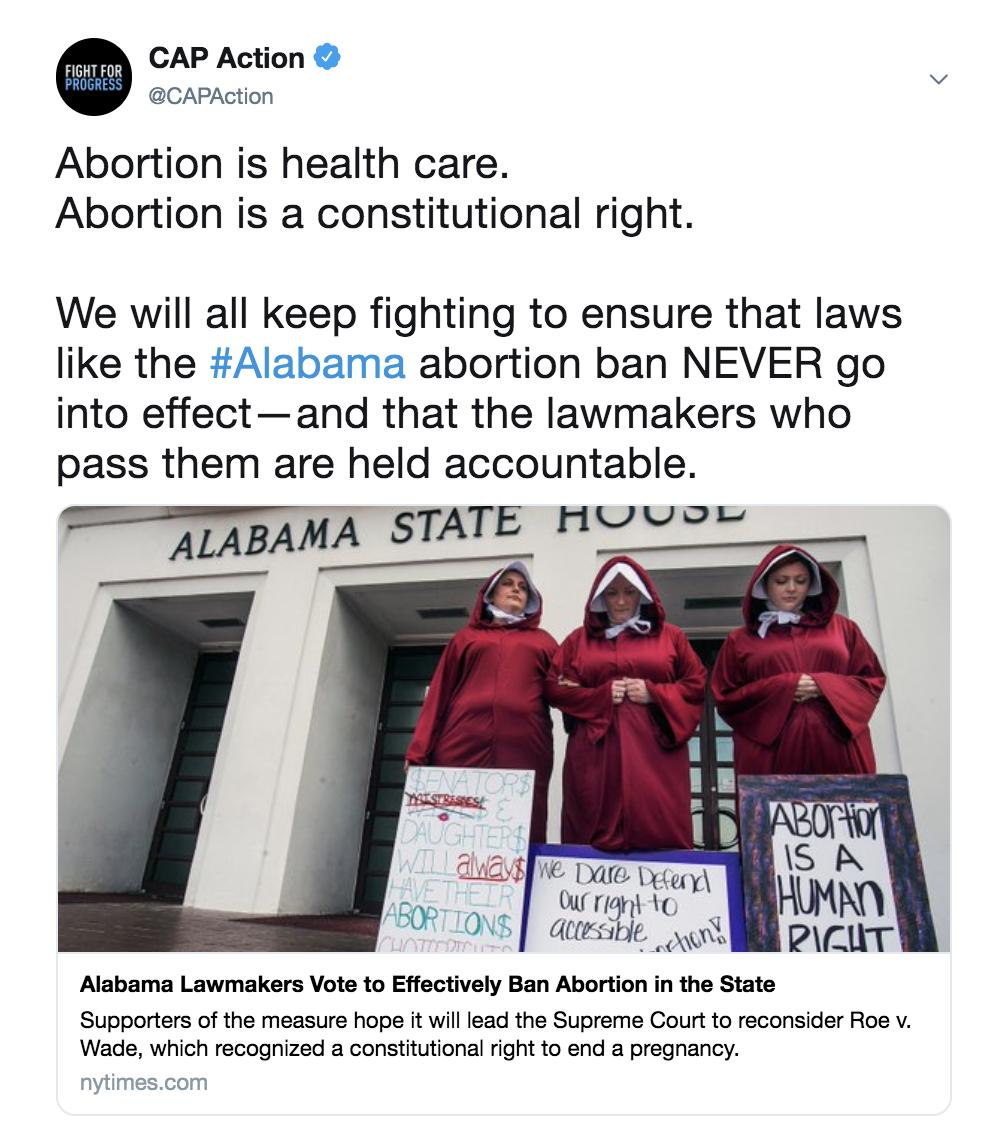 Since 2016, Trump has been paving the way for overturning Roe v. Wade—and anti-choice Republicans in federal and state government are doing everything in their power to help him:
DISCRIMINATION: The Trump administration finalized rules allowing health care providers to use their religious beliefs as justification to refuse care, allowing providers to refuse to perform abortions or provide contraceptives.
FUNDING: Trump is pushing a domestic gag rule, which will bar Title X-funded family planning providers like Planned Parenthood from offering any abortion-related care with private, non-federal funds and endanger the health of millions of low-income Americans.
COURTS: One of the few promises Trump has kept? Packing the courts with anti-choice judges, from the lower courts all the way up to the Supreme Court. Deadly anti-choice laws are popping up around the country because Trump has packed the courts with anti-choice judges who will uphold these attacks over the rule of law.

Important reminder: Access to safe, legal abortion is still available in all 50 states. Bans do not go into effect immediately, and it's a key part of the conservative disinformation campaign to convince women otherwise.
The strong majority of Americans (73%) support access to safe, legal abortion and don't want to see Roe overturned. If you want to fight back against these dangerous attacks, please consider getting involved with one of the following organizations:
The positions of American Progress, and our policy experts, are independent, and the findings and conclusions presented are those of American Progress alone. A full list of supporters is available here. American Progress would like to acknowledge the many generous supporters who make our work possible.