On Chen Affair, Stop Blaming Americans
The focus should remain on how to solve this problem in Beijing, not on crass political-point scoring at home, write Nina Hachigian and Jacob Stokes.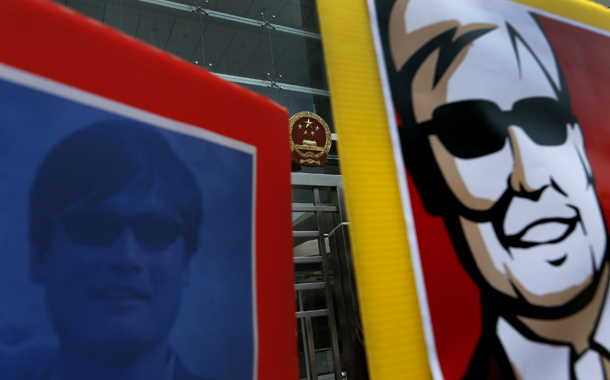 Chen Guangcheng's fate is still unclear. The blind lawyer for China's poor is still in a hospital in Beijing. Yesterday he called into a congressional hearing to express his desire come to the United States, and today Secretary of State Hillary Clinton announced that he has received a scholarship to study in the United States. At this tense moment, former Massachusetts Gov. Mitt Romney, the all-but-certain presidential nominee of the Republican Party, weighed in with an inappropriate critique of American diplomats.
China is the bad actor here—not, as Romney implies, U.S. representatives. The focus should remain on how to solve this problem in Beijing, not on crass political point-scoring at home, which in fact helps those in China who would like nothing better than to lock Chen up.
When Chen left the U.S. embassy, he did so to reunite with his family and of his own volition, according to him and to U.S. Ambassador Gary Locke. The plan, worked out by U.S. diplomats under serious constraints, was for Chen to stay in China, be relocated away from abusive local officials in his home province of Shandong, and continue the work he has devoted his life to.
That is what Chen wanted at the time, and it was not crazy to think it might work. Ai Wei Wei, the famous artist, has managed to steer a similar "middle path" where he lives in China and abides by certain constraints, but also tests them and evades them constantly. Jerome Cohen, a highly respected independent American lawyer who has worked for decades to help Chinese dissidents, advised Chen on the phone about his options.
By his own accounting, Chen had a change of heart when he reached the hospital and was reunited with his family, including the son Chen had not seen for two years. He has deep fears for the safety of his relatives, including his mother back home. Because of those fears, Chen has said he would like to come to the United States, if only temporarily.
This is a highly sensitive situation. Our best and brightest diplomats have had to reach deep for the creativity and energy needed to forge a resolution that will ensure Chen and his family's safety. It looks as though they have.
This is not a time for partisanship. Turning Chen's fate into a political issue here at home only distracts from the task of holding Chinese officials responsible for their actions and finding a workable solution. Additionally, the more Chen's fate becomes about Sino-American relations, the more emboldened hardliners will become in order to avoid the appearance of kowtowing to American demands. Already, Chinese newspapers are suggesting that Chen is a tool of the United States. They are also snickering at the criticism of the Obama administration, saying they harmed themselves by harboring Chen.
Romney has chosen this moment to insert himself into this extremely delicate time in U.S. foreign policy. While the U.S. secretaries of state, treasury, and commerce were on foreign soil, negotiating with the Chinese, Romney was questioning the honesty of America's representatives in China and their sincerity in wanting to help Chen. Romney called the affair a "day of shame for the Obama administration" if early reports proved true. Yet he offered not a word of condemnation for Chinese leaders for failing to keep their promises.
What is shameful is criticizing the U.S. government in the middle of a dispute with China—and doing so even before the facts are clear. Just after Romney made his remarks, which suggested that U.S. officials rushed to cut a deal before the beginning of high-level U.S.-China talks, Chen made clear in a statement that he "never directly or indirectly said the US embassy coerced him to leave or forced him to do so of his own volition." The statement went on to say Chen is "extremely grateful to Secretary of State Clinton, Ambassador Locke and all those who did so much for him, and never indirectly or directly blamed them." Ambassador Locke "unequivocally" confirmed that Chen left at his own discretion.
Romney also implied that U.S. diplomats in Beijing and the Obama administration are not proud that dissidents come to American embassies in search of freedom. "Aren't we proud of the fact that people seeking freedom come to our embassy to find it?" Romney asked.
That comment is surely a tough pill to swallow for the public servants who have devoted their entire careers to furthering American interests and values—and whose boss Romney wants to become. Anyone who has worked with American diplomatic personnel knows nothing could be further from the truth. In fact, the embassy staff went to, in Ambassador Locke's words, "extraordinary—almost mission impossible—steps to bring him [Chen] into the embassy, at great risk to our own personnel." Indeed, unnamed U.S. officials from the embassy had to shake a Chinese security team following them to reach Chen and whisk him into the embassy compound.
Harsh words for American efforts but not a word calling out the real culprits is not how U.S. foreign policy should be scrutinized during a presidential campaign.
This is all from a man who, as far as we know, still invests through Bain Capital, the private equity where he was formerly an executive, in a company that produces surveillance equipment that makes it possible for the Chinese state to track what people like Chen are doing.
The good news is that there is a chance for a solution that will bring Chen and his family to the United States. Dedicated U.S. embassy staff and diplomats are giving up sleep and time with their own families in order to make this happen. Statements like Romney's won't help. If Chen's case is used to score political points, China's police state wins. Let's keep the blame where it belongs—on the brutal system in China. Not on the hardworking American men and women trying to help Chen.
Nina Hachigian is a Senior Fellow at the Center for American Progress Action Fund. Jacob Stokes is a policy analyst at the National Security Network.
The positions of American Progress, and our policy experts, are independent, and the findings and conclusions presented are those of American Progress alone. A full list of supporters is available here. American Progress would like to acknowledge the many generous supporters who make our work possible.
Authors Nina Hachigian
Senior Fellow