The opposite of Trump's America
It's another day in Trump's America—and another day to stand up for what's right. Get the facts to fight back.
Imagine a president focused on protecting our health care
It was health care—not "fake news" or "witch hunts" or racist insults—that dominated last night's debate.
In the face of Trump and the GOP's relentless attacks on quality, affordable coverage, it's no surprise that health care is voters' number one priority. The candidates honored that with a robust debate over how we improve and protect American health care and move toward universal coverage.
Share this graphic to spread the word: Our national debate should be about a progressive vision for America—not racism and lies.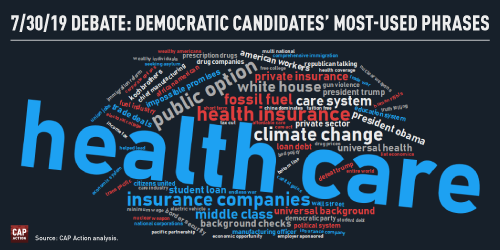 On stage last night, Democratic candidates shared their visions for tackling other key issues, too: