Praising dictators and attacking Americans overseas
It's another day in Trump's America—and another day to stand up for what's right. Get the facts to fight back.
Trump not "personally bothered" by North Korea's threats
During his trip to Japan this weekend, Trump spent his time attacking his political opponents on Twitter and ignoring the concerns of his allies about recent North Korean missile launches rather than focusing on the important U.S.-Japan relationship.
In direct opposition to his own national security adviser and contrary to the views of his host, Japanese Prime Minister Shinzo Abe, Trump said he's not "personally bothered" by North Korean missile launches. He then agreed with Kim Jong Un's assessment that former Vice President Joe Biden (one of Trump's potential 2020 opponents) is a "low IQ individual." Why is Trump spending time on foreign soil siding with a murderous North Korean dictator over our allies and his fellow Americans?
This is outrageous and unprecedented. Trump's penchant for praising hostile foreign dictators should alarm everyone—Democrats and Republicans alike.
Share this article on Facebook and Twitter to spread the word: Trump's reckless, divisive tweeting undermines our democracy on the world stage.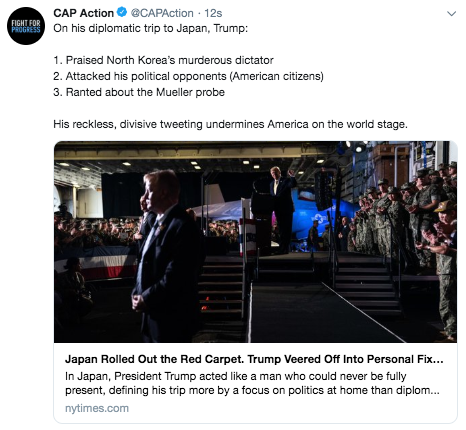 Trump's latest attack on climate science
The Trump administration has a new plan to attack climate science: block parts of the federal government from measuring and projecting the impacts of climate change. That's bad on multiple levels, especially since the federal government is where most of the science and research on climate change comes from.
Trump and his allies are radical climate deniers. The head of a sham White House climate change panel characterized all efforts to decrease carbon dioxide emissions as similar to "the demonization of the poor Jews under Hitler."
Trump has already attacked climate science left and right, rolling back a number of critical climate protections and scientific efforts. Just like the administration is manipulating the data to artificially lower the poverty rate (instead of combating poverty in the U.S.), it also plans to alter and limit the way it assesses climate change impacts.
Remember when Trump's administration scrubbed references to climate change from federal websites? This is just the latest progression in their attack on our health, safety, and planet.
This is all part of a government-wide culture of corruption, where Big Oil and fossil fuel industries are reaping the rewards of massive political contributions to Republicans in order to continue the destruction of our planet.
One more time for the folks at the back: No one is above the law
Despite what Trump's associates think, Trump and his team are not above the law. A few reminders:
They also cannot decide whether or not to comply with a congressional subpoena (cc: Hope Hicks).
Trump keeps trying to obstruct justice by undermining every investigation into his crimes. Over and over, we're seeing his efforts fail in the courts.
The positions of American Progress, and our policy experts, are independent, and the findings and conclusions presented are those of American Progress alone. A full list of supporters is available here. American Progress would like to acknowledge the many generous supporters who make our work possible.