To start your evening off with a bit of good news: long-embattled EPA Administrator Scott Pruitt just resigned!
…but he's being replaced by a coal lobbyist. Here's why you should be afraid of him, too.
FOURTH OF JULY IN MOSCOW.
Some Congressional Republicans are starting to sound awfully Trumpy on Russia—despite Russia's ongoing attack on our democracy, and just as the next opportunity for Russian election interference approaches in the midterms.
Alabama Senator Richard Shelby reportedly excused the criminal interference before a trip to Moscow, saying, "Most countries would meddle and play in our domestic elections if they could," adding, "We've done a lot of things too."
Then, in Moscow—while the rest of us were celebrating U.S. independence and democracy—Senator Shelby expressed his hope that the July 16th Trump-Putin summit will be the beginning of a "new day" in Russia-U.S. relations.
Really? "We've done a lot of things too" ? Why does that sound so familiar?
This comes on the heels of the Senate Intelligence Committee's confirmation that Russia not only interfered in the 2016 presidential election, but did so expressly to help Donald Trump.
It comes just ahead of Trump's ultimate reward for the nation who tried to help him get elected: a full summit, including a one-on-one meeting with Putin—no aides, no witnesses, no note-takers.
Trump wants a private meeting with the foreign adversary who is attacking our democracy, but still refuses to talk to the Special Counsel investigating that adversary. And now, instead of denouncing this behavior or conducting oversight, Republicans in Congress are going all in.
2 WAYS TO ENGAGE IN THE SUPREME COURT FIGHT.
President Trump is expected to announce his Supreme Court nominee in a primetime address on Monday, July 9th.
Here are the top 3 reasons to get involved in preventing a Trump SCOTUS:

1. They will overturn Roe v. Wade.
2. They will eliminate the last check on Trump's abuses of power.
3. They will remake the Supreme Court in Trump's image, including his bigotry, corruption, and rigging the system for wealthy special interests.
You can make a difference. Join Indivisible and CAP Action to find an event near you, and speak out to reject Trump's extremist Supreme Court nominee.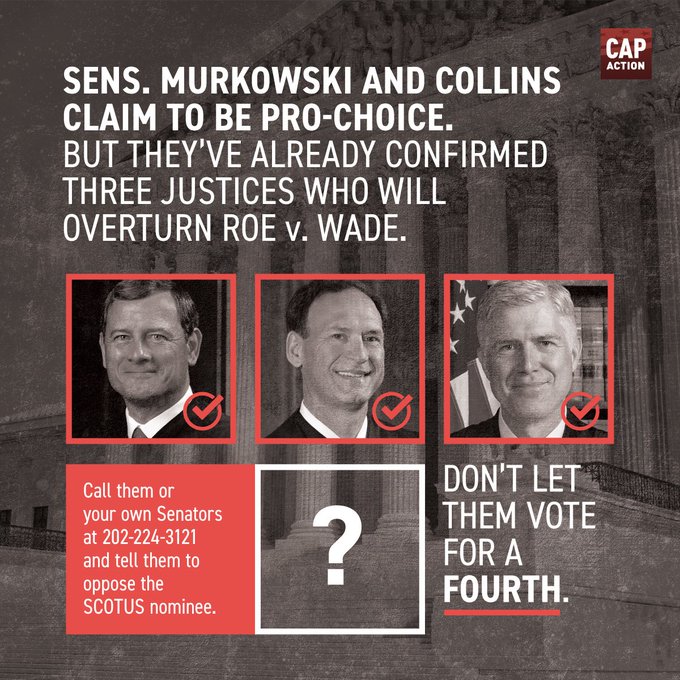 Also, please share this graphic on your social media platforms, and call your Senators today; demand they oppose the SCOTUS nominee.
OFF-KILTER: TWO KENNEDYS
This week on Off-Kilter: what Justice Anthony Kennedy's retirement means for… basically everything and Massachusetts Congressman Joe Kennedy III on Trump, Paul Ryan, the midterms, and "work requirements." Listen to the new episode here.