Reasons to Pass the Clean Energy Jobs Act—Part Two
The bill would reduce energy costs, protect consumers and industries, and spur innovation, write Daniel J. Weiss and Sean Pool.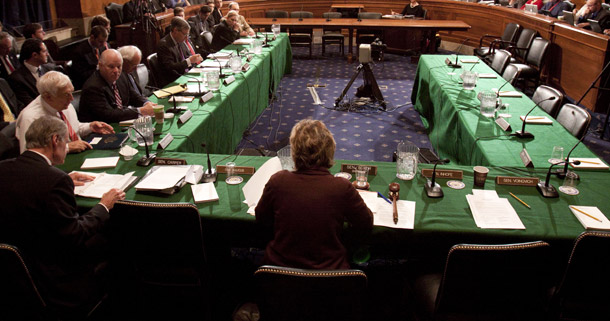 Today the Senate Environment and Public Works Committee passed the Clean Energy Jobs and American Power Act, S. 1733, by an 11-1 vote. Since this was the third day of a boycott by Republicans on the committee, the absence of minority members prevented senators from voting on any amendments to the bill due to committee rules. The Senate Finance and Agriculture Committees must now promptly debate and vote on the provisions of the bill under their jurisdiction.
Environment and Public Works Committee Republicans are ostensibly skipping the meetings because they want the Environmental Protection Agency to redo its analysis of S. 1733 with assumptions that produce a result more to their liking.
On the afternoon of the first day of committee deliberations on the bill, Environmental Protection Agency Director of Congressional Affairs David McIntosh appeared before the committee to reiterate that S. 1733 and the House-passed American Clean Energy and Security Act, H.R. 2454, were so similar that computer models would produce nearly the exact same result. He said "economic computer models are not designed to detect fine-grained details in this kind of legislation. So changes in the legislation at that level of detail will not even show up in the economic computer modeling."
If the committee made changes to the bill during its deliberations, it would significantly reduce the analysis's effectiveness. In other words, modeling S. 1733 would require at least $135,000 taxpayer dollars and five weeks to produce nearly the identical result for a bill that will change while the ink on the analysis is still drying. As Senator Sheldon Whitehouse (D-RI) noted today, "as soon as you amend it [Clean Energy Jobs Act], you change it again. What are they going to do, wait five weeks to analyze each amendment?"
The Republican committee members' quixotic boycott is not really about getting more in-depth analysis. As McIntosh told the committee, there was no EPA analysis at all before the Environment Committee debated and voted on the Warner-Lieberman Climate Security Act in December 2007. Yet the committee Republicans did not boycott those sessions. And there was no EPA, Congressional Budget Office, or Energy Information Administration analysis before the Senate Energy Committee passed the Energy Policy Act of 2005 on May 26, 2005. Then-Senator Pete Domenici (R-NM) was chairman at the time. Nor was there a CBO, EIA, or EPA analysis before the Senate Energy Committee passed the American Clean Energy Leadership Act, S. 1462, on July 16, 2009.
Instead of seeking analysis, this boycott is really designed to help defeat, weaken, or stall clean-energy legislation. Outside the Capitol this effort is lead by Big Oil and the Chamber of Commerce. Inside the Capitol, Environment Committee Republicans are seeking still more analysis as an excuse for delay. In fact, at least four of the committee's seven Republicans announced their opposition to the legislation before the bill was even introduced. They are boycotting the committee to get more analysis of a bill they already oppose.
McCain presidential campaign pollster Bill McInturff suggested that Republicans' opposition to greenhouse gas pollution reductions is partly due to politics. "There are two confluences. One is the actual policy and two is the perspective of, 'Are you helping President Obama?' Part of the pressure on these Republicans is to not be seen as the deciding vote to help a major Obama initiative."
These and other opponents of clean-energy and global warming pollution reduction legislation are ignoring the numerous benefits of action, and the huge economic burden of business as usual. As old New York Yankees Manager Casey Stengel used to say "You can see a lot by looking." In their faux search for more information about the Clean Energy Jobs Act, opponents of the bill aren't seeing its myriad benefits. Now that the Senate Environment Committee has passed the Clean Energy Jobs Act, perhaps other senators will take a look.
Earlier this week we outlined six benefits of the bill and explained why the bill should be passed by the committee. Here are nine more benefits as the legislation moves forward.
7. The Clean Energy Jobs Act is an "all of the above" bill
Many public officials have said they favor global warming solutions that include "all of the above" energy sources. In September Senator Richard Lugar (R-IN) endorsed the "'all-of-the-above' approach to energy policy," that includes "development of renewables, expanded oil and natural gas production, improved use of coal, a revival of nuclear power, and efficiency improvements."
The Clean Energy Jobs Act embraces this notion. Its meaningful, declining limit on carbon pollution would, in effect, establish a price on this pollution. The bill includes provisions to protect ratepayers from electricity price spikes, and it would generate revenues from polluters that could be used for clean-energy initiatives. The price would level the playing field between currently underpriced, cheaper electricity generated from dirty, old coal-fired power plants and newer, cleaner sources of electricity—regardless of whether these cleaner sources come from renewables, nuclear, natural gas, cleaner use of coal, or other technologies.
The Clean Energy Jobs Act also has other provisions that would spur investments in a number of clean-energy technologies. These include:
Incentives for wind, solar, and other renewable sources, and energy efficiency (Section 161 to Section 164).
Worker training and waste recycling programs for nuclear power (Section 131 to Section 133).
Ten years of incentives for coal-fired power plants to employ carbon capture-and-storage technology to reduce emissions (Sections 125 and 181).
Economic incentives for utilities that switch to cleaner natural gas (Sections 181, 182, 773).
A "Clean Vehicle Technology Fund" to help our auto manufacturers produce the low-emissions vehicles of the future (Section 201).
8. The Clean Energy Jobs Act will reduce electricity bills
The EPA's recent comprehensive analysis of S.1733 predicts that with or without the climate bill, "household consumption [of energy] will continue to grow" and that clean-energy legislation would only slow this growth by about one or two-tenths of a percent on average by 2030, with substantial net gains in the short run, and very modest costs spread out in the future.
Consumers are protected in the bill by the allocation of 30 percent of the revenues from the pollution reduction program to regulated local electric distribution companies, which are required to use the money to "protect consumers from electricity price increases" (Section 772).
Every large emitter of greenhouse gas pollution must have a permit for every ton of pollution. In the early years of the program some of the allowances are given to electric utilities for free, who must then return the value of these allowances to their ratepayers. Heating oil, propane, and regulated gas distribution companies will also receive some free allowances to protect their consumers against increases in heating costs.
Here are a few different predictions for what consumers might save under the efficiency and consumer protection provisions in S. 1733:
The EPA's analysis of the House version of the bill found that it would cause no increase in energy prices for the next 20 years, and that average household energy costs would actually decrease by 2 to 7 percent over the next 10 years due to increased energy efficiency.
Using figures from the EPA and EIA modeling, the Environmental Defense Fund found that impacts on household utility bills in 2030 would range from a $5.60 per-month savings to a $2.80 per-month increase.
The American Council for an Energy-Efficient Economy estimated that savings from short- and long-term efficiency measures in the House version of the bill could save American consumers even more—as much as $750 per household per year by 2020 and $3,900 per household by 2030. Since the Senate Environment Committee does not have jurisdiction over many efficiency programs, such provisions should be part of the energy bill that the entire Senate will debate.
9. The Clean Energy Jobs Act will train workers for the clean-energy jobs of the future
Growing new industries for clean technologies like advanced nuclear plants, renewables, and energy efficiency will require workers with the skills to design, build, and maintain this new infrastructure. The Clean Energy Jobs Act establishes two nationwide worker assistance and job training programs: one for energy efficiency and renewable energy, and another specific for nuclear industry worker training. These programs will help American workers transition from outdated, inefficient industries to new industries that produce or deploy the clean-energy technologies of the future, and they would help ensure that our economy can remain competitive in the race for clean energy markets.
10. The Clean Energy Jobs Act would protect the most vulnerable people
The bill distributes a significant portion of allowances from the pollution reduction program—15 percent initially, rising to 18.5 percent by 2029—to pay for direct rebates to low-income households. This would ensure that these households do not suffer from increases in energy prices or other goods due to global warming pollution clean-up costs.
The Congressional Budget Office's most recent analysis of the House-passed American Clean Energy and Security Act predicted that the combined effect of consumer protection measures in the bill would actually result in an average net income gain of about $125 per year per household for the least well off 20 percent of Americans.
11. The Clean Energy Jobs Act will drive competition and innovation
In addition to finally putting clean-energy technologies on even footing with dirty sources of energy, the bill actually creates incentives for innovation, knowledge sharing, and the transferring of clean-energy technologies from laboratories to assembly lines. It allocates up to 4 percent of allowances competitively to "energy innovation hubs," where companies, knowledge institutions, scientists, entrepreneurs, and government laboratories can collaborate to develop and commercialize new clean-energy technologies, manufacturing processes, and business models.
A recent study by CAP shows how the regional innovation clusters that this policy would help foster would "create jobs, create businesses and, of course, stimulate long-term economic growth."
12. The Clean Energy Jobs Act will give a much-needed boost to our manufacturing sector
Senators John Kerry (D-MA) and Barbara Boxer (D-CA) are very sensitive to the impact that pollution reduction efforts may have on energy-intensive, trade-sensitive industries. The Clean Energy Jobs Act therefore provides assistance to such industries, including steel, glass, paper, cement, and chemical companies. The bill would allocate 15 percent of allowance revenue in 2014 and 2015—and decline after until 2050—to help manufacturers retool and invest in more efficient process and equipment.
The bill would also help American auto plants retool to manufacture the super-efficient cars of the future by providing 4 percent of allowances for clean-vehicle technologies. Finally, allowances for the Department of Energy's Advanced Research Projects Agency-Energy program and "clean energy innovation hubs" will help U.S. manufacturers produce clean-energy and energy efficiency components more efficiently, cheaply, and quickly.
If other countries do not do their part to help avert dangerous global climate change, an additional border measure in the bill that is "consistent with international obligations" will protect against "carbon leakage"—or making pollution reductions in the United States only to see increases in other countries—and ensure that clean-energy manufacturing jobs stay in the United States.
13. The Clean Energy Jobs Act has public support
Many recent polls show that Americans continue to view climate change as a serious threat, and they support clean-energy legislation. Here are just a few examples:
14. Business leaders want clean-energy reform
Many American businesses leaders are advocating for comprehensive energy legislation that includes a declining limit on global warming pollution. They understand that a clean-energy economy will help their businesses grow, and they are putting their money where their mouth is.
In an open letter signed by 181 global financial institutions representing $13 trillion in capital (equivalent to nearly one-fifth of the globe's annual gross domestic product), entrepreneurs and investors implored world leaders to "reach a strong post-2012 climate change agreement" that sets "a global target for emission reductions of 50-85 percent by 2050." The Clean Energy Jobs Act sets a target of 83 percent reduction by 2050.
Major businesses such as Apple, PG&E, Exelon, and PNM Resources have quit the Chamber of Commerce over its staunch opposition to clean-energy legislation. Other major chamber members such as Nike, Duke Energy Corporation, and Cisco Systems have publicly supported reform and rejected the chamber's views. Meanwhile, Fortune 500 companies including BP, Caterpillar, Alcoa, General Motors, Siemens, Shell, and General Electric formed the United States Climate Action Partnership, calling for immediate action to reduce global warming pollution. The U.S. Climate Action Partnership plan forms the basis of the Clean Energy Jobs Act.
15. Inaction will harm the economy
Thousands of scientists, economists, and business understand that our unsustainable energy system threatens our economy, public health, and environment. A recent poll of 144 economists who have published about climate change in the top 25 economics journals found that 94 percent favor the United States joining an international climate agreement to limit greenhouse gas emissions, 92 percent wanted a cap-and-trade system to establish a price on carbon, and 84 percent agreed that global warming's effects "create significant risks" to the economy.
In addition to producing global warming pollution, the combustion of fossil fuels exacts huge public health and economic costs. A recent exhaustive analysis by the National Academy of Sciences found that an average of 54 Americans die every day due to breathing air made dirty from fossil fuel pollution. This hidden impact costs $120 billion per year.
On top of the health costs, a recent study by the Institute for Policy Integrity at the New York University School of Law found that failing to deal with climate change will cost our economy an average of $27 million to $375 million every day from now until 2050. These figures are based on an ongoing interagency effort by the EPA, the Department of Energy, and the Department of Transportation to accurately value the economic cost of carbon pollution, but the report warns that these estimate are "very likely to be underestimations."
A report authored by economists at Tufts and Cambridge Universities and released by the Natural Resources Defense Council estimates that the increased hurricanes, droughts, floods, infrastructure damage, and higher heating and cooling bills due to global warming will cost Americans an average of $1.3 billion per day by 2050—$506 billion annually, or 1.5 percent of GDP—if we do not reform our energy system and slash global warming pollution.
None of these numbers take into account the irreversible climate change-driven damage to our nation's natural heritage—our glaciers, rivers, wetlands, and arboreal and ocean ecosystems. The National Resources Defense Council suggests that putting a price tag on these difficult-to-value ecological impacts would cause the price tag for climate disasters to double.
Between the $120 billion of hidden annual health costs that are predicted to increase until 2050, the $350 billion per year sent abroad to buy foreign oil, and the $506 billion necessary to deal with weather, infrastructure, and increased energy demand, doing nothing to solve our energy problems today means dumping at least a $2.6 billion daily bill on the next generation by 2050 and beyond.
Daniel J. Weiss is a Senior Fellow and the Director of Climate Strategy and Sean Pool is Special Assistant for Energy Policy at American Progress.
For more on this topic see:
The positions of American Progress, and our policy experts, are independent, and the findings and conclusions presented are those of American Progress alone. A full list of supporters is available here. American Progress would like to acknowledge the many generous supporters who make our work possible.
Authors Daniel J. Weiss
Senior Fellow