Resist Betsy DeVos's Nomination for Education Secretary
Betsy DeVos's motto for school systems is defund, devalue, and privatize.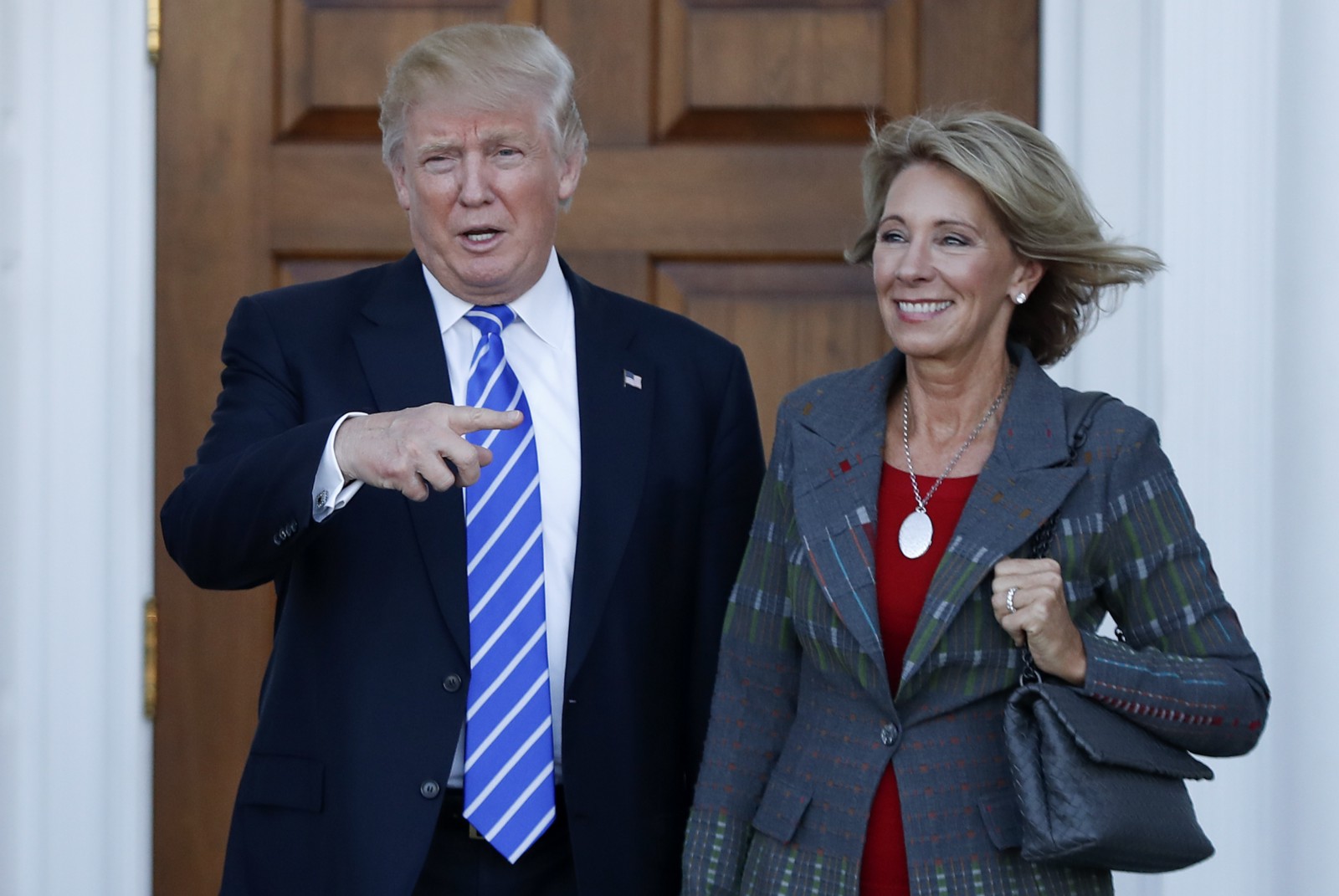 Swamp-O-Meter
Betsy DeVos, nominee for Secretary of Education, is a 4 out of 5 on the Swamp-O-Meter. She's been a leading voice in Michigan politics for decades, is a multi-billionaire, has familial ties with multiple international companies, and her family foundations have advanced gay conversion therapy and discrimination against transgender students. She would also become the first Secretary of Education that has not attended, taught, or sent her kids to public school. Swamp on swamp on swamp!
DeVos in 51 words
Betsy DeVos is a life-long advocate of channeling taxpayer dollars from public schools into vouchers that allow students to attend private and parochial schools. She supported publicly funded but privately run for-profit charter schools and worked to undermine teachers unions. Her main moto for school systems is defund, devalue, and privatize.
DeVos in 140 characters
DeVos would channel taxpayer dollars from public schools into vouchers and would use public dollars to run for-profit charter schools.
Betsy DeVos and a Pay-to-Play Nomination
Billionaire activist Betsy DeVos and her family have given a massive $4 million to the Republicans who will decide whether to confirm her as Trump's secretary of education.
5 Questions for Betsy DeVos
These questions need answers before Trump's nominee for education secretary is confirmed.
Does DeVos expect "things" in return for political contributions?
Will DeVos continue efforts to defund public schools?
Will DeVos focus on winning elections or improving education?
Will investing in failing for-profit schools be a priority?
Should DeVos pay her PAC's unpaid campaign finance fines?
DeVos funded initiatives in Michigan to expand flawed for-profit charter schools and private school vouchers
Betsy DeVos has long championed private school vouchers, which siphon taxpayer dollars away from public schools and usually only cover a fraction of normal private school tuition.
If that wasn't bad enough, recent research shows that vouchers do little to improve achievement and students receiving these vouchers perform worse on assessments than their peers in public schools. Private school vouchers are also a big part of Trump's education plan that he rolled out in September.
Michigan now sends $1 billion in public education funding to charter schools. 80 percent of those schools are run by for-profit organizations and most perform below the state average. Over the last 20 years, Michigan's rank has fallen on national reading and math tests.
Moreover:
In 2015, a federal review found that "an unreasonably high" percentage of Michigan charter schools were some of the lowest-performing schools in the state.
In 2016, a DeVos-backed group worked to defeat legislation that would have established standards for identifying and closing failing schools, both charter and public, in Detroit.
Will DeVos do for schools what she did for Flint water?
CAP Senior Fellow Ulrich Boser writes in Newsweek, "One of the biggest donors in the Republican Party, DeVos has spent decades promoting private interests over the public good, paving the way for everything from the Flint water crisis to a singular drop in reading scores in Michigan schools." Read the full column.
Resist Betsy DeVos in 10 tweets
Trump's plans for education are clearer now with DeVos pick for ed. secretary: defund, devalue, and privatize.
DeVos will channel taxpayer dollars from public schools into vouchers and use public dollars to run for-profit charter schools. #DumpDevos
The DeVos family is a longtime donor to conservative causes, including anti-LGBT organizations promoting conversion therapy.
The DeVos foundations sponsored annual conference advocating ex-gay reparative therapy. The same kind of therapy @MikePenceVP advocated for.
DeVos and her family have given more than $4 million to GOP. Is Trump's choice for education secretary buying her Senate confirmation?
Betsy DeVos & husband supported effort to amend MI constitution to ban same-sex marriage in 2004.
DeVos could become the very the first secretary of education who has not attended, taught, or sent her kids to a public school.
Betsy DeVos is literally worth more than 90,000 times what the average school teacher makes in a year yet still wants to cut their jobs.
DeVos owes thousands in property taxes on her vacation home, taxes which are a huge source of $ for public schools.
Betsy DeVos' husband wants to end all personal property taxes—the biggest source of school funding.
How you can #ResistDeVos
The secretary of education must be confirmed by a majority of the U.S. Senate Committee on Health, Education, Labor, and Pensions and a majority vote on the floor of the Senate.

Call, write, or tweet:
Lamar Alexander (R-TN) at 202.224.4944
Michael Enzi (R-WY) at 202.224.3424
Richard Burr (R-NC) at 202.224.3154
Johnny Isakson (R-GA) at 202.224.3643
Rand Paul (R-KY) at 202.224.4343
Susan Collins (R-ME) at 202.224.2523
Lisa Murkowski (R-AK) at 202.224.6665
Tim Scott (R-SC) at 202.224.6121
Orrin Hatch (R-UT) at 202.224.5251
Pat Roberts (R-KS) at 202.224.4774
Bill Cassidy (R-LA) at 202.224.5824
Todd Young (R-SC) at 202.224.5623
and demand that they examine and question DeVos' record against students before deciding how they will vote. You can also sign this petition demanding that senators who received contributions from DeVos recuse themselves from voting on her confirmation.
Key Resources: 
The positions of American Progress, and our policy experts, are independent, and the findings and conclusions presented are those of American Progress alone. A full list of supporters is available here. American Progress would like to acknowledge the many generous supporters who make our work possible.