Resist Elaine Chao's Nomination For Secretary of Transportation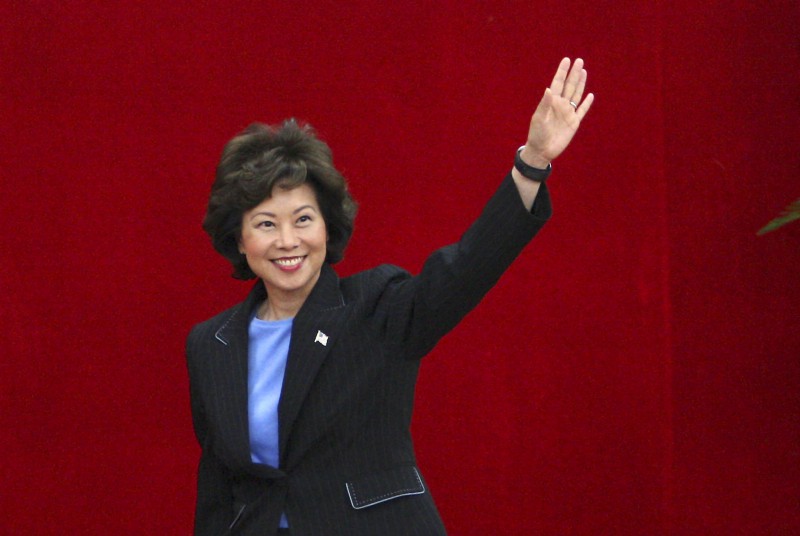 For the most up-to-date version of our Transition Tracker go here.
Elaine Chao, nominee for Secretary of Transportation, is a 3 out of 5 on the Swamp-O-Meter. She's embodied the establishment throughout her work in the federal government for nearly 10 years, is a multi-millionaire, kicked off her career by working for the banks and has been a member of the Wells Fargo Board of Directors since 2011.
5 Ways Elaine Chao's History Shows Trump Is Walking Back His Campaign Promises to Workers
During the campaign, Trump promised that "Under a Trump presidency, the American worker will finally have a president who will protect them and fight for them." However, his choice of Elaine Chao as Transportation Secretary — a former Wall Street big wig who failed workers and attacked unions during her time as Pres. George W. Bush's Secretary of Labor — shows that he's not going to keep his promises.
1. Elaine Chao is yet another anti-worker and anti-union nominee for the Trump Administration (TWEET THIS)
While Chao was Labor Secretary, the Bush Administration invoked the Taft-Hartley Act for the first time since 1971 to prevent a longshoremen union's protest — after Chao failed to negotiate a contract with the International Longshore and Warehouse Union. And, Chao is proud of her anti-union record. In fact, shortly after her term as Labor Secretary, she bragged about her crackdowns on unions in an essay for the Heritage Foundation.
2) Chao's Department of Labor failed to enforce minimum wage, overtime, and other labor laws. (TWEET THIS)
Chao's Labor Department underwent auditing by the Government Accountability Office, which found many cases of the agency failing to protect workers. For example, when an auditor posing as a dishwasher called the Department of Labor to report not being paid overtime for 19 weeks, the Chao's agency did not respond for four months and further delayed investigating the case.
3) As Secretary of Labor under President George W. Bush, Chao and her agency "left thousands of actual victims of wage theft… with nowhere to turn," according to the nonpartisan Government Accountability Office. (TWEET THIS)
The GAO report found that, under Chao, the Department of Labor's Wage and Hour division mishandled 90 percent of the cases that GAO auditors, posing as workers, reported to the agency. Chao's agency failed to investigate a complaint of under-age children working during school hours at a dangerous meat-packing plant. It also found that many complaints to Elaine Chao's DOL were never even recorded in the Wage & Hour database. The GAO concluded that the Wage and Hour Division of Chao's Department of Labor mishandled more serious labor cases 19 percent of the time.
4) Chao's nomination creates a conflict of interest since she is married to Senate Majority Leader Mitch McConnell, who says he will not recuse himself from her confirmation vote. (TWEET THIS)
The Senate has to confirm Chao's nomination for her to serve as Secretary of Transportation. The Senate is also conveniently led by Chao's husband, who isn't planning on sitting out her confirmation process. It remains unclear if, as Secretary, Chao would negotiate directly with her husband while trying to pass Trump's agenda through Congress.
5) Like many others in Trump's Administration, Chao has significant ties to big banks. (TWEET THIS)
Chao was the vice president of Bank of America and an international banker at Citicorp. Chao has been a member of the Wells Fargo Board of Directors since 2011.
The positions of American Progress, and our policy experts, are independent, and the findings and conclusions presented are those of American Progress alone. A full list of supporters is available here. American Progress would like to acknowledge the many generous supporters who make our work possible.