Resist Jeff Sessions's Nomination for Attorney General
Why Jeff Sessions is too racist to be Attorney General.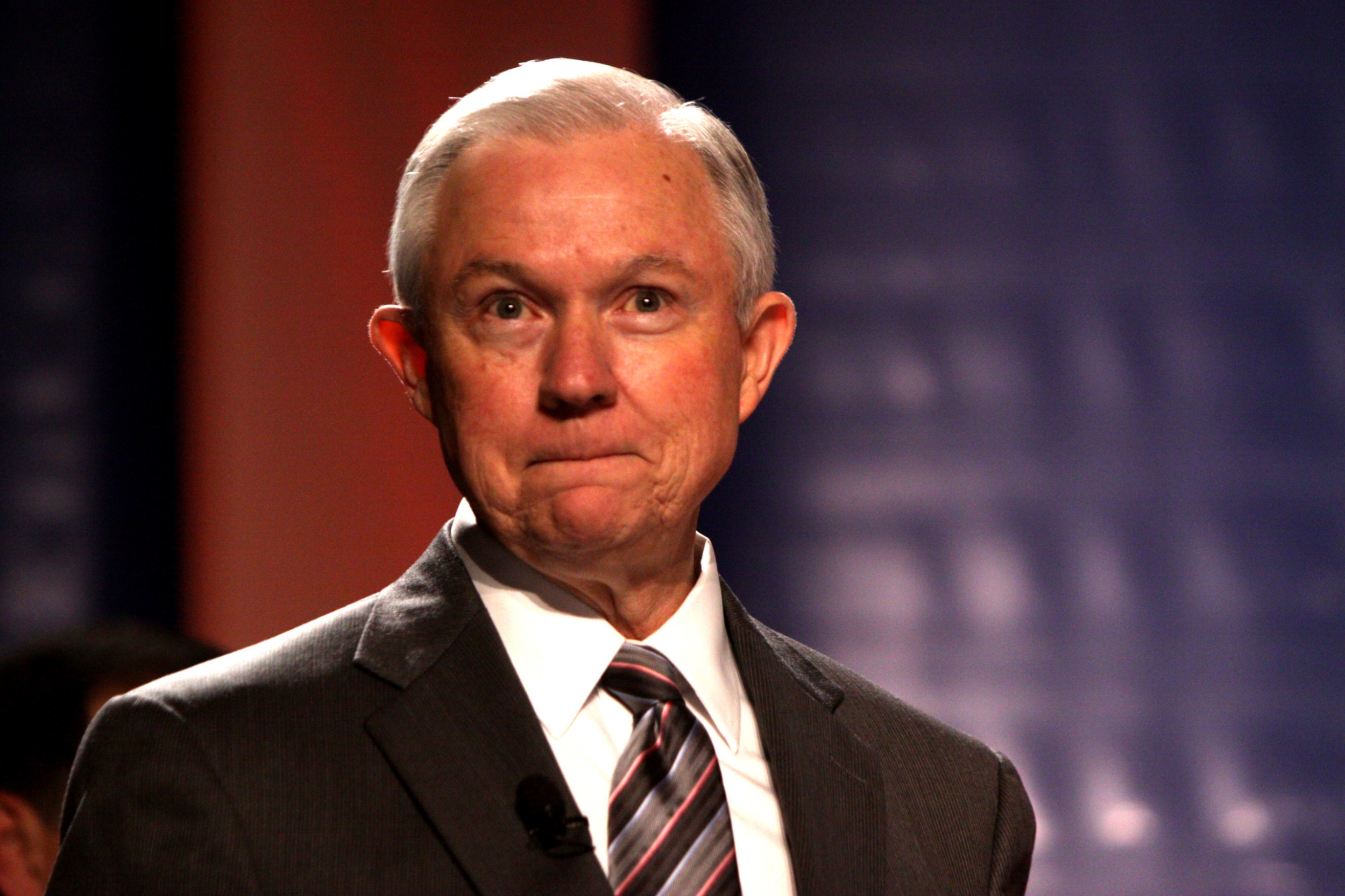 Swamp-O-Meter
Jeff Sessions, nominee for Attorney General, is a 4 out of 5 on the Swamp-O-Meter. He has been an establishment politician for more than 20 years, is a multi-millionaire, and has a decades-long track record of racism, causing him to be denied a seat on the federal bench in 1986. Almost as swampy as it gets!
6 reasons Jeff Sessions is unfit to be our next attorney general
Jeff Sessions was too racist to be a federal judge in 1986. He is too racist to be America's attorney general in 2016.
In 1986, President Ronald Reagan nominated Sessions, then a U.S. attorney in Alabama, to fill a vacancy on the U.S. District Court in Alabama. The Republican-controlled Senate Judiciary Committee denied him a seat on the federal bench in a 9-9 vote, deeming him "grossly insensitive" on racial issues. This video from Generation Progress shows Sessions is too racist to be Attorney General.
Jeff Sessions believes immigrants create "cultural problems" and spent his career trying to push them out of the country.
Sessions said immigrants create "cultural problems," believes unauthorized immigrants don't have rights under the U.S. Constitution, opposes allowing unauthorized immigrants to receive health care or a public school education, and supports mass deportation of unauthorized immigrants, including unaccompanied children and families.
Sessions said he'd have a "big concern" with an openly gay Supreme Court justice. He spent his career resisting LGBT rights.
Sessions voted against bill making it a federal crime to assault individuals because of their sexual orientation or gender identity; argued that marriage equality would lead to a world where siblings could be considered married; voted against the repeal of Don't Ask, Don't Tell; and refused to adopt a voluntary nondiscrimination policy stating that sexual orientation is not a factor in his Senate office's employment decisions. In 2009, Sessions said he would have "a big concern" about an openly gay Supreme Court justice. In 2006, he voted for a constitutional ban on same-sex marriage.
Sessions said nonconsensual groping is not sexual assault. That is contrary to the DOJ's current definition of sexual assault.
After a 2005 video tape surfaced of Donald Trump bragging about sexually assaulting women, Sessions said he didn't think nonconsensual groping and fondling constituted sexual assault—a claim that runs contrary to the U.S. Department of Justice's definition of sexual assault. In 2012, he opposed reauthorizing the Violence Against Women Act because it extended protections to same-sex couples and temporary visas to immigrants who entered the country illegally but have suffered domestic violence.
28 states have legalized medical marijuana. 8 legalized recreational. Sessions could bring that to a screeching halt.
Sessions is "a drug war dinosaur." After President Barack Obama said pot is less dangerous than alcohol in a 2014 interview, Sessions explained that Obama was wrong because Lady Gaga claimed to be addicted to pot. In 2016, he claimed that if you smoke pot, you're not a good person. As attorney general, Sessions could rescind two Justice Department directives that called for stepping back from marijuana prosecutions, using federal law enforcement against operators, and suing state regulators to block state systems. Want more information, this Drug Policy Alliance video has it.
Oh yeah, Jeff Sessions also complained about a law protecting children with disabilities in a Senate floor speech.
In a 2000 Senate floor speech, Sessions made a long and perplexing speech against the Individuals with Disabilities Education Act—a law the helps fund and protect the rights of children with disabilities. He argued, "We have created a complex system of federal regulations and laws that have created lawsuit, special treatment for certain children, and that are a big factor in accelerating the decline in civility and discipline in classrooms all over America. I say that very sincerely."
Yep, he was blaming federal protections for students with disabilities for failing public schools.
5 Things You Need to Know About Sen. Jeff Sessions
This CAP video highlights five key things you need to know about Sen. Sessions.
Why Sessions is too racist to be attorney general
In the 1980s, three African American leaders began massive get-out-the-vote efforts in the 10 western Black Belt counties of Alabama. As a result of their efforts, African American voter turnout grew close to 80 percent and some black legislators were elected. That's when U.S. Attorney Jeff Sessions stepped in. He alleged that the three individuals had falsified absentee ballots in Perry County and charged them with voter fraud. All three were quickly acquitted.
In 1986, Sessions was nominated to fill a federal judicial vacancy. During his confirmation hearing before the Senate Judiciary Committee, career U.S. Justice Department employee J. Gerald Hebert testified that Sessions described the NAACP as an "un-American" and "Communist-inspired" organization that conspired with the "Communist-inspired" American Civil Liberties Union and "forced civil rights down the throats of people." According to testimony from former Assistant U.S. Attorney Thomas Figures, Sessions referred to Figures, who is African American, as "boy."
Session's racially crude remarks became a focus of the hearing. While investigating the lynching of a black man by two Klansmen in 1981, Sessions reportedly joked that he thought the Ku Klux Klan was "OK" until he learned their members smoked marijuana. Sessions later described the remark as "a silly comment, I guess you might say, that I made."
In the Senate, Sessions led the GOP's effort to oppose Justice Sonia Sotomayor's nomination to the Supreme Court, citing her past service on the board of the Puerto Rican Legal Defense and Education Fund, a leading civil rights organization. Sessions described it as "extreme" because it "brought several race discrimination lawsuits for minorities" while Sotomayor sat on its board. This video from MoveOn has more information about Session's troubling record on civil and human rights.
6 examples that prove Jeff Sessions is anti-immigrant
After being denied a seat on the federal bench for his racial "insensitivity," Sessions became attorney general for Alabama and was elected to the U.S. Senate in 1996. There, he began his crusade against immigrants:
And here David Leopold lays out five chilling ways Sessions could attack immigrants as Attorney General.
7 areas where Sessions can directly affect policy
The attorney general has the power to make decisions that can have a huge impact on the lives of everyday Americans. Here are seven major policy areas, as outlined by Politico, where Jeff Sessions could shape policy.
The Department of Justice has authority over prosecuting immigration violations and administering the immigration courts. It is also responsible for enforcing immigration laws.
The Department of Justice defends the government in surveillance disputes and before the Foreign Intelligence Surveillance Court. Sessions has previously supported giving law enforcement "wide range to access that data, criticizing Apple in the San Bernardino case and warning against any attempts to constrain the NSA."
Under President Obama, the Department of Justice's Civil Rights Division has conducted investigations into misconduct at police departments, exposing "racist behavior and comments by police officers" and "shining a light on practices in places such as Baltimore and Ferguson, Missouri." Sessions may suspend those investigations.
The Department of Justice is responsible for enforcing the Voter Rights Act and other laws that protect the right to vote. Sessions has previously referred to the law as "intrusive."
The Department of Justice has promulgated rules "preventing schools from excluding kids who are undocumented immigrants," "upholding the rights of transgender students," and enforcing other laws outlawing discrimination. Sessions has previously said that LGBT Americans are not discriminated against and could stop prioritizing enforcement.
The Department of Justice's anti-trust division polices anti-competitive behaviors and enforces anti-trust laws. Sessions will be responsible for reviewing the proposed $85 billion merger between AT&T and Time Warner. It's unclear how Sessions will act, but AT&T has donated at least $50,000 to Sessions throughout his Senate career.
The attorney general decides how to enforce federal prohibitions against marijuana in states that have approved medical or recreational marijuana use. Throughout his career, Sessions has been one of the loudest anti-marijuana crusaders in Congress.
That time Sessions compared guns to Campbell's soup
In 2004, Sessions took to the floor to speak out in favor of a bill—later signed into law by President George W. Bush—that protects gun manufacturers and dealers from facing lawsuits when they knowingly produce or sell dangerous products. Sessions compared guns to cans of Campbell's soup:
Mr. President, I would like to discuss this matter on the level I think it should be discussed; and that is, is it good public policy, is it the right thing to do in light of the litigation we are seeing against gun dealers and gun manufacturers that is going on in America today? I do not believe in any way this is a blanket immunity for wrongdoing or total immunity for wrongdoing.

In fact, it is not that. What it says is, classical rules of law ought to be enforced. Some could ask why we even need this law. Because how can you sue the person who manufacturers a can of Campbell's soup if somebody buys that can of Campbell's soup legally and kills somebody by hitting them on the head with it? What if you buy an automobile, and you run somebody over on the street, are we going to sue the automobile manufacturer for that?
How you can #ResistSessions
The attorney general must be confirmed by a majority of the Senate Judiciary Committee and a majority vote on the floor of the Senate. The committee's so-called moderates—such as Sens. Jeff Flake (R-AZ) and Susan Collins (R-ME)—have all pledged to support Sessions before even scheduling hearings or submitting any questions for the nominee.

Call, write, or tweet:
Chuck Grassley (R-IA) at 202.224.3744
Orrin Hatch (R-UT) at 202.224.5251
Lindsey Graham (R-SC) at 202.224.5972
John Cornyn (R-TX) at 202.224.2934
Mike Lee (R-UT) at 202.224.5444
Ted Cruz (R-TX) at 202.224.5922
Ben Sasse (R-NE) at 202.224.4224
Jeff Flake (R-AZ) at 202.224.4521
Mike Crapo (R-ID) at 202.224.6142
Thom Tillis (R-NC) at 202.224.6342
John Kennedy (R-LA) 202.224.4623
and demand that they examine and question Sessions' record against people of color before deciding how they'll vote.
The positions of American Progress, and our policy experts, are independent, and the findings and conclusions presented are those of American Progress alone. A full list of supporters is available here. American Progress would like to acknowledge the many generous supporters who make our work possible.