Resist Scott Pruitt's Nomination For Administrator Of The Environmental Protection Agency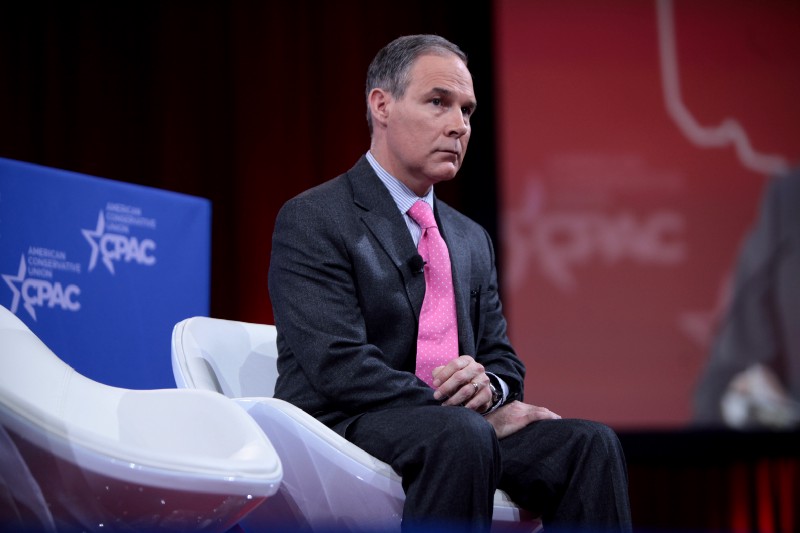 For the most up-to-date version of our Transition Tracker go here.
Who Is Scott Pruitt?
Friend Of The Fossil Fuel Industry, Foe Of Clean Air And Environmental Protection
On the campaign trail, President-elect Trump called the Environmental Protection Agency's work to ensure clean air and clean water a "disgrace" and promised to gut the agency. With the nomination of Oklahoma Attorney General Scott Pruitt for EPA Administrator, Trump is carrying out his promise to take the country's most important environmental cop off the beat. Pruitt is the latest climate denier and Koch affiliate to be nominated for a position in Trump's administration. Pruitt has shown little regard and at times, outright disdain for the EPA — the agency he is now tasked to lead — during his tenure as Oklahoma's Attorney General, often claiming the agency is "anti-fossil fuel." His opposition to environmental standards stems from close relationships with, and campaign contributions from, the oil and gas industry whose talking points he reproduced as his own in 2011 letter to the EPA.
4 Ways Scott Pruitt Will Protect Fossil Fuels Over The Environment
1. Pruitt is so tied to the fossil fuel industry he used their talking points as a letter to the EPA. [TWEET THIS]
It's probably no surprise, but Pruitt has close relationships with the oil and gas industry and has pocketed over $300,000 in campaign contributions from the industry. He's also been known to parrot oil and gas industry talking points. In 2011, Pruitt sent a letter written by Devon Energy — one of Oklahoma's biggest oil and gas companies which is experiencing a hefty stock price jump after Trump's election — to the Environmental Protection Agency to oppose air pollution standards for natural gas wells.
Pruitt is an ally to oil and gas interests across the state, including those of Harold Hamm. Hamm — who advises Donald Trump on energy and is in the running for Energy Secretary — worked with Pruitt to oppose endangered species protections. Hamm was also the chairman of Pruitt's re-election campaign.
2. Pruitt — nominated to lead the EPA — thinks climate change is "subject to considerable debate." [TWEET THIS]
Eighty-seven percent of Americans — including 78 percent of Republicans — support action to address climate change. Pruitt doesn't even believe it's real. Like the president-elect and vice president-elect, Pruitt is a climate denier. He has said the science is "subject to considerable debate," and that "Reasonable minds can disagree about the science behind global warming, and disagree they do." Ninety-seven percent of scientists disagree. Pruitt has also condemned other attorneys general's efforts to shed light on ExxonMobil's deliberate burying of climate change science.
3. 2/3rds of Americans support policies, like the Clean Power Plan, to address climate change. Pruitt would dismantle it. [TWEET THIS]
Pruitt has made a name for himself fighting EPA's clean air standards, including leading the charge against the Clean Power Plan. He says the landmark climate change standard is "part of the administration's anti-fossil fuel agenda." He was quick to file a legal challenge attempting to overturn the Clean Power Plan after the final rule was released. And that wasn't enough. Led by Pruitt, Oklahoma also filed another lawsuit — separate from the multi-state lawsuit Oklahoma joined on the same day — challenging the rule when it was published in the Federal Register.
Also no surprise: He's also fought ozone standards and mercury standards
4. Pruitt doesn't believe the EPA has the authority to regulate carbon pollution, even though SCOTUS has ruled the opposite. [TWEET THIS]
The EPA is the agency tasked with protecting the environment, and because carbon pollution is a main contributor to human-caused climate change — a huge threat to the environment — the EPA has worked to limit carbon pollution. Pruitt, however, avidly defends the argument that the EPA does not have the authority to regulate carbon emissions, despite the fact that a previous Supreme Court decision granted the EPA such authority.
How You Can #ResistPruitt
The EPA Administrator must be confirmed by a majority of the U.S. Senate Environment and Public Works Committee and a majority vote on the floor of the Senate.
Call, write, tweet Inhofe (202–224–4721), Capito (202–224–6472), Fischer (202–224–6551), and other members of the Environment and Public Works committee and demand that they examine Scott Pruitt's environmental record before deciding how they'll vote.
The positions of American Progress, and our policy experts, are independent, and the findings and conclusions presented are those of American Progress alone. A full list of supporters is available here. American Progress would like to acknowledge the many generous supporters who make our work possible.