Rest in power, George Floyd
This piece was originally published in the June 9, 2020 edition of CAP Action's daily newsletter, the Progress Report. Subscribe to the Progress Report here.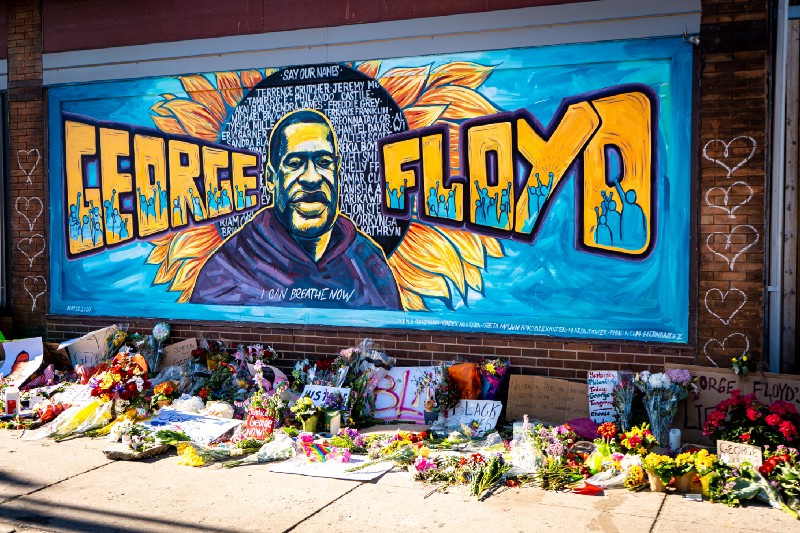 "DADDY CHANGED THE WORLD."
— George Floyd's six-year-old daughter, Gianna, reacting to the protests following her father's death
George Floyd's family shared fond memories of their father, brother, mentor and friend in his hometown of Houston today at the final memorial service before he was laid to rest beside his mother. Loved ones described Floyd as a "gentle giant." He was 46 years old.
Floyd's killing at the hands of police has awoken a global movement against the horrific culture of racism and police brutality in the United States. More than two weeks after his death, rallies for racial justice persist in big cities and small towns alike with a common message: Black Lives Matter.
TRUMP'S TIRADE AGAINST PEACEFUL PROTESTS
As Floyd's family and so many across the country mourned, Trump continued his attempts to stoke hatred against peaceful protesters.
This reverend was at St. John's Episcopal Church last week when Trump tear-gassed peaceful protesters for a photo op. Listen to what she had to say, then share her words on Twitter and Facebook: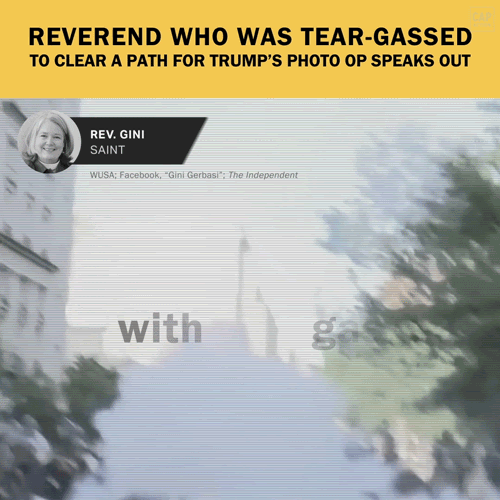 IN THE NEWS
Last week, a video emerged of police — seemingly unprovoked — pushing an elderly man to the ground at a protest in Buffalo, New York. Like a lot of the egregious police interactions we've seen in recent days, it was hard for many of us not to feel outraged at the sight of a man's body hitting the sidewalk as blood pools under his head.
It was bad enough that the group of officers kept walking past Martin Gugino, the 75-year-old man bleeding at their feet. It was bad enough that the few officers who appeared to want to help Mr. Gugino were seemingly encouraged by their peers to ignore him. It was bad enough that the local police union organized a mass resignation after the officers involved were disciplined for their actions. Then Trump caught word of the story.
With absolutely no evidence to support his claims, Trump falsely suggested that Mr. Gugino was an "ANTIFA provocateur," claimed he was pointing a police scanner at officers, and pondered if the interaction was a "set up." (Fact check: It was not. None of this is true. It's worth revisiting our overview of how Trump and his allies use the term "Antifa" as a baseless scare tactic in yesterday's Progress Report.) Trump cited "reporting" from a Russian propagandist with the openly pro-Trump One America News Network.
When asked to comment on Trump's tweet, Republican senators issued the following responses:
"I don't read Twitter, I only write on it." — Sen. Marco Rubio (FL)
[refuses to comment, hops in an elevator] — Sen. Kelly Loeffler (GA)
"It would best if the president did not comment on issues that are before the courts." — Sen. Susan Collins (ME)
"A lot of this stuff just goes over my head." — Sen. John Cornyn (TX)
"Voters can evaluate that." — Sen. Lamar Alexander (TN)
I'm sure they will, Senator Alexander.
IN CASE YOU MISSED IT
Georgia has an election today, and it's not going well. Voting machines didn't arrive on time at a number of disproportionately Black polling places in Atlanta, and there were already reports of hours-long lines at polling places by mid-morning. This is racist voter suppression in action, pure and simple, and it's a grim preview of how November's election could go if we don't fight hard to eliminate these barriers to the ballot box.
Americans "overwhelmingly support" the ongoing protests for racial justice, according to a new poll from the Washington Post. The poll also indicated that the public feels police have not done enough to ensure equal treatment of Black and white people.
The New York State Senate voted today to allow the public to access the disciplinary records of police officers. Their vote was to repeal a provision known as 50-a, which has shielded law enforcement misconduct records from the public for decades. The provision had drawn criticism in recent years after New York City Mayor Bill de Blasio used it to justify sealing the records of the officer who killed Eric Garner. Governor Cuomo has said he plans to sign the repeal into law.
WHAT WE'RE READING
If you're able to donate, this fund supports George Floyd's six-year-old daughter, Gianna.
Note: This is not a donation to CAP Action. We make no warranties regarding the tax deductible status of donations made to this link.
The positions of American Progress, and our policy experts, are independent, and the findings and conclusions presented are those of American Progress alone. A full list of supporters is available here. American Progress would like to acknowledge the many generous supporters who make our work possible.