Romney Job Training Plan Would Lack Financing
His New Plan Conflicts with Republican Efforts to Eliminate Job Training Programs
Stephen Steigleder wonders how the Republican presidential candidate will square his support for vital job-training programs with his party's desire to cut funding.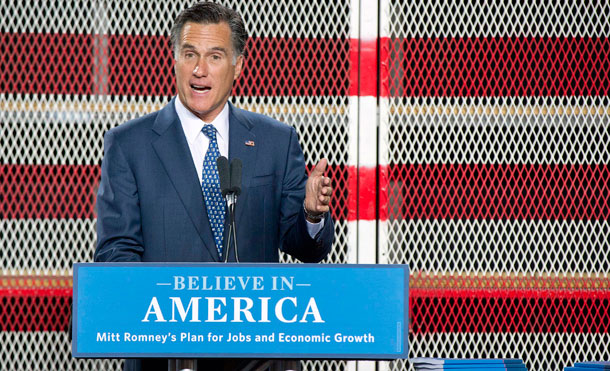 Republican presidential candidate Mitt Romney released a policy blueprint yesterday that outlines his support for job training programs. In it, Romney says his objective "is to retrain American workers to ensure that they have the education and skills to match the jobs of today's economy." Furthermore, he says, "in a period of chronic high unemployment such as we are enduring now, retraining workers to fill the opportunities in rising sectors of the new economy remains an especially vital task."
Interestingly enough, the Center for American Progress Action Fund agrees with those statements. Retraining American workers is absolutely vital to accomplishing our complementary goals of putting Americans back to work and moving our economy forward. What is confusing, however, is how Romney plans to support job training programs if Republicans achieve their goal of eliminating funding for job training.
That's right, only a few months ago Republicans in Congress tried to eliminate the majority of funding for federal job training programs. Earlier this year, House Republicans passed a shortsighted and potentially devastating bill (H.R. 1) to cut more than $4 billion from job training programs, including:
Eliminating $3 billion for Workforce Investment Act employment and training programs
Eliminating $200 million for Dislocated Worker employment and training programs
Eliminating $125 million to train unemployed workers through community colleges
Eliminating $100 million to educate and train at-risk youth
Eliminating $100 million to educate and train ex-offenders
Eliminating $100 million for additional job training programs
Rescinding $300 million from the Job Corps
Rescinding $75 million from other employment and training programs
These programs form the backbone of our federal investment in job training. By trying to eliminate these vital programs, Republicans expressed their disdain for assisting unemployed workers in their efforts to learn new skills and return to work. And Romney supported the Republican plan.
Of course, it's entirely possible that Romney has reversed himself. It certainly wouldn't be the first time. If Romney has reversed himself—and is now acknowledging that job training is "an especially vital task," as he argued yesterday—then we look forward to hearing him disavow the Republican plan to cut all funding for job training.
The simple truth is that job-training programs are a long-term investment in American workers. For the United States to keep its leadership position in the global economy, our workforce must be able to keep pace with the knowledge and innovation that drives the development of new industries. That will require a sustained effort, and additional funding, to enroll more American workers in programs to improve their skills.
That's why Republican efforts to eliminate job training are so destructive. They undermine our long-term economic competitiveness. If Mitt Romney is finally admitting the error of their ways, we welcome his reversal.
Stephen Steigleder is a policy analyst for the Economic Policy team at the Center for American Progress Action Fund working on higher education and workforce training issues.
The positions of American Progress, and our policy experts, are independent, and the findings and conclusions presented are those of American Progress alone. A full list of supporters is available here. American Progress would like to acknowledge the many generous supporters who make our work possible.
Authors Stephen Steigleder
Policy Analyst