Romney's Clean Energy Attack Ads Cede Manufacturing Future to China
Misleading and Misinformed, the Ads Reveal Romney's Disconnect with Investing in Our Future
Tom Perriello and Richard Caperton explain why support for public-private investments in clean energy boosts our economic competitiveness—investments Romney presumably would abandon.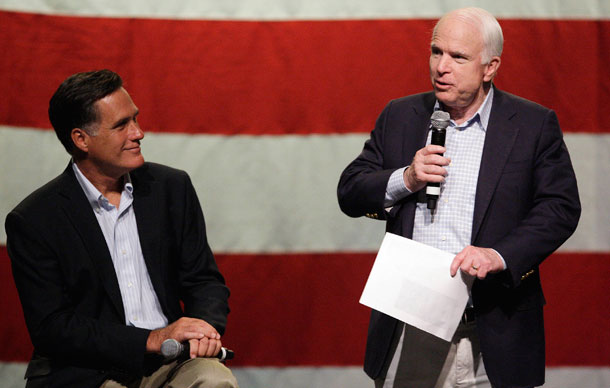 Republican presidential contender Mitt Romney today revealed that underneath his tough talk on China, he is ready to concede the clean energy race and future jobs to America's competitors. A broadside of misleading attack ads from his campaign and his supporters at Crossroads GPS betray a bipartisan consensus on investing in competitiveness and not resting until America wins the jobs of the future.
If the ads are any indication, a Romney administration would willingly cede American leadership in critical industries of the future to our competitors abroad. For more than two centuries, the U.S. government has made smart investments in strategically important industries such as agriculture, transportation, telecommunications, and energy—investments that have allowed American businesses and entrepreneurs to get ahead. Now is not the time to knee-cap American workers and American innovation. International competition in the industries of the future is stronger than ever—and the winners are in countries that are leading, not following.
China in particular labels clean energy as a "strategic emerging industry" and is investing tens of billions of dollars in this industry every year. The green in China's focus is not just about the environment—it is also about their bottom line. While the Solyndra bankruptcy here in the United States was unfortunate, it would be a serious mistake to prematurely admit defeat in the race to creating a clean energy future here at home. Even an independent review conducted by Sen. John McCain's (R-AZ) national finance chair found that the Department of Energy program poses very low risk to taxpayers. Romney and Karl Rove—the founder of Crossroads GPS—are attacking public investments in clean energy at the same time the Chinese government is pouring billions into renewable energy. Future generations will judge us not by particular failures but by our ultimate success in the energy race.
Here are the key facts about global economic competitiveness in clean energy:
Is clean energy a good investment for America? The program supporting Solyndra began under former President George W. Bush and was carried out by President Barack Obama's team at the Department of Energy. Here are the facts of the matter:
For every $100 the government lends or guarantees, the program only costs taxpayers 94 cents.
The Department of Energy's Loan Guarantee program drove renewable investment. Thirty-four CEO's wrote this past year that, "This program has already proven its ability to deliver: It has committed more than $26 billion in loans and loan guarantees to projects that represent $42 billion in investment in our still struggling U.S. economy. These investments represent an estimated 58,000 direct and indirect jobs across 19 states."
The Department of Energy Loan Guarantee program shows how the government manages risk for taxpayers. Today's attack ads rely on error-filled reporting from CBS News and claim that taxpayers are going to lose billions of dollars from the program. In fact, the Congressional Research Service, Bloomberg New Energy Finance, and—most importantly—an independent review led by Sen. John McCain's national finance chair all found that the program poses very low risk to taxpayers, and that the risk has been properly accounted for.
Amid Romney's attacks, solar energy is "flourishing" in his home state of Massachusetts, and a small businessman in Iowa recently condemned the attacks on the wind industry by Romney and his oil industry backers. But the larger point is this: We can't give up in the clean energy economy yet. The United States didn't expect the Apollo project to reach the moon in its first year and didn't abandon the program when it had setbacks. We didn't stop investing and engaging the government in an industry that has now continued to work in partnership with the private sector. Throughout history we have tackled hard projects before—as a nation we don't shirk from tough problems when the work gets tough.
These political attack ads may make for good sound bites, but Romney's call to take the United States out of the clean energy game threatens industries and jobs in a new clean energy economy that other nations are racing to claim. Waving the white flag of surrender by proposing to kill the public-private investments in clean energy that are required to compete today means former Massachusetts Gov. Romney would seriously damage our economic competitiveness if elected. Leading the strategy to outcompete China is not a matter of campaign rhetoric but of the conviction to see this economic race for clean energy through to victory.
Tom Perriello is the President and CEO of the Center for American Progress Action Fund. Richard W. Caperton is Director of Clean Energy Investment at the Action Fund.
The positions of American Progress, and our policy experts, are independent, and the findings and conclusions presented are those of American Progress alone. A full list of supporters is available here. American Progress would like to acknowledge the many generous supporters who make our work possible.
Authors Tom Perriello
President & CEO of the Center for American Progress Action Fund, Counselor to the Center for American Progress Richard W. Caperton
Managing Director, Energy