Scott Pruitt Paid a Quarter of What You Would Pay to Stay on Capitol Hill (Thanks to his Lobbyist…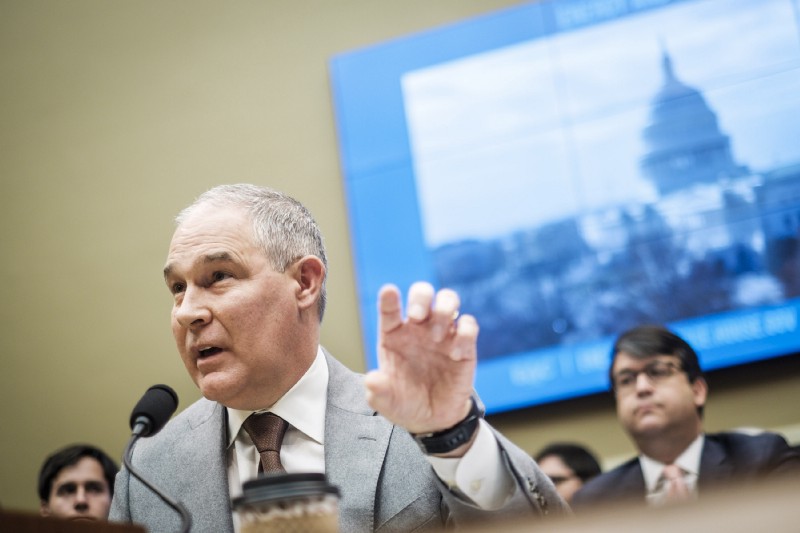 by Sally Hardin
President Donald Trump's Environmental Protection Agency (EPA) Administrator Scott Pruitt has been in the news a lot recently — and it hasn't been because he's been doing his job to protect public health and the environment.
This week, it got out that Pruitt worked directly with energy lobbyist J. Steven Hart — sans real estate broker — to get a $50-per-night sweetheart deal on a room rental in a prime Capitol Hill building, co-owned by the lobbyist's wife, during his first six months in D.C. Coincidentally, J. Steven Hart just happens to lobby for a number of the industries the EPA regulates — including the automotive industry and energy storage and exporters. This living arrangement, and all the news attention it's attracting, has even raised alarm bells at the White House.
The best part of Pruitt's Capitol Hill pad? He only had to pay on the nights that he stayed there, for a total of $6,100 over the six-month period. And now, sources are reporting that Pruitt's daughter, who clerked at the White House Counsel's Office from May through August of 2017, occupied another living space in the unit, and that the two used the kitchen. That means that at points, Pruitt was paying just $50 per night for use of a two-bedroom unit close to the Capitol.
Because it's unlikely that one could get a hotel room for a comparable price, and a source familiar with the lease described it as "an Airbnb-style arrangement," we decided to look at similar units on Airbnb.
A review by CAP Action looked at ten different two-bedroom units available for rent on Airbnb within a ten-block radius of Pruitt's rental — comparable to the one Pruitt rented with his daughter staying in the second bedroom. On average, renting a 2-bedroom unit in that desired location goes for $222.40 per night — more than four times what Pruitt was paying.
Previously, EPA's Senior Counsel for Ethics, Justina Fugh, had said that the condo was not a prohibited gift. "It was a routine business transaction and permissible even if from a personal friend," she said. She issued this statement before she was aware that Pruitt's daughter was sharing the space with him, however, and may retract her endorsement.
Here are the 10 comparable 2-bedroom units within a ten-block radius of Pruitt's rental that were analyzed:
Victorian row house in Capitol Hill: $150 per night
ACE location / couples haven / gorgeous building: $145 per night
Upscale & spacious apartment: $250 per night
Cozy 2 bedroom duplex apartment near Union Station: $400 per night
Explorers Paradise — walk to Capitol: $159 per night
Close to Capitol — perfect for business or pleasure!: $159 per night
Quaint Capitol Hill Row House: $250 per night
Charming, Historic Cap Hill 2 bdrm: $161 per night
Townhouse in heart of Historic Capitol Hill: $300 per night
Charming Capitol Hill Row House: $250 per night
The evidence is clear: the market puts a premium on renting rooms mere blocks from the U.S. Senate, Capitol, and other houses of power. And it sure looks like EPA Administrator Pruitt wasn't paying even close to that premium. Chalk that up as another hit on Pruitt's long list of questionable ethical actions.
Sally Hardin is a Research Analyst with the Center for American Progress Action Fund's Energy and Environment War Room.
The positions of American Progress, and our policy experts, are independent, and the findings and conclusions presented are those of American Progress alone. A full list of supporters is available here. American Progress would like to acknowledge the many generous supporters who make our work possible.