Stand up for a woman's right to choose
It's another day in Trump's America—and another day to stand up for what's right. Get the facts to fight back.
Your body, your choice
With extreme abortion bans popping up across the country, a conservative Supreme Court, and a Republican party determined to endanger women's health and rights, it's time to take a stand.
Alongside groups like NARAL and Planned Parenthood Action Fund, we're sponsoring rallies across the country tomorrow, May 21. Join us.
Trump, Republicans in Congress and in state legislatures, and several members of the Supreme Court want to gut or overturn Roe v. Wade and strip American women of the right to safe, legal abortion access. We know because they told us.
Share this video to remind everyone what's at stake, and find a #StopTheBans event near you: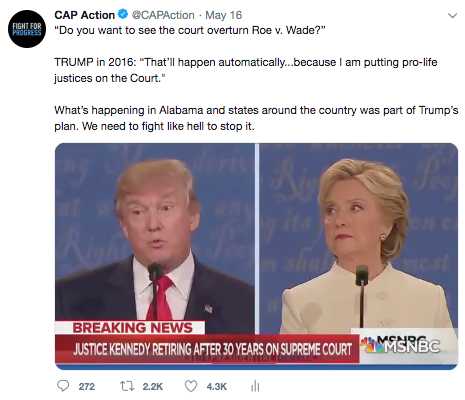 Here's what you need to know:
THE JUDGES: Trump told us he would appoint anti-choice judges, and it's one of the few promises he's kept. With the additions of Justices Kavanaugh and Gorsuch, the Supreme Court now poses a serious threat to Roe.
THE MONEY: It's not just Republican politicians who want to restrict abortion access; it's the corporations that fund their campaigns. As long as corporations continue to pour millions of dollars into the GOP's campaign war chest to spread disgusting propaganda, Republican lawmakers will continue these attacks.
While you were distracted, here's a taste of the corruption you missed:
The media is rightfully consumed by the dangerous attacks on women detailed above—and, as a result, more of Trump's corruption is slipping through the cracks:
FINANCIAL CORRUPTION: Anti-money laundering specialists at Deutsche Bank recommended that suspicious transactions by Trump and Kushner-linked entities be reported to a financial crimes watchdog at the Treasury Department. Bank executives allegedly ignored them.
OBSTRUCTION: Treasury Secretary Steven Mnuchin is defying a subpoena (and breaking the law) by refusing to provide Congress with Trump's tax returns.
CRUELTY: Over the weekend we learned that Trump's administration "may have" separated an additional 1,700 children from their families—on top of the nearly 3,000 kids we already knew about who were ripped from their parents. With more than 45,000 more records to review, we may have only begun to scratch the surface.
The positions of American Progress, and our policy experts, are independent, and the findings and conclusions presented are those of American Progress alone. A full list of supporters is available here. American Progress would like to acknowledge the many generous supporters who make our work possible.