This piece was originally published in the November 9, 2020 edition of CAP Action's daily newsletter, the Progress Report. Subscribe to the Progress Report here.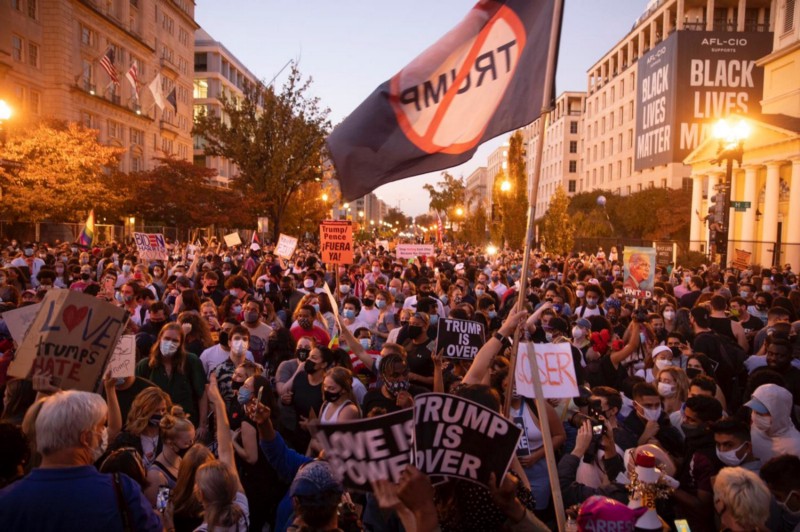 "We've got work to do."
Reminder: Joe Biden will inherit an economy from the worst jobs president ever.
Let's get to work.
Share this on Twitter and Facebook to get the facts out: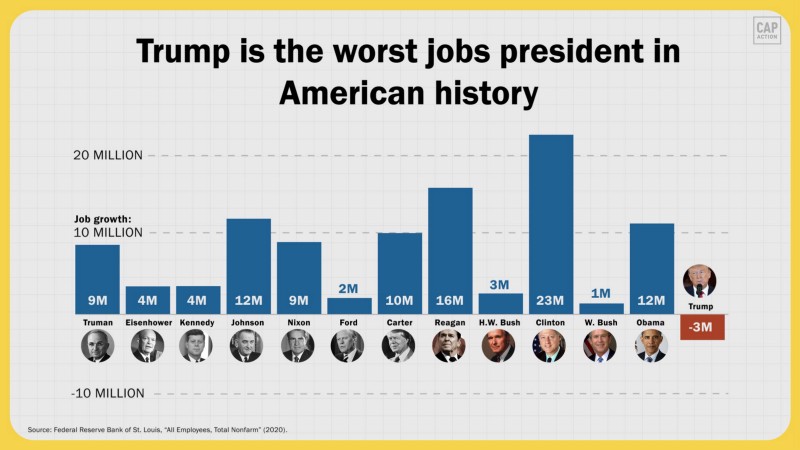 IN THE NEWS
Joe Biden will be the next president of the United States. After securing Pennsylvania's twenty Electoral College votes on Saturday morning, Biden and his running mate Kamala Harris surpassed the 270-vote threshold needed to declare victory.
The Biden-Harris ticket secured a clear majority of the nationwide popular vote, giving the president-elect and vice president-elect a clear mandate to make good on their vision for America. This serves as yet another reminder that Americans overwhelmingly support bold, progressive proposals like the ones Biden and Harris have pledged to enact once they take office — to combat climate change, put an end to systemic racism, get the pandemic under control, and make America a better place for working people.
And they're already getting started. This morning, Biden announced the members of his COVID-19 transition advisory board. It's sad that this is refreshing, but, well, it is. Members of the task force include a pediatrician, a former surgeon general, a professor whose work focuses on health care equity, and immunologist Rick Bright, who was recently ousted from the Department of Health and Human Services for speaking out about the administration's poor handling of the pandemic. As Jake Tapper noted, "But wait, many of these are infectious disease experts?"
After reports that Acting Defense Secretary Mark Esper was set to resign, Trump tweeted today that he was planning to fire him. Esper had quietly broken with Trump on issues like removing Confederate imagery and names from military property.
What was supposed to be just another messy press conference for Trump's lawyers to frantically try to discredit his election loss became exactly what America needed this weekend. This story has everything: The Four Seasons (well, sort of), Rudy Giuliani, a parking lot, a strip mall of colorful small businesses, and a severely botched miscommunication on behalf of the Trump campaign's advance team. In case you somehow missed it, please enjoy.
IN CASE YOU MISSED IT
Election Day — er, week — coincided with one of the most alarming weeks yet of the pandemic. The U.S. is now regularly reporting upwards of 100,000 new COVID-19 cases every day, and we just passed 10 million total cases since the start of the pandemic. Officials in El Paso, Texas even brought in a fleet of mobile morgues to account for the massive wave of COVID-19 deaths.
After months of pandemic-heavy news, many of us are a bit numb to hearing numbers like this. But it's not something we can afford to brush off. We're unfortunately stuck with an administration that has failed to offer any semblance of leadership on controlling the pandemic for the next 72 days. So as the pandemic enters what could be its worst phase yet, it's on us to take things into our own hands. Stay home when you can, and please, please wear a mask.
Trump's Secretary of Housing and Urban Development Ben Carson tested positive for COVID-19. This follows Trump's chief of staff, Mark "we are not going to control the pandemic" Meadows, testing positive over the weekend. Multiple other aides have also tested positive in recent days. Both Carson and Meadows attended Trump's election night gathering in the White House last week.
And finally, some hopeful news: Pfizer announced this morning that they'd seen promising initial results from their coronavirus vaccine. The vaccine showed an effectiveness rate of more than 90% in trials, making it a leading contender among the handful of other companies in the final stage of trials. Dr. Anthony Fauci described the results as "really quite good, I mean extraordinary."
WHAT WE'RE READING
Like the Progress Report? Our team relies on the support of grassroots progressives like you. Chip in $5 or whatever you can to power our work.
The positions of American Progress, and our policy experts, are independent, and the findings and conclusions presented are those of American Progress alone. A full list of supporters is available here. American Progress would like to acknowledge the many generous supporters who make our work possible.