The last real wage numbers before November came out this morning. As corporate profits continued to skyrocket thanks to the #GOPTaxScam, wages remained flat.
The final verdict on the Trump economy is in: Corrupt.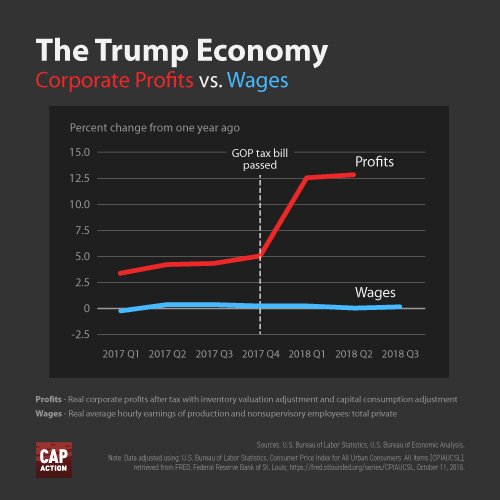 HEALTH CARE IS PERSONAL: AMANDA'S AND SUSAN'S STORIES
Minnesotan Amanda Magsam can walk today thanks to the ACA. Her Republican member of Congress, Erik Paulsen, voted to repeal the ACA and strip that care from Minnesota. When she confronted his staff, they told her that she was a Democrat and therefore he doesn't represent her.
"Health care is something that can impact us, no matter what your race is, your religion, socioeconomic status—so when they talked about repealing it, it was absolutely terrifying."

In neighboring district MN-03, Susan Schwaidelson discovered three years ago that she had stage one, grade two breast cancer—thanks to a routine scan that was covered by the ACA. She's terrified that, thanks to repeated efforts by Congressional Republicans to repeal the ACA, she and others like her won't be able to afford health insurance in the future.
"Do I have to work until I'm 90 to be able to pay for health insurance?"

These are the daily experiences and concerns of Americans across the country. So, why are Congressional Republicans so determined to sabotage health care?
Please watch and share Amanda's and Susan's stories.
THINKING CAP: HOW TO TALK POLITICS AT THE DINNER TABLE
Hollywood and Washington, D.C. collide in the pod this week as Ike Barinholtz stops by to discuss his new film, "The Oath," in which he stars alongside Tiffany Haddish, and for which he earned his first major movie directing credit. The writer/director/actor talks about the inspirations behind his satirical take on these sordid times and shares how his early aspiration of being a politician shaped his political engagement—and rampant media consumption—in today's climate. No spoilers, all laughs. Listen to the episode here.