The GOP's Silence On The Flint Water Crisis Is Hurting Michigan's Children
Republican presidential candidates are debating in Detroit, Michigan but they've largely ignored one of the biggest challenges facing the state: lead contaminated water poisoning the residents of Flint, Michigan and the lack of public services to help residents overcome the crisis.
An analysis of candidate tweets, websites, and debates conducted by the Center for American Progress Action Fund found that the candidates vying for the Republican presidential nomination have remained silent about Flint.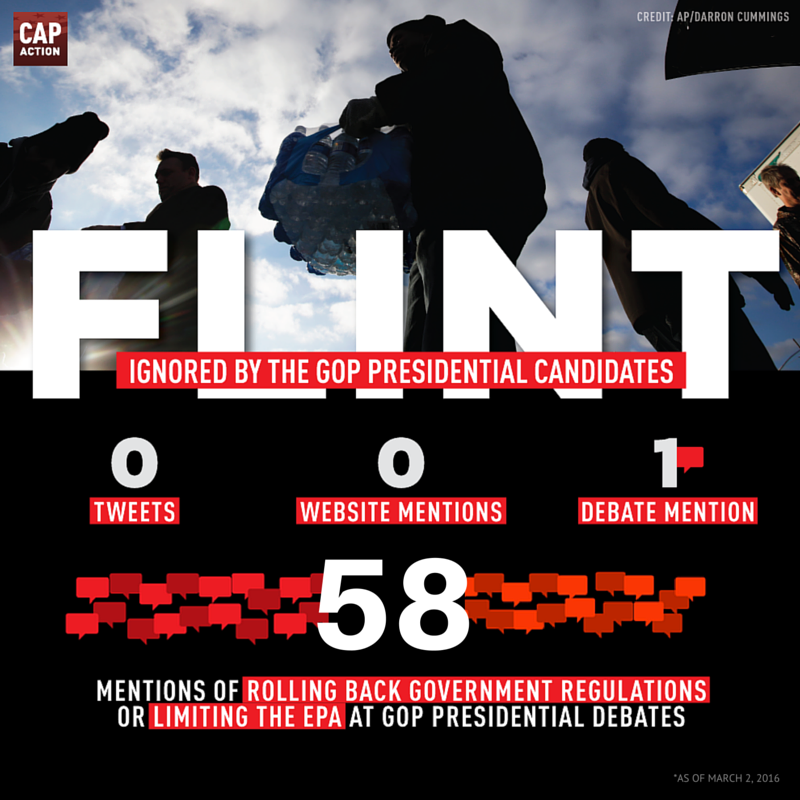 The decision by Republican-appointed officials in Flint, Michigan to switch water sources more than a year ago left 8,000 children under the age of 6 exposed to lead-tainted drinking water.
But last month, GOP presidential candidates seemed too busy campaigning to notice.
"That's not an issue that right now we've been focused on," Sen. Marco Rubio (R-FL) told reporters on February 18th. "I don't want to comment on that," Donald Trump insisted. Where the candidates did weigh in, they attributed the contamination to "a failure at every level of government" or, in the case of Sen. Ted Cruz (R-TX), the Democratic party. "You know, there's an interesting parallel between Flint and New Orleans. Both cities have been governed with one-party government control of far-left Democrats for decades," he said.
And while local, state, and the federal government all bare some responsibility, the public sector also has a role to play in helping the children of Flint overcome the consequences of lead exposure. Fewer than 150 children and families have received early intervention services in Flint and the surrounding community — even though there are 100 times that many children in Ward 9 of Flint alone, where 61% of all households tested positive for lead exposure.
The fate of Flint's children is not set in stone. We know that the availability of early intervention and education services like high-quality child care and pre-k will determine how well those children will fare in adult life.
Those programs are currently scarce in Michigan. Fewer than 40% of all four-year-olds are served by Head Start and Michigan's public pre-k program, which targets low-income or otherwise at-risk children. Only 13% of Michigan's three-year-olds benefit from public programs including Head Start and early childhood special education.
Local child advocates and state and federal policymakers are already seeking to overcome the negative outcomes associated with lead exposure by expanding Michigan's early intervention program, Head Start, and Medicaid. But those efforts will require additional long term federal investments, which Republicans have largely dismissed. "[Y]ou need some blocks and you need some swings and some toys," Trump said, explaining his approach to expanding childcare. Rubio is touting his child care tax credit proposal as a solution for child care. But that, would barely help families with the basics like food and diapers, let alone high-quality child care.
As weeks pass and more children gain access to safe water sources, lead will become undetectable in many children. Will Republicans speak up then?
The positions of American Progress, and our policy experts, are independent, and the findings and conclusions presented are those of American Progress alone. A full list of supporters is available here. American Progress would like to acknowledge the many generous supporters who make our work possible.