The Postal Service is in crisis. Here's how you can vote safely:
This piece was originally published in the August 17, 2020 edition of CAP Action's daily newsletter, the Progress Report. Subscribe to the Progress Report here.
"I hope the Postmaster General comes prepared."
— Consumer advocate and white board enthusiast Katie Porter (D-CA), who we cannot wait to watch grill Louis DeJoy next week
The #DemConvention is here! Throughout the week, the Progress Report will bring you recaps of the biggest moments and a look ahead at the speakers you won't want to miss.
But first, make sure you watch and share CAP Action's new video about Trump's disastrous plan to defund Social Security on Facebook and Twitter: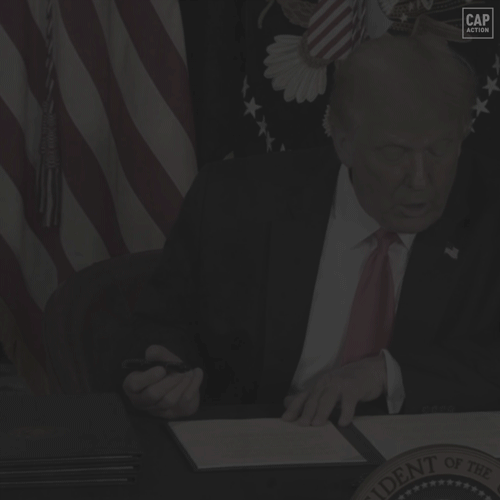 Tonight kicks off the first night of the 2020 Democratic Convention. While originally slated to take place in Milwaukee, Wisconsin, organizers decided to shift to a virtual event to ensure the safety of attendees and the Milwaukee community. Speakers will join the convention remotely from all across the country.
Headlining the virtual stage tonight will be former First Lady (and more recently, bestselling author and podcast host) Michelle Obama. She'll be joined by a number of other speakers, including Senators Bernie Sanders and Doug Jones and Governors Gretchen Whitmer and Andrew Cuomo.
The primetime lineup will air from 9–11pm EST. You can follow along at DemConvention.com/watch or on another one of the many platforms that'll be airing it.
IN THE NEWS
The Postal Service is under attack by the very person leading it, and people across the country are gearing up for a fight. We won't sugarcoat it — this is scary. But Americans are mobilizing to push back, protect the USPS, and ensure every eligible voter can safely cast a ballot this November. Here's what happened over the weekend:
Nancy Pelosi is calling the House back into session this week to vote on a bill that would prevent any changes to the USPS from being implemented until 2021.
The House Oversight Committee announced they were moving up a previously scheduled hearing on the USPS to next Monday. Postmaster General Louis DeJoy has agreed to testify. Notable committee members we'll be watching include Reps. Katie Porter, Alexandria Ocasio Cortez, and Ayanna Pressley, among others.
Our friends at MoveOn are organizing protests at post offices across the country. Sign up here to get notified about events near you this Saturday to put pressure on the administration and DeJoy and demand action from Congress to protect the USPS.
For now, we're working with what we've got. Thankfully, most states offer alternatives to in-person voting that don't involve the USPS even if the Trump administration's sabotage is successful. Check out this helpful tool from NBC News and this one from journalist Judd Legum that explain your options for voting, and be sure to make a plan to vote as soon as possible so you can prepare accordingly.
IN CASE YOU MISSED IT
As the U.S. passed 170,000 coronavirus deaths this weekend, Trump went golfing at his New Jersey resort. Today, he's in Wisconsin for what appears to be an attempt at DNC counter-programming, although realistically it's just another irresponsible gathering that could facilitate transmission of the coronavirus. He'll also be in Arizona and Pennsylvania later this week.
Trump just announced the next step in the rush to sell off the Arctic National Wildlife Refuge for oil drilling, a move long opposed by environmental experts, scientists, and activists. The Arctic Refuge is the largest remaining stretch of wilderness in the U.S. and is home to iconic species such as caribou and polar bears, as well as being the "sacred place where life begins" for the Gwich'in people. Former oil and gas lobbyist turned now-Interior Secretary David Bernhardt, one of a record-setting number of former lobbyists in Trump's cabinet, said he expects to begin leasing the land out for drilling by the end of the year.
WHAT WE'RE READING
Like the Progress Report? Our team relies on the support of grassroots progressives like you. Chip in $5 or whatever you can to power our work.
The positions of American Progress, and our policy experts, are independent, and the findings and conclusions presented are those of American Progress alone. A full list of supporters is available here. American Progress would like to acknowledge the many generous supporters who make our work possible.