The truth behind Trump's elusive health care "plan"
This piece was originally published in the July 31, 2020 edition of CAP Action's daily newsletter, the Progress Report. Subscribe to the Progress Report here.
"There's not a national superintendent, nor should there be."
— Education Secretary Betsy DeVos, who has seemingly forgotten her job description
For years, Trump has touted an elusive "plan" to fix our country's broken health care system.
But don't be fooled: As he boasts about a nonexistent plan, Trump has been actively working to destroy the progress made by the Affordable Care Act.
Trump and his allies in Congress tried and failed to repeal the ACA. Now, they've turned to the courts. The Trump-backed lawsuit to repeal the ACA would rip coverage away from more than 23 MILLION people.
This was cruel before the pandemic. Now, it's simply inhumane.
Share this video on Twitter and Facebook to get the facts out: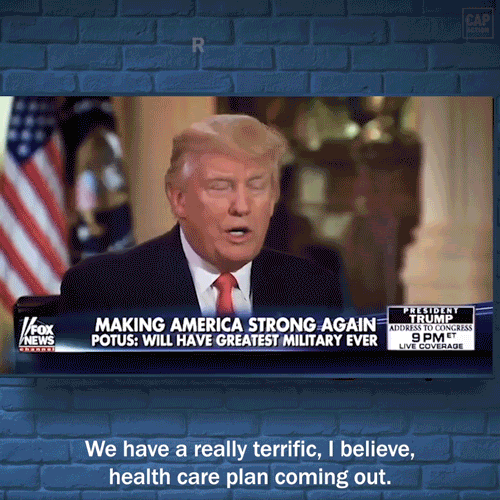 IN THE NEWS
Former President Barack Obama did not hold back in his powerful eulogy yesterday for Rep. John Lewis, in which he outlined a number of marching orders for carrying on the late civil rights activist's legacy. Among those marching orders were restoring the Voting Rights Act and abolishing the Senate filibuster to do so, an idea that has gained popularity in recent years as Americans come to terms with the dysfunctionality of a Republican-led Senate under self-declared "grim reaper" Mitch McConnell. For more about filibuster reform, check out this piece from CAP on how the filibuster has served the interests of the powerful few and stalled progress on major issues.
IN CASE YOU MISSED IT
It's no secret that Secretary of Education Betsy DeVos has failed to offer a plan for school reopening this fall. At a roundtable this week, she made that fact even clearer. "You know, there's not a national superintendent, nor should there be," she said, "therefore there's not a national plan for reopening." She's saying the quiet part out loud — Trump and his allies are failing students, families, teachers, and school officials across the country by ignoring the real risks of an uncoordinated reopening. Meanwhile, Americans are suffering and parents are increasingly worried over what their kids will face in a few short weeks when the fall semester begins.
WHAT WE'RE READING
Like the Progress Report? Our team relies on the support of grassroots progressives like you. Chip in $5 or whatever you can to power our work.
The positions of American Progress, and our policy experts, are independent, and the findings and conclusions presented are those of American Progress alone. A full list of supporters is available here. American Progress would like to acknowledge the many generous supporters who make our work possible.