They're decimating entire communities.
It's another day in Trump's America—and another day to stand up for what's right. Get the facts to fight back.
Donald Trump campaigned on a promise to save American manufacturing jobs: "If I'm elected, you won't lose one plant." He lied to get elected.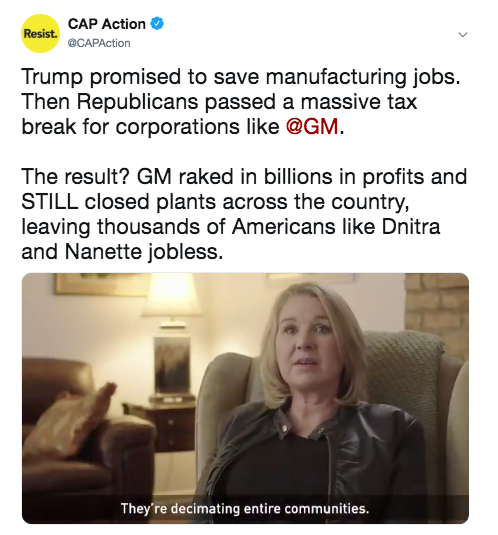 Yesterday, the General Motors plant in Lordstown, Ohio closed after more than 50 years of production, leaving 1,400 workers jobless and communities suffering. Another is slated to close in Detroit in the coming months.
Despite the fact that GM received massive tax cuts from the #GOPTaxScam and raked in billions of dollars in profits last year, they are abandoning workers and towns that depend inextricably on the plants. It's the same story with the Trump tax bill across the country: corporate profits soar, workers get left behind.
The fallout from Trump's false promises is hurting families and communities across the Midwest. Lordstown won't be the last town devastated by Trump and his Republican cronies in Congress.
Share this video on Facebook and Twitter to spread the message: Trump's false promises have real consequences.
THE BIGGEST SCANDAL IN U.S. HISTORY:
Trump's massive scandal of a campaign and presidency now surpasses Watergate as the biggest scandal in our nation's history.
Historians spoke with Axios and laid out the argument, centered around his subservience to a hostile foreign power; the more than 100 known contacts between Russian operatives and Trump associates during the campaign and transition; Trump's firing of FBI Director James Comey in a failed attempt to derail the Russia investigation; his payments of hush money to multiple mistresses; his unprecedented efforts to get his family top-level security clearances—and much more.
With the investigations into him and his associates ramping up—most recently through the House Judiciary Committee's 81 document requests—it's no wonder Trump's attacks are becoming increasingly manic. He knows the walls are closing in on his corruption and is desperately looking to avoid accountability for his actions.
THINKING CAP: THE FOX NEWS WHITE HOUSE.
"Everything is broken," laments Vox correspondent Carlos Maza on this week's Thinking CAP Podcast.
Maza has reason to feel jaded: He's spent hours—days, even—watching Fox News pundits feed on-air talking points straight into the Oval Office, where Trump gleefully parrots the network's daily garbage without a second thought.
Listen in as Maza discusses the cozy relationship between Fox News and Trump's White House, then breaks down the growing media trend of appealing to our inherently tribal impulses. Check out the episode here.