Where's the Real Newt?
A New York Times story about a potential presidential candidate cannot bear to tell the truth about Newt, observes Eric Alterman. But why?
Part of a Series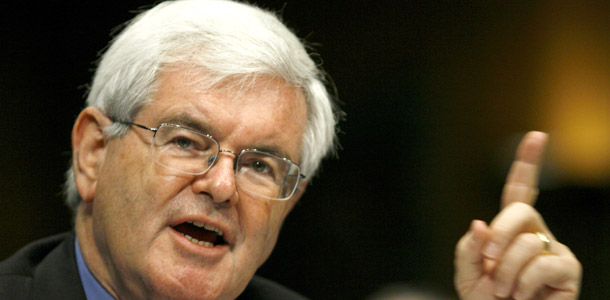 In one of those stories without a lot of "there" there, Newt Gingrich toyed with announcing that he was "planning" to create an "exploratory" committee before he decides whether to run for president in 2012—at least he did before he found out it would cost him his Fox sinecure.
It's all a little murky. Nevertheless, in anticipation of this earth-shattering development, New York Times reporter Jeff Zeleny wrote a story over the weekend in which he attempted to focus on some of the challenges Newt Gingrich will have to face as he is forced to "grapple with aspects of his life and career that could give pause to elements of the Republican primary electorate."
The article began with a typically insane Gingrich quote and with the reporter—again, typically—pretending that there is really nothing all that odd about it. To wit: Gingrich warned a crowd of 1,300 at an Ohio Catholic school recently that: "To a surprising degree, we are in a situation similar to Poland's in 1979. … in America, religious belief is being challenged by a cultural elite trying to create a secularized America, in which God is driven out of public life."
The statement is nuts, in the first place. The United States has nothing to do with a country that was simultaneously communist, occupied by a brutal foreign power, ruled by a totalitarian clique, on the brink of revolution, almost entirely Catholic, lacking in racial minorities, rather poor, without much in the way of natural resources, technologically backward—I could go on.
Second, it is factually wrong. There is no "cultural elite" seeking to drive "God" out of public life. There are only a few atheists here and there writing the assorted book. I would have heard about such a plot if it existed as a card-carrying member of the cultural elite and a proud Jewish agnostic. It's about as real as Bigfoot and Martian moon landings. But Gingrich said it and the Times reports it despite the fact that it, too, is a member of the cultural elite and a proud promoter of Mr. Gingrich.
Mr. Zeleny does note that Gingrich knows a presidential campaign "would bring new attention on the full scope of his personal and political background," and adds that "he grew testy when he received a question from a Democratic student activist about the details of his two divorces."
What are those "details"? Well, one, Zeleny notes, involved "an extramarital affair with Callista Bisek, then a House staff member, while leading impeachment proceedings against Mr. Clinton for lying about his own sexual transgressions."
But despite the almost superhuman level of hypocrisy necessary to pull that one off, it's still not the really interesting one. That one, described as a parenthetical, goes, according to the Times, like this: "(In 1981, he and his first wife, Jackie, divorced, and he married his second wife, Marianne, that year. In an episode often cited by his detractors, he visited Jackie in the hospital in 1980 while she was recovering from a cancer operation to discuss terms of their divorce. Mr. Gingrich disputes the account.)"
Well, that's one way of putting it. In fact, that's exactly how I would put it were I Newt Gingrich and did not want anybody to know any of the disturbing details. But if I really wanted people to understand what had happened as a window into Newt's character, I would have leaned more heavily on the well-sourced version of the divorce that appeared in Esquire.
There we learn, for instance, that the former Jackie Gingrich, Newt's first wife, was his high school geometry teacher, and Gingrich started dating her at 16. He divorced her because, as he explained to an associate, "She's not young enough or pretty enough to be the wife of the president. And besides, she has cancer."
He left her without any resources—at least until the court ordered him to provide some. The family required church alms to survive. It was a pretty neat trick for a guy who argued that his opponent for the seat he eventually won would have to separate her family to move to Washington and would have to hire a nanny to fulfill her maternal obligations.
Anyway, the meeting in question took place when Gingrich stopped by the hospital to offer his divorce terms while she was recovering from uterine cancer. He then fought her so tenaciously that the soon-to-be ex-Mrs. Gingrich required a court order just to pay her utility bills.
The Times, in skirting over these decidedly unpretty details, apparently had no room to mention Gingrich's second divorce. That's too bad, because the details are almost as good.
For instance, in order to marry a much younger woman with whom he had been having an affair, he left his second wife by telephoning her at her mother's home (on the woman's birthday) not long after—wait for it—her diagnosis with multiple sclerosis to let her know their marriage was kaput. (This was all going on, needless to say, while Speaker Gingrich was leading House Republicans in America's first-ever impeachment of an elected president for the crime of adultery.)
One has to admit Gingrich had a point when he explained to his ex-wife: "It doesn't matter what I do. … people need to hear what I have to say. There's no one else who can say what I can say. It doesn't matter what I live."
And hey, I know it was only a newspaper article in The New York Times. But if the topic was problems with Mr. Gingrich's past that might make it difficult for him to be taken seriously as a presidential candidate, then perhaps it might have been worth finding time to mention.
For instance, there's the $4.5 million "advance" from Rupert Murdoch he tried to nail down even before he was sworn in as speaker for a book of speeches worth an infinitesimal fraction of that amount. And let us not forget that he was getting this payoff from a man who desperately needed the help of the House majority to make his ventures a success both nationally and globally. (Gingrich was later forced to return the money.)
But even this pales beside the story of why the House Ethics Committee found Gingrich guilty of laundering donations through charities and submitting "inaccurate, incomplete, and unreliable testimomy" to investigators, leading to a January 21, 1997 "reprimand" by Gingrich of the entire House including a $300,000 "cost assessment" of the entire investigation—the first-ever sanction of a sitting House speaker.
This sounds bad, I know, until you take a look at the details, which—like the divorces—make it sound even worse. For instance, the committee found Gingrich was merely pretending to raise money through a charity for inner-city kids called the Abraham Lincoln Opportunity Foundation. Another alleged "charity" he called "Earning by Learning" used half the money he raised to pay an ex-Gingrich staffer who was writing his biography. Gingrich was so energetic a salesman that he even gave out an 800 number for videotapes he was hawking on the House floor.
The Ethics Committee not only faulted his dishonesty but also faulted him for making "an effort to have the material he funded and hawked appear to be nonpartisan on its face, yet serve as a partisan, political message for the purpose of building the Republican party." Never one to take responsibility for what were clearly his own failings, Gingrich pretended to be guilty only of being a target of a liberal calumny, which was a rather odd charge for someone who sent his colleagues a letter instructing them to call their Democratic opponents "sick," "corrupt," and "traitors." (Louisiana Gov. Bobby Jindal seems to be taking a page out of, um, Gingrich's book when it comes to intermingling profit and charity.)
According to Gingrich's famous 1992 doodling, he considers himself an "advocate of civilization, definer of civilization, teacher of the rules of civilization and leader (possibly) of the civilizing forces."
What are the ideas through which he plans to civilize us? Well, first, he needs to defend the nation against "a gay and secular fascism … prepared to use the government if it can get control of it." It would not be hard to conclude that this gay, secular fascist conspiracy in Gingrich's view is now occupying the White House. After all, Gingrich recently mused that Obama might deserve to be impeached for his reversal on the Defense of Marriage Act legislation.
No less crazily, a few months ago he suggested, after reading Dinesh D'Souza's nutty anti-Obama screed in Forbes, "What if [Obama] is so outside our comprehension, that only if you understand Kenyan, anti-colonial behavior, can you begin to piece together [his actions]? … that is the most accurate, predictive model for his behavior."
One might go on almost indefinitely citing reasons why this crazy, personally irresponsible, and publicly corrupt individual could only be considered to be a serious candidate for the presidency in a country that had itself gone nuts.
One presumes that the national news reporters and editors of The New York Times know this. One also presumes they are aware of all of the insurmountable obstacles to a Gingrich candidacy in a country that retains a measure of political sanity. So the question becomes: Is the Republican field really so divorced from reality that the paper has no choice but to take Gingrich seriously?
After all, NBC's "Meet the Press" featured Gingrich as its most frequent guest in 2009 with nine separate appearances despite the fact that he held no position, that it did not book the actual Speaker of the House Nancy Pelosi (D-CA) on the show even once that year, and that no ex-speaker had ever appeared on the show even once.
Is the paper afraid merely to print the truth about the man? Or can it be that the conservative "working of the refs" is such an effective tool that even the dreaded avatar of America's cultural elite feels it has no choice but to publish propaganda pieces on behalf of the people who have declared themselves to be its enemy? Or has our political culture, together with Newt Gingrich, gone nuts?
I report, you decide.
Eric Alterman is a Senior Fellow at the Center for American Progress Action Fund and a Distinguished Professor of English at Brooklyn College and the CUNY Graduate School of Journalism. He is also a columnist for The Nation, Moment, and The Daily Beast. His newest book is Kabuki Democracy: The System vs. Barack Obama.
The positions of American Progress, and our policy experts, are independent, and the findings and conclusions presented are those of American Progress alone. A full list of supporters is available here. American Progress would like to acknowledge the many generous supporters who make our work possible.
Authors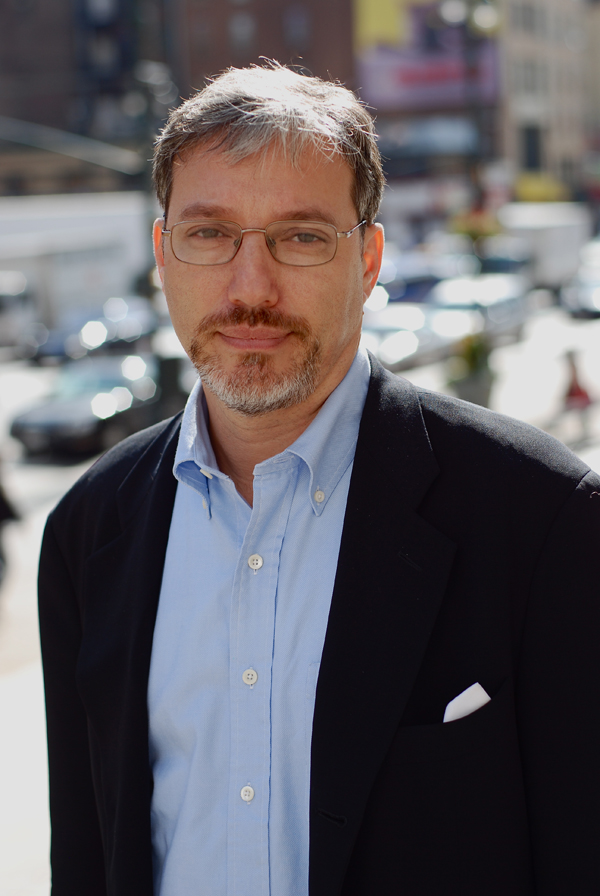 Eric Alterman
Senior Fellow
Explore The Series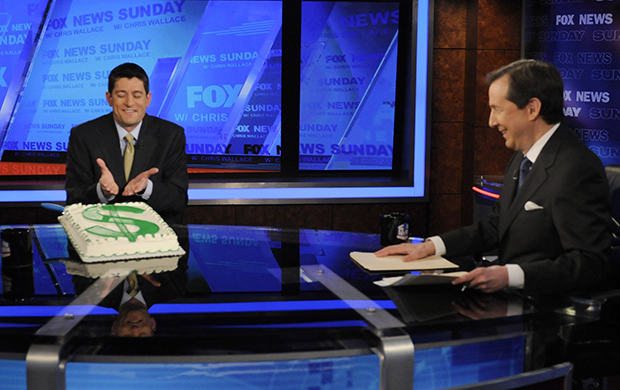 Previous
Media to McCain: How Long Has This Been Going On?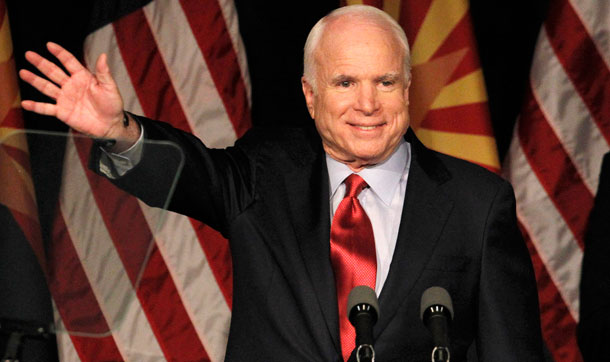 Media to McCain: How Long Has This Been Going On?
Next
How Conservatives Treat Media Bias (Hint: Confusingly)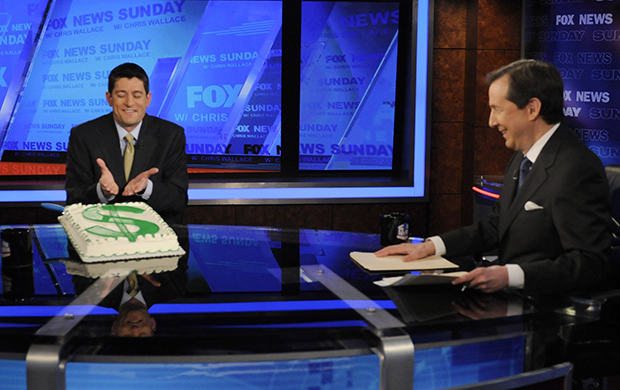 How Conservatives Treat Media Bias (Hint: Confusingly)