Three Ideas Mitt Romney Should Support on Housing
How He Can Help Homeowners
Mitt Romney says he wants to help struggling homeowners. John Griffith offers some ideas Romney should get behind.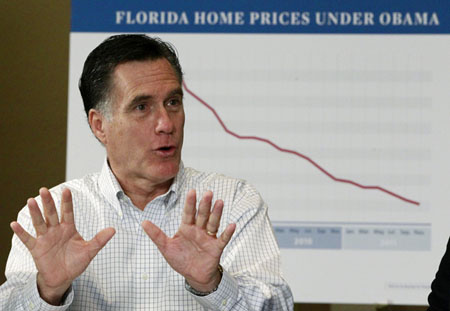 Since his presidential campaign began last year, Mitt Romney has adopted a mostly hands-off position on the ongoing foreclosure crisis. His 59-point economic plan unveiled last September makes only a couple passing references to housing. And back in October, Romney famously told the Las Vegas Review Journal's editorial board that solving the crisis meant letting the foreclosure process "run its course and hit the bottom."
Then he came to Florida.
"The idea that somehow [the housing market] is going to cure itself all by itself is probably not real," Romney told a group of Tampa homeowners, real estate investors, and mortgage lenders Monday. "There's probably going to have to be a much more concerted effort to work with the lending institutions and help them take action which is in their best interest and in the best interest of the homeowners."
It appears the GOP frontrunner has finally taken notice of Florida's dire housing situation. Indeed, the site of the next Republican presidential primary was hit especially hard by the housing bubble and bust of 2005–2007. Home prices in areas like Miami and Tampa are down roughly 50 percent from their peak in 2006, leaving almost half of Florida homeowners "underwater"—owing more on their mortgage than their home is worth. And 1 in every 49 homes in Florida received at least one foreclosure notice in 2011, ranking the Sunshine State seventh in the nation in foreclosures.
Despite his newfound realization that government plays an important role in helping struggling homeowners and reviving local housing markets, Romney stopped short of providing any concrete policy recommendations. "I don't have all the answers here for you," he admitted.
So while Romney develops his still-nascent housing platform, here are some promising proposals that directly address the problems he is just beginning to acknowledge.
What Romney said yesterday: "As [underwater homeowners] walk away and those homes are now empty, the neighborhood starts to become degraded, and then the value of your home goes down and pulls the whole neighborhood down with it."
What Romney should support today: Rehab-to-Rent
Yesterday the Center for American Progress's housing team released "Rehab-to-Rent Can Help Hard-Hit Communities and Our Economy," a plan for removing a portion of vacant, government-owned foreclosed properties from the glutted for-sale market by converting them to affordable rental units.
Though this initiative will not be easy, Rehab-to-Rent can improve local housing markets, promote neighborhood stability, and expand the availability of affordable rental housing. Most importantly, the initiative must target the communities (many of which are in Florida), buyers, and property managers that have the best chance of implementing the model successfully.
What Romney said yesterday: "It's tragic. We're just so overleveraged, so much debt in our society, and some of the institutions that hold it aren't willing to write it off and say they made a mistake, they loaned too much, we're overextended and write those down and start over."
What Romney should support today: Targeted principal write-downs
Mortgage principal reduction—lowering the amount of money underwater borrowers actually owe on their mortgage—is perhaps the most powerful tool to deleverage household debt and lower monthly housing costs. In an effort to avoid future default, lenders recognize lost value on the home and structure a better deal with the existing owner, so banks and homeowners share losses from the housing collapse.
But any write-down initiative must be carefully crafted to limit losses to lenders and investors, focus on homeowners at greatest risk of foreclosure, and reduce the incentive for borrowers to walk away from their mortgages.
One particularly promising initiative—and one recently supported by William Dudley, president and CEO of the Federal Reserve Bank of New York—would reward underwater borrowers that stay current on payments by further reducing outstanding principal over time, also known as "earned principal reduction."
What Romney said yesterday: "I'd also like to look at ways to help banks find ways to actually refinance and help people in the setting they're in. … we have to figure out a way to have the lending institutions understand how they can take action that's in their best interest, that's also in the best interest of the homeowner, that's also in the best interest of the overall economy."
What Romney should support today: Mass refinancing of underwater mortgages
Many homeowners with mortgages backed by the nation's two leading mortgage finance companies, Fannie Mae and Freddie Mac—both currently in government conservatorship—cannot take advantage of today's historically low interest rates because they are underwater. The Home Affordable Refinance Program, or HARP, was established in 2009 to allow current but underwater homeowners to refinance at the hope of lowering monthly housing payments to avoid foreclosure.
After relatively slow uptake in the program's inaugural years, Fannie Mae and Freddie Mac recently announced major changes to the HARP program to attract more participants. The revamped HARP initiative is similar to, but far narrower than, a government-led mass refinancing proposal authored by Romney's own chief economic advisor, Glenn Hubbard.
Mitt Romney says he wants to help struggling American families stay in their homes and deleverage their crippling housing debt. It's time he proved it.
John Griffith is a Research Associate with the Housing team at the Center for American Progress Action Fund.
The positions of American Progress, and our policy experts, are independent, and the findings and conclusions presented are those of American Progress alone. A full list of supporters is available here. American Progress would like to acknowledge the many generous supporters who make our work possible.
Authors John Griffith
Policy Analyst