Three ways to help working Americans:
It's another day in Trump's America—and another day to stand up for what's right. Get the facts to fight back.
Fight for $15: "We can raise the minimum wage."

At last month's Workers Forum, we asked progressive leaders to make their case for the most important steps we can take to immediately improve the lives of working Americans.
For former HUD Secretary Julián Castro, raising the minimum wage is paramount. In the latest installment of our video series with progressive leaders, Secretary Castro makes the case for increasing the minimum wage to $15 an hour, ensuring equal pay for women, and getting big money influence out of politics.
No one should have to work two or three jobs to make ends meet. Share Secretary Castro's plan to help working Americans on Facebook and Twitter: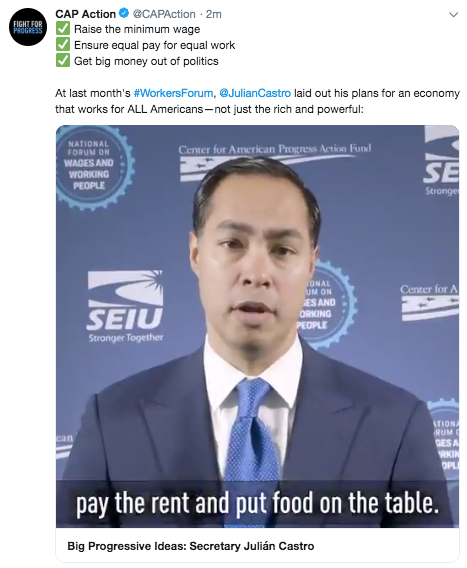 We're highlighting progressive visions for an economy that works for everyone:
Watch Senator Kamala Harris lay out bold solutions to help working families.
Then check out former Rep. Beto O'Rourke's vision for universal health care.
This is what progressive action looks like:

As Trump and Republicans in Congress falsely accuse progressive leaders of inaction, those leaders keep churning out policy proposals that would actually address issues that impact Americans every day:
ABORTION RIGHTS: Amidst an onslaught of abortion bans in statehouses across the U.S., Senator Elizabeth Warren (D-MA) rolled out a plan for federal abortion and reproductive rights protections to be enacted by Congress. Senator Kirsten Gillibrand (D-NY) introduced her plan to codify Roe v. Wade in federal law.
EQUAL PAY: Senator Kamala Harris (D-CA) has an impressive proposal to ensure equal pay: fine companies who don't pay men and women equally. Per Harris, "It should not be on that working woman to prove it, it should instead be on that large corporation to prove they're paying people for equal work equally."
BIG MONEY IN POLITICS: In a fight for fair elections, the first step is getting big money influence out of politics. Governor Steve Bullock (D-MT) is putting campaign finance reform at the center of his agenda.