Tracking Waste and Abuse in Trump's Cabinet
Trump's Cabinet members are wasting millions of taxpayer dollars on themselves.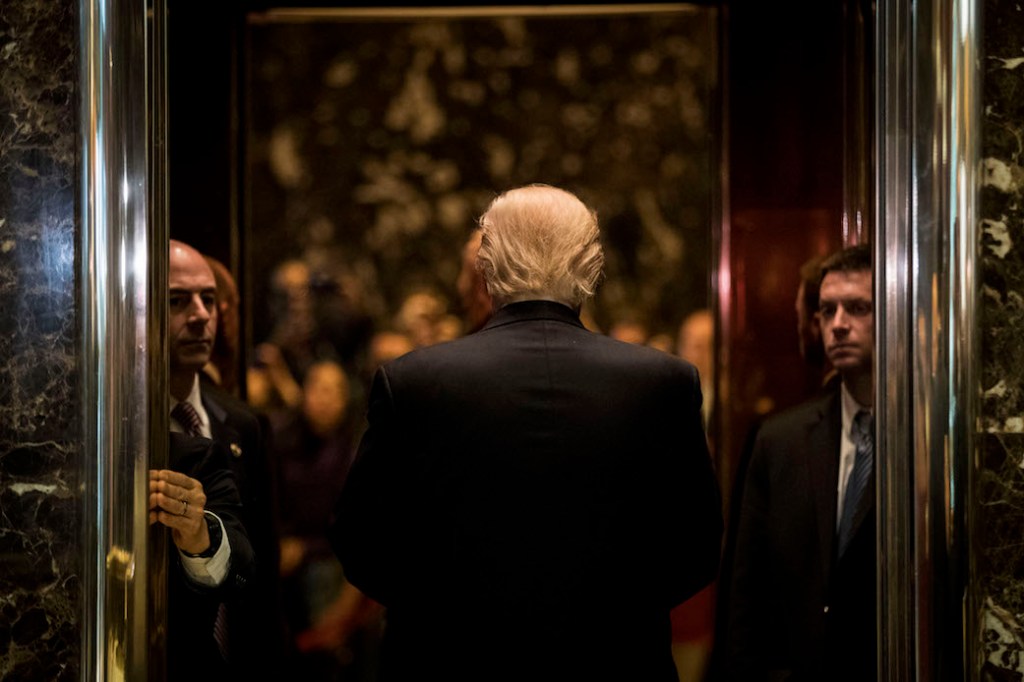 This page will be updated as new information comes to light about waste and abuse in Trump's Cabinet. This page was last updated on June 14, 2018.
The Trump administration is rife with corruption, waste, and abuse, as those in power seek to benefit themselves at the expense of the American people. The problem starts with President Donald Trump, who has used his position to enrich himself and his family; to hire former industry lobbyists and give them unwarranted influence over policy decisions that affect those industries; and to try to undermine an investigation into his shady dealings. That's why the American people view the Trump administration as the most corrupt government institution in the United States.
This corruption extends throughout the administration. President Trump's Cabinet—the wealthiest and least-experienced Cabinet in recent memory—has shown little regard for the needs of the American people or the responsibilities of public service. While seeking to substantially cut programs that millions of Americans depend on, a number of Cabinet members have spent lavishly on themselves at taxpayers' expense.
Given the extensive efforts of this administration to hide information from the American people, there is no way to determine the full extent of waste and abuse of public resources. But, based on spending that has been discovered to date, Trump's Cabinet has spent more than $4.7 million on extravagant travel, pay raises to political cronies, and office upgrades.
That amount is more than 79 times what the median American family earned in 2016. It's enough money for the government to feed 1,700 seniors through the Meals on Wheels program for an entire year. It could fund public school for 375 students. It could provide 3.4 million meals to families that need nutritional assistance. Or it could provide Medicaid to 874 people.*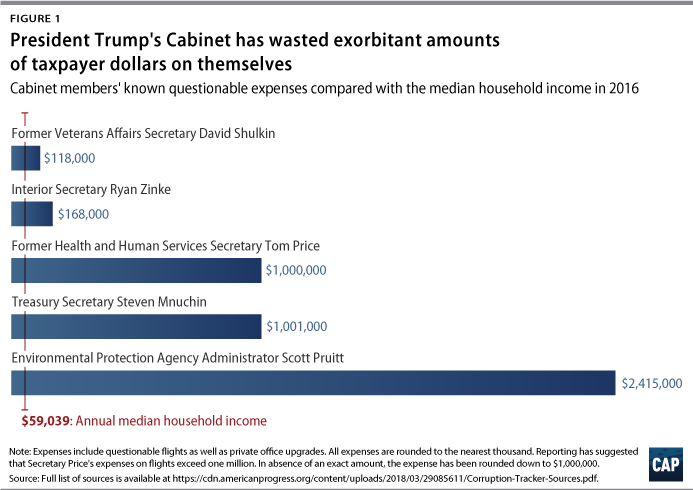 Policies exist to limit the corruption the Trump administration fosters, though current congressional Republican leaders and the president himself seem unwilling to take action. In the meantime, to help people hold Trump officials accountable, the Center for American Progress Action Fund is tracking the Trump Cabinet's waste and abuse.
Environmental Protection Agency Administrator Scott Pruitt: $2,415,000
Environmental Protection Agency (EPA) Administrator Scott Pruitt has spent more than $58,000 on chartered flights and more than $82,000 on first-class commercial flights.** He has also taken a number of questionable international trips, including a $100,000 trip to Morocco to promote the use of fossil fuels—which is not part of the EPA's mission—that an outside lobbyist helped him plan and subsequently benefited from, as well as a trip to Italy that cost more than $84,000, which was planned by a conservative activist and included a private tour of the Vatican. Pruitt also spent $45,000 to send an advance team to Australia as part of a potential trip that was being planned with the help of yet another lobbyist. These lobbyist-planned trips are no coincidence; upon taking office, Pruitt put together a wish list of places he wanted to visit at the taxpayer's expense and has been working with lobbyists to try and arrange those trips.
In an attempt to explain his expensive habits, Pruitt said that he travels first class in order to avoid interacting with people who disagree with his policy positions. Pruitt has also taken his taxpayer-funded, around-the-clock security detail—which he requested ahead of his first day at the EPA, before a threat assessment was done—with him on family vacations to places such as Disneyland and the Rose Bowl Game. When he paid for his own ticket, he decided to fly coach. In fact, Pruitt's 24/7 security detail cost taxpayers almost $3.5 million during his first year as EPA administrator. That is nearly double*** what taxpayers paid in security costs for the two previous EPA administrators—$1.9 million more. Serious concerns have been raised that there has not been a demonstrated need for the additional security, including an analysis from the EPA's Office of Homeland Security that stated, "EPA Intelligence has not identified any specific, credible, direct threat to the EPA administrator." Pruitt has also used members of his security detail to perform routine tasks for him, including having them pick up his dry cleaning and sending them around Washington, D.C., to search for a specific brand of lotion.
Beyond the cost to taxpayers, concerns have been raised about the frequency and purpose of his travel. During his first three months in office, Pruitt spent almost half of his time traveling to or from his home state of Oklahoma, costing taxpayers more than $15,000. Pruitt has well-known political aspirations, and many have speculated that his frequent trips to his home state could be in preparation for a future political run. Given these concerns, the EPA inspector general has opened an investigation.
Pruitt also spent around $43,000 to install a so-called privacy booth in his office. Former EPA officials called this addition "bizarre" and a "headscratcher." He spent an additional $6,000 to install biometric locks on the privacy booth and his office. After EPA officials nixed a proposal to replace two desks for $70,000, he refurbished his desk for $2,075 and spent an additional $5,500 on more furniture, art delivery, and expensive art framing for his office. Pruitt also authorized the EPA to spend $3,230 on "12 customized fountain pens," stationary, and personalized journals from a fine jewelry store. The pens, which bear Pruitt's signature, cost taxpayers $130 a piece. And he misused an obscure provision of law—intended to permit the administrator to hire experts in safe drinking water without congressional approval or limits on their salary amounts—to give three of his political cronies $96,000 in raises.
In addition to these questionable expenses, Pruitt spent part of his first year in Washington living in a townhouse co-owned by the wife of a top energy lobbyist, for which he reportedly paid well below market rate. This lobbyist, J. Steven Hart, represents a company that owned the only active liquid natural gas export plant in the United States at the time Pruitt lived in the condo. On Pruitt's expensive—and seemingly inexplicable—trip to Morocco, he pitched the "potential benefits of liquefied natural gas (LNG) imports on Morocco's economy." This same lobbyist also recommended people to be appointed to the EPA Science Advisory Board, after both he and Pruitt denied that Hart had ever lobbied him in his role as EPA administrator. The EPA also paid $2,460 to repair a door that Pruitt's security detail broke down while looking for him in his townhouse. Pruitt also attempted to hire a Republican opposition research firm to influence press coverage of the agency through a $120,000 no-bid contract. When it came to light that one of the firm's top executives had been secretly investigating EPA employees for signs of bias against the Trump administration, the firm decided to withdraw from the contract. Pruitt's excessive spending was questioned by high-level career and political staff at the EPA; in response, the staff were reportedly reassigned, demoted, or asked to leave. Since revelations about unethical behavior have come to light, Pruitt's security chief, a political crony he brought with him from Oklahoma to oversee the EPA's cleanup of Superfund sites, and his top communications aide have all resigned.
Secretary of the Treasury Steven Mnuchin: $1,001,590
Secretary Steven Mnuchin's frequent use of military planes has cost the public more than $1,000,000. These flights have cost taxpayers hundreds of thousands of dollars more than if he simply flew coach, as former Treasury Secretary Tim Geithner frequently did. Secretary Mnuchin even tried to obtain a military plane for his honeymoon in Europe, though he backed down after facing media scrutiny for the request. The inspector general investigated the trips, but, given that the White House approved them all, there was no violation of law. The inspector general did note, however, that very little information was provided to justify the trips.
Former Secretary of Health and Human Services Tom Price: $1,000,000
Former Secretary Tom Price spent more than $1 million on chartered and military flights while in office. Domestically, former Secretary Price took a private plane at least 26 times, including on a trip to a Georgia resort—where he owned property—and on a sparsely scheduled trip to Tennessee—which included lunch with his son. Secretary Price eventually offered to reimburse the government slightly less than $52,000, only a fraction of what he spent. Following the uproar over his excessive travel costs, the secretary was forced to resign in September 2017.
Secretary of the Interior Ryan Zinke: $168,000
Similar to Pruitt, Interior Secretary Ryan Zinke has engaged in expensive office upgrades, spending $139,000 on new doors for his suite. He has also raised concerns with his questionable travel habits, including a $12,375 charter flight from Las Vegas to near his home in Montana as part of a trip where he spoke at the Western Governors' Association. While Secretary Zinke claimed to be in Las Vegas to announce a local funding grant, he also found time to speak to a hockey team owned by a major campaign donor who had helped raise nearly $200,000 for Zinke's previous congressional races. Secretary Zinke has also taken several expensive helicopter flights totaling more than $14,000, including a return flight to Washington to go horseback riding with Vice President Mike Pence. In sum, the secretary spent nearly $30,000 on these charter and helicopter flights. The inspector general opened an investigation, but was unable to determine if Secretary Zinke had violated government rules due to his failure to properly document his travel. Even on his personal time Secretary Zinke has been loose with taxpayer money. Records show that Secretary Zinke and his wife took taxpayer-funded security officials with them on a two-week vacation to Greece and Turkey last year.
Former Secretary of Veterans Affairs David Shulkin: $118,000
In July 2017, then-Secretary of Veterans Affairs David Shulkin and his wife traveled to Copenhagen and London on a taxpayer-funded trip that cost more than $122,000. Only slightly more than one-third of the nine-day trip was spent on business. And according to a report by the inspector general, during the trip, Secretary Shulkin and his wife improperly accepted tickets to Wimbledon. The inspector general found that hours of valuable staff time and taxpayer dollars were spent "providing personal travel concierge services" and planning leisure activities for Secretary Shulkin and his wife that were not work-related, such as palaces tours and cruises. Secretary Shulkin made misleading statements about the trip to the press, suggesting that ethics officers had approved it—which they had not. Worse yet, the secretary's chief of staff falsified documents and misled ethics officials. Secretary Shulkin eventually caved to public scrutiny and said that he would reimburse the government the $4,000 spent on his wife's travel.
Secretary of Housing and Urban Development Ben Carson: $31,000
Secretary Ben Carson's custom office furniture cost taxpayers $31,000, well above the $5,000 limit for making such an expenditure without congressional approval. A senior career staff person at the department said she was told by Secretary Carson's wife to "find the money" for the office upgrade and was demoted when she refused to misuse taxpayer dollars. When first asked about the incident by reporters, the department lied and said that no table had been purchased. The department eventually admitted the truth, though Secretary Carson claimed that he and his wife were not involved in the purchasing decision. Subsequently revealed emails show that this, too, was false. Most recently, Secretary Carson has said that he will rescind the furniture order. His ability to do so, however, remains unclear.
Questions have also arisen about the involvement of the secretary's son in an event Secretary Carson held in Baltimore. Although he did not work for the agency, Ben Carson Jr. helped to organize the event, including by inviting local business leaders to attend. For example, Carson Jr. and his wife requested that Seema Verma, the head of the Centers for Medicare and Medicaid Services (CMS), be invited, as well as prominent local business owners. Agency lawyers warned Secretary Carson that allowing his son to be involved would create the appearance "that the [s]ecretary may be using his position for his son's private gain." Lawyers noted that Carson Jr., a Baltimore businessman himself, may want to conduct business with those he invited to the event. Sure enough, though Verma did not attend the event, three months later, CMS awarded a $485,000 contract to a consulting company run by Carson Jr.'s wife.
The extent of the Trump Cabinet's waste and abuse is shocking both in terms of the number of those who have engaged in extravagant spending and the lack of regard they have shown for taxpayer dollars. Equally shocking is how little congressional Republican leaders seem to care and how little they are doing to hold Trump and his senior leadership accountable. They too are just another part of President Trump's culture of corruption, where the interests of the politically powerful and their friends are put before the needs of the American public.
*To calculate the number of seniors who could be served through the Meals on Wheels program, the authors used Mathematic Policy Research's estimate of an annual per person cost of $2,765 for 250 days of meal deliveries. To calculate the cost of public school, the authors used the $12,509 per pupil cost calculated by the National Center for Education Statistics. To calculate the number of meals that could be provided through nutritional assistance, the authors used the Center on Budget and Policy Priorities' estimate of $1.39 per meal. To calculate the number of people who could be provided Medicaid, the authors used the Kaiser Family Foundation's cost estimate of $5,376 per person. 
**The total of $58,000 spent on charter flights includes a $36,068.50 trip from Cincinnati to New York; a $14,434.50 trip from Tulsa, Oklahoma to Guymon, Oklahoma; a $5,719.58 trip from Denver to Durango, Colorado; and a $2,144.40 trip to Grand Forks, North Dakota. The $82,000 spent on first-class commercial flights does not include the $16,217 in flight costs for his trip to Morocco or the $7,003.52 for his trip to Italy. Those costs are included in the overall cost of the trips. Accounting for those two flights, Pruitt has spent $105,000 on first-class commercial flights.
***An additional $1,888,722 was added to Pruitt's overall number for his prorated security costs—the amount he cost taxpayers above and beyond what security for previous EPA administrators cost, on average, in light of evidence that the additional security was not warranted and of his misuse of his security detail.
The positions of American Progress, and our policy experts, are independent, and the findings and conclusions presented are those of American Progress alone. A full list of supporters is available here. American Progress would like to acknowledge the many generous supporters who make our work possible.