Trump and Russia: A Timeline
A look back at the troubling ties between President Donald Trump, his allies, and Russian officials.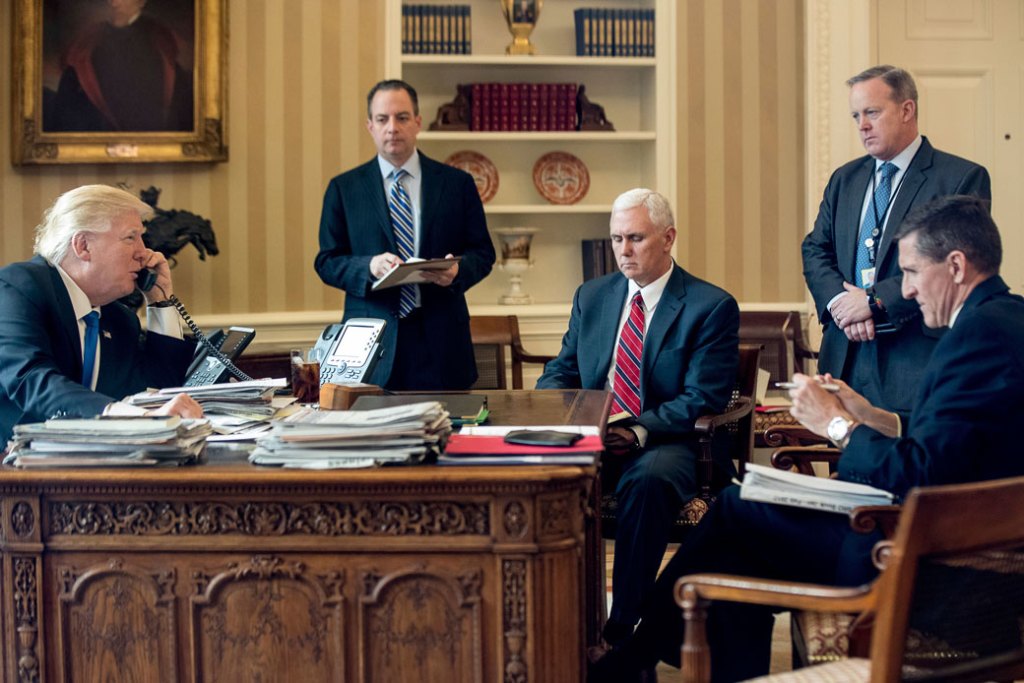 March 3, 2017: This timeline has been updated to provide additional details and include recent developments.
Below is a timeline of known incidents before and after the election that reveal a troubling pattern of alignment and possible illegal conduct between President Donald Trump's inner circle and Russian officials. But the question remains: What don't we know?
The American people need answers, and that requires an independent, bipartisan commission to fully investigate all aspects of Russia's operation targeting the 2016 presidential election.
Early 1990s: Beginning in the early 1990s, the Trump Organization "was hemorrhaging money and Trump was on the hook for hundreds of millions of dollars." Trump found himself $3.4 billion in debt, $832.5 million for which he was personally liable.
Mid-1990s: In 1995, Trump declares a $916 million loss on his income tax returns. His business interests are taking a toll on his creditworthiness, and most bankers on Wall Street become "unwilling to lend him money due to what they termed 'the Donald risk.'" He needs money, and turns to two sources: Deutsche Bank and Bayrock Group.
1998: Deutsche Bank provides Trump $125 million to renovate an office building at 40 Wall Street. More deals follow, with the bank providing or underwriting $1.3 billion to Trump entities over the next few years. More recently, Deutsche Bank has been at the center of schemes to help Russians secretly funnel money offshore. In January 2017, the bank "was hit with about $630 million in penalties … over a $10 billion Russian money-laundering scheme that involved its Moscow, New York and London branches."
Early 2000s: Trump turns to a small upstart called the Bayrock Group for cash. The company—which was run by Russian immigrants with ties to the Russian mafia and headquartered in Trump Tower—begins a partnership with the Trump Organization that goes on to develop properties in Florida, Arizona, and New York, including Trump SoHo.
2005: Trump signs a one-year deal to explore building a Trump Tower in Moscow. Bayrock Group finds a site—an old pencil factory—but the effort fizzled again.
2007–2008: With the help of Trump lawyer Michael Cohen, dozens of Russian buyers purchase apartments in Trump properties, according to Sergei Millian, a Russian émigré who reportedly served as a broker between Russian buyers and Trump. Millian said the Trump Organization received "hundreds of millions of dollars" through deals with Russian businessmen.
2008: Now-President Turmp's son Donald Trump Jr. visits Moscow six times in 18 months in search of new deals, but none pan out.
November 2013: Trump travels to Moscow for the Miss Universe pageant, where he meets with numerous Russian oligarchs, including Aras Agalarov, to explore future business ventures in Russia. Video and photo evidence place Trump at the Moscow Ritz-Carlton for filming of Emin Agaralov's music video during that trip.
March 21, 2016: GOP presidential primary candidate Trump introduces his campaign's foreign policy advisory team, chaired by then-Sen. Jeff Sessions (R-AL). Energy industry executive Carter Page, largely unheard of in foreign policy circles, is second on the list. Politico indicates that Sessions' chief of staff Rick Dearborn may have recruited Page.
April 27, 2016: Russian Ambassador to the United States Sergey Kislyak is seated in the front row as Trump delivers his first major foreign policy speech.
May 18, 2016: Director of National Intelligence James Clapper reports that the U.S. intelligence community has evidence of foreign spy services attempting to hack digital networks used by U.S. presidential campaigns, including the Democratic National Committee, or DNC, and the Democratic Congressional Campaign Committee, or DCCC.
June 14, 2016: The Washington Post reports that Russian hackers have penetrated DNC databases and gained access to opposition research on Donald Trump, as well as all internal email and chat traffic.
 June 15, 2016:
A day after The Washington Post breaks the news that the DNC has been hacked, allegedly by Russian spies, Trump's team issues a statement: "We believe it was the DNC that did the 'hacking' as a way to distract from the many issues facing their deeply flawed candidate and failed party leader."
A hacker calling himself Guccifer 2.0 says he gave the hacked emails to WikiLeaks and published some himself.
June 17, 2016: The United States expels two Russian diplomats in retaliation for an attack on an American diplomat in Moscow.
July 7–8 2016: Trump campaign foreign policy adviser Carter Page meets with Russian President Vladimir Putin confidants Igor Sechin and Igor Diveykin while in Moscow, according to U.S. intelligence reports.
July 11–15, 2016: The Trump campaign successfully lobbies the Republican National Committee, or RNC, to drop anti-Russia language in the party platform and water down language supporting Ukraine.
July 20, 2016:
Sessions, identified as a senior adviser to the Trump campaign, keynotes a luncheon in Cleveland co-hosted by the Heritage Foundation and the U.S. State Department. He meets with Russian Ambassador to the United States Kislyak following his remarks.
July 22, 2016: WikiLeaks begins publishing the first in a series of thousands of stolen DNC emails.
July 25, 2016: The FBI announces an investigation into the DNC hack.
July 26, 2016: American intelligence officials tell the White House they have "high confidence" that Russia is behind the DNC breach.
July 27, 2016: At a press conference in Florida, Trump urges Russia to hack Democratic candidate Hillary Clinton's emails: "Russia, if you're listening, I hope you're able to find the 30,000 emails that are missing."
July 29, 2016: The DCCC announces it too has been hacked—later confirmed by the same Russia actors behind the DNC breach. The Russian hacker Guccifer 2.0 subsequently releases stolen DCCC documents targeting House races in several states including Florida, Pennsylvania, New Hampshire, Ohio, Illinois, and North Carolina.
August 17, 2016: Trump receives the first of several classified briefings by intelligence agencies that included information about the hacking incidents, including "direct links" between Russian President Putin's government and the hacks and email leaks. Clinton and Trump are entitled to these briefings as the major party presidential nominees.
August 19, 2016: Trump campaign chairman Paul Manafort resigns amid controversy over his Russia ties—particularly his past lobbying work for pro-Russian Ukrainian oligarchs.
August 21, 2016: Trump ally Roger Stone, who has close ties to WikiLeaks and Russia, predicts WikiLeaks' release of Clinton campaign chairman John Podesta's emails on Twitter: "Trust me, it will soon [be] Podesta's time in the barrel".
August 29, 2016: Senate Minority Leader Harry Reid (D-NV) sends a letter to FBI Director James Comey voicing concern over Russian interference in the election and asking Comey to open an FBI investigation. 
September 2016:
Sessions reportedly meets again with Ambassador Kislyak in his D.C. Senate office. Details of the meeting remain unknown.
The "Gang of 12"—Senate, House, and congressional intelligence committee leaders—receive briefings from the intelligence community about Russian interference in the election, at which point Senate Majority Leader Mitch McConnell (R-KY) voices doubts about the intelligence presented.  
September 8, 2016:
In an interview with the Russian government-backed RT cable channel, Trump says it was "probably unlikely" Putin was behind the hacks. Instead, he claimed: "I think maybe the Democrats are putting that out. Who knows, but I think it's pretty unlikely."
At the Commander-in-Chief Forum, Trump declares that Vladimir Putin has been "a leader far more" than President Barack Obama.
September 26, 2016: During the first presidential debate, Trump questions intelligence community findings that Russia broke into the DNC: "I don't think anybody knows it was Russia that broke into the DNC. [Clinton's] saying Russia, Russia, Russia, but I don't—maybe it was. I mean, it could be Russia, but it could also be China. It could also be lots of other people. It also could be somebody sitting on their bed that weighs 400 pounds, OK?"
October 3, 2016: Roger Stone pronounces on Twitter: "I have total confidence that @wikileaks and my hero Julian Assange will educate the American people soon."
October 7, 2016:
The U.S. Department of Homeland Security, or DHS, and Director of National Intelligence James Clapper release a unanimous assessment on behalf of the intelligence community that formally accuses the Russian government of stealing and leaking emails from the DNC and other U.S. political organizations. Their statement says that the leaked emails "are intended to interfere with the U.S. election process."
The "Access Hollywood" tape of Trump sexually harassing a woman is released. Hours later, WikiLeaks begins posting Clinton campaign chairman John Podesta's stolen emails.
October 10, 2016: During the second presidential debate, Trump questions whether any hacking had occurred, saying "maybe there is no hacking". He adds: "They always blame Russia, and the reason they blame Russia is because they think they are trying to tarnish me with Russia."
October 20, 2016: During the third presidential debate, Trump again questions whether hacking had occurred, saying says "our country" has "no idea whether it is Russia, China or anybody else."
October 30, 2016: Sen. Reid sends another letter to FBI Director Comey about his handling of the Clinton email probe, in which he criticizes Comey for unfairly sitting on "explosive information about close ties and coordination between Donald Trump, his top advisors, and the Russian government".
November 7, 2016: WikiLeaks releases more DNC emails.
November 8, 2016: Election Day
December 7, 2016: In an interview with Time magazine after the election, President-elect Trump reiterates, "It could be Russia. And it could be China. And it could be some guy in his home in New Jersey."
December 9, 2016:
According to The Washington Post, a secret CIA assessment concludes that Russia intervened in the 2016 election with the explicit aim of helping Trump win the presidency, rather than just sowing chaos in the American electoral process. This was reported to be a "consensus" view of the intelligence community.
President Obama directs the intelligence community to conduct a thorough review of what happened during the election.
The Trump transition team responds with a statement that reads: "These are the same people that said Saddam Hussein had weapons of mass destruction. The election ended a long time ago in one of the biggest Electoral College victories in history. It's now time to move on and 'Make America Great Again.'"
December 28, 2016: As word of potential Obama administration sanctions on Russia spreads, The Washington Post reports that Kislyak sent a message to retired Lt. Gen Michael Flynn—Trump's pick for national security adviser—requesting a call. Flynn takes the call, and according to U.S. intelligence officials, discusses the possibility of easing sanctions on Russia during the Trump administration.
December 29, 2016:
The FBI and DHS release a report, "GRIZZLY STEPPE — Russian Malicious Cyber Activity," that provides technical details regarding the tools and infrastructure used by the Russian civilian and military intelligence services—known as the RIS—to compromise and exploit networks and endpoints associated with the U.S. election, as well as a range of U.S. government, political, and private-sector entities.
President Obama imposes new sanctions on Russia and ejects 35 Russian diplomats from the United States. The measures are aimed at punishing Russia's state-sponsored political hackers and deterring further meddling in U.S. elections.
Trump writes in a statement: "It's time for our country to move on to bigger and better things. Nevertheless, in the interest of our country and its great people, I will meet with leaders of the intelligence community next week in order to be updated on the facts of this situation."
Flynn holds five phone calls with Ambassador Kislyak. According to three sources, the "calls occurred between the time the Russian embassy was told about U.S. sanctions and the announcement by Russian President Vladimir Putin that he had decided against reprisals".
December 30, 2016:
Putin announces that he will not retaliate in response to the new sanctions. Trump praises Putin's decision: "Great move on delay (by V. Putin) – I always knew he was very smart!"
According to The New York Times, Putin's muted response—which took Obama administration White House officials by surprise—raised some suspicion that Moscow may have been promised a reprieve and triggered a search by U.S. spy agencies for clues.
December 31, 2016:
Trump again doubts the intelligence agencies in a news conference in Florida: "I know a lot about hacking. And hacking is a very hard thing to prove. So it could be somebody else. And I also know things that other people don't know, and so they cannot be sure of the situation."
Trump also says he will reveal something about the hacking incidents on Tuesday or Wednesday of that week.
January 3, 2017:
Trump tweets: "The 'Intelligence' briefing on so-called 'Russian hacking' was delayed until Friday, perhaps more time needed to build a case. Very strange!"
NBC News reports the briefing had always been scheduled for Friday.
January 4, 2017: Trump sides with Julian Assange and Russia over U.S. intelligence, tweeting: "Julian Assange said 'a 14 year old could have hacked Podesta' – why was DNC so careless? Also said Russians did not give him the info!"
January 6, 2017:
The heads of the National Security Agency, FBI, CIA, and Office of the Director of National Intelligence brief Trump on the hacks for two hours in Trump Tower. The intelligence community leaders give Trump a report in which they confirm that Putin directed a vast cyberattack aimed at denying Clinton the presidency and installing him in the Oval Office. Soon after leaving the meeting, the intelligence officials release an unclassified version of the report.
In a phone interview with The New York Times three hours before the briefing, Trump calls the response to Russian hacking nothing more than a "political witch hunt" carried out by his adversaries.
After the briefing, Trump releases a statement: "While Russia, China, other countries, other groups and people are constantly trying to break through the cyber infrastructure of our government institutions, businesses and organizations including the Democratic National Committee, there was no effect on the outcome of the election including the fact that there was no tampering whatsoever with voting machines."
At 11:00 that night, Trump took to Twitter, blaming Democrats for the cyberattacks: "Gross negligence by the Democratic National Committee allowed hacking to take place. The Republican National Committee had strong defense!"
January 10, 2017:
CNN reports that the intelligence community recently briefed President Obama and President-elect Trump on allegations that Russian operatives had compromising personal and financial information on Trump. The allegations were based in part on unverified memos compiled by former MI6 officer Christopher Steele, which were later published by BuzzFeed.
Kremlin spokesman Dmitry Peskov also told reporters that the allegations that Russia tried to influence the elections were "reminiscent of a witch-hunt."
Sessions, Trump's nominee for attorney general, lies during his confirmation hearing about his contacts with Russian officials, as later reported by The Washington Post. Sessions met with Russian Ambassador Kislyak on at least two separate occasions during the campaign.
January 13, 2017:
Incoming Trump press secretary Sean Spicer says that Flynn and Kislyak spoke on the phone on December 28, before the sanctions were imposed, and falsely claims they discussed an upcoming conversation between Trump and President Putin. Current and former U.S. officials say that assertion was not true. Instead, the officials allege the calls related to potential sanctions relief under a Trump administration.
January 15, 2017: On CBS' "Face the Nation," Vice President-elect Mike Pence denies that Flynn discussed sanctions with the Russian ambassador: "They did not discuss anything having to do with the United States' decision to expel diplomats or impose censure against Russia."
January 19, 2017: The New York Times reports that American intelligence agencies are analyzing intercepted Russian communications and financial statements as part of an ongoing investigation into President-elect Trump; his associates, including Flynn; and Russian officials.
January 20, 2017: Inauguration Day
January 27, 2017: Oleg Erovinkin—a former executive of Russian oil company Rosneft and intelligence agent for the KGB and its successor, the FSB—is found dead in the trunk of his car in Moscow. Erovinkin, described as a key liaison between Rosneft chief Igor Sechin and President Putin, was suspected of helping Christopher Steele compile his 35-page dossier.
 February 8, 2017: In an interview, now-National Security Adviser Flynn denies discussing sanctions with Kislyak.
February 9, 2017: The Washington Post catches Flynn in his lie, reporting that Flynn did in fact discuss sanctions with Ambassador Kislyak before Trump took office. According to nine current and former officials, "Flynn's reference to the election-related sanctions were explicit." Two officials added that Flynn had encouraged Moscow "not to overreact to the penalties being imposed by President Barack Obama, making clear that the two sides would be in position to review the matter after Trump was sworn in as president."
February 13, 2017: Counselor to the President Kellyanne Conway says, "General Flynn does enjoy the full confidence of the president." Minutes later, White House Press Secretary Sean Spicer tells reporters that Trump is "evaluating the situation" around Flynn. Later that evening, Flynn resigns.
February 14, 2017: The New York Times and CNN report that several Trump campaign aides—including Paul Manafort, Carter Page, Roger Stone, and Michael Flynn—were in repeated or "constant" contact with Russian intelligence officials during the presidential campaign, according to current and former American officials.
February 24, 2017: CNN reports that "The FBI rejected a recent White House request to publicly knock down media reports" about Trump associates and Russia.
March 1, 2017:
The New York Times reports that the British and Dutch governments have evidence of additional meetings in European cities between Trump associates and Russian officials during the campaign. U.S. intelligence agencies also separately intercepted communications between Russian officials talking about their meetings with the Trump campaign.
The Washington Post reports that now-Attorney General Sessions lied about his contacts with Russian officials during his confirmation hearing.
Corey Ciorciari is the Director of Policy and Research and Anna Perina is a Campaign Research Associate at the Center for American Progress Action Fund.
The positions of American Progress, and our policy experts, are independent, and the findings and conclusions presented are those of American Progress alone. A full list of supporters is available here. American Progress would like to acknowledge the many generous supporters who make our work possible.
Authors Corey Ciorciari
Director, Policy and Research Anna Perina
Senior Researcher