Trump coerced a foreign government to help him cheat in the 2020 election
It's another day in Trump's America—and another day to stand up for what's right. Get the facts to fight back.
Trump coerced a foreign government to help him cheat in the 2020 election

In today's House Judiciary impeachment hearing, Democrats presented the factual evidence of Trump's impeachable abuses of power.
Here are the key takeaways, as outlined by the House Judiciary majority counsel Daniel Goldman on the evidence for impeaching Trump:
Trump pressured Ukraine to investigate his political opponent.
Trump withheld aid and a White House meeting from Ukraine as leverage.
By doing this, Trump solicited foreign interference in the 2020 election.
By failing to turn over any evidence and preventing his appointees and staff from complying with Congressional subpoenas, Trump is obstructing justice.
Share this video clip to get the facts out about Trump's impeachable offenses: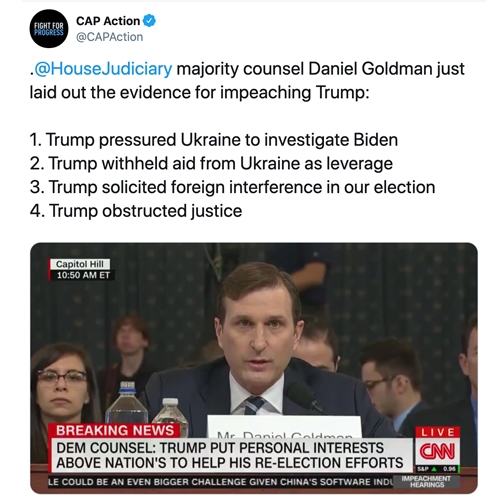 The core facts remain uncontested: By bribing and extorting Ukraine to interfere in our elections, the president abused his power by putting his own domestic political interests over the country's national security and foreign policy.
This week, the House majority is drafting articles of impeachment to hold Trump accountable because no one—not even the president of the United States—is above the law.
Follow @CAPAction and @Moscow_Project on Twitter to get the facts and stay up to speed on the Congressional impeachment inquiry.