The Trump Economy in One Chart.
Sham hearings for Brett Kavanaugh in the Senate Judiciary Committee will begin 9/4, despite the fact that The National Archives can't produce even the small part of his record that Republicans requested before late October.
You have 25 days to make your voice heard. Call or tweet at your Senators today using SaveScotusToolkit.org.
THE TRUMP ECONOMY IN ONE CHART.
Trump's economic agenda has been relentlessly aimed at helping big corporations, the wealthy, and Trump himself at the expense of the rest of us—and it's succeeding wildly.
New numbers show that for Americans, real wages are stagnant and even declining because consumer prices (costs for everyday spending) are rising. Americans are losing purchasing power: "A separate report released Friday showed average hourly earnings were flat in July, and average weekly earnings fell 0.2%"
At the same time, big corporations are stuffing their pockets thanks to Trump & Co.'s December tax scam, and making sure not one drop trickles down.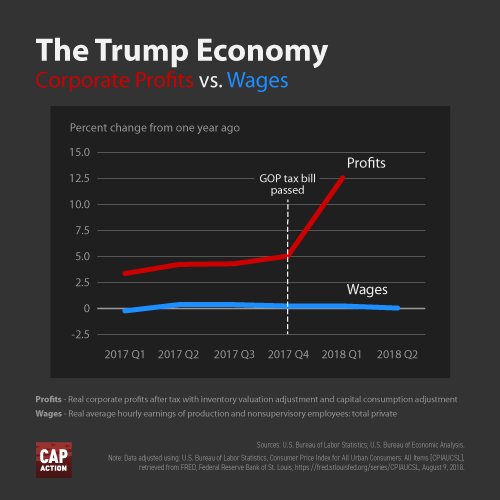 RBG, NOTORIOUS FOR 25 YEARS.
25 years ago today, Ruth Bader Ginsburg took the oath to become a Supreme Court Justice. The second female Supreme Court Justice and a staunch defender of progressive rights and freedoms, Justice Ginsburg has become an icon to so many Americans.
Heading into the weekend, we'll leave you with one of our favorite RBG quotes:
"People ask me sometimes, when do you think it will be enough? When will there be enough women on the court? And my answer is: when there are nine."
The positions of American Progress, and our policy experts, are independent, and the findings and conclusions presented are those of American Progress alone. A full list of supporters is available here. American Progress would like to acknowledge the many generous supporters who make our work possible.