Trump ignores experts, pushes ahead with Saturday rally as coronavirus deaths exceed WWI
This piece was originally published in the June 17, 2020 edition of CAP Action's daily newsletter, the Progress Report. Subscribe to the Progress Report here.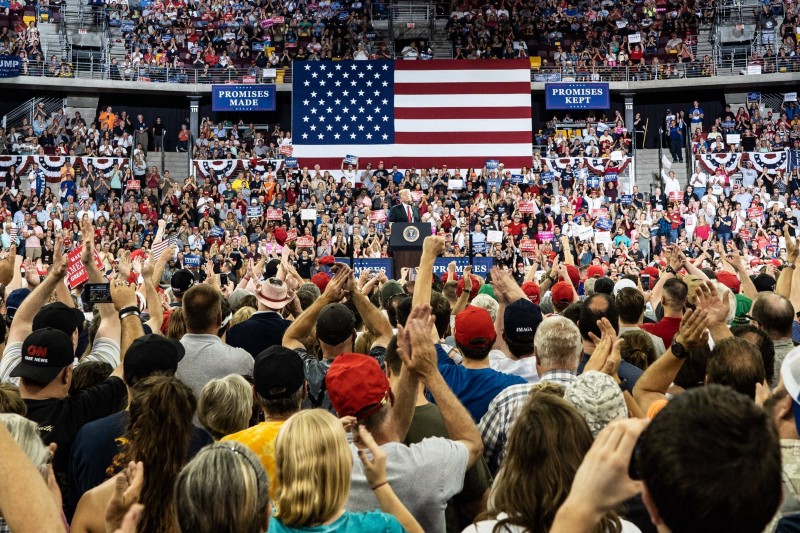 "I AM NOT INTERESTED IN A WATERED-DOWN BILL THAT MANDATES NOTHING."
— Rep. Cedric Richmond on the GOP's insulting new "police reform" bill
The U.S. coronavirus death toll — approximately 117,000 — just surpassed the number of American troops killed during World War I.
Trump's chaos has a terrible price.
Watch the full video, then share it on Twitter and Facebook to get the facts out: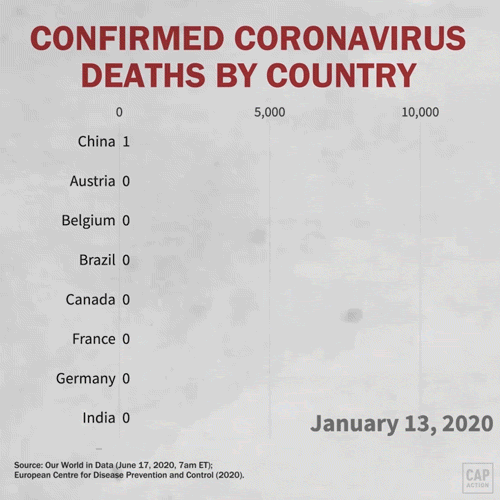 IN THE NEWS
Fulton County District Attorney Paul Howard announced a total of 11 charges, including felony murder, against the officer who fatally shot Rayshard Brooks after finding him asleep in his car in a Wendy's parking lot last week. In a video of the incident, now-former Officer Garrett Rolfe can be seen kicking Brooks' near-lifeless body after shooting him twice in his back. Howard said Brooks "never presented himself as a threat" and that officers failed to provide him with timely medical assistance after they shot him. Rayshard Brooks, who family have described as a loving dad with a bright smile and a big heart, was 27 years old.
Senate Republicans released what they're calling a "police reform" bill today which does NOT include any meaningful accountability measures for police officers or departments. The GOP's bill doesn't address qualified immunity, doesn't criminalize the reckless use of excessive force, and doesn't expand the authority to conduct pattern or practice investigations. It also fails to ban no-knock warrants like the one used by the officers who killed Breonna Taylor. The legislation comes a day after Trump announced a similarly meaningless executive order, which Ahmaud Arbery's mother told CNN doesn't go far enough and wouldn't have prevented her son's death at the hands of a former police officer.
With Trump's rally in Tulsa this Saturday quickly approaching, local officials are growing increasingly nervous about the risks. Yesterday, Oklahoma saw its highest increase in new coronavirus cases since the start of the pandemic, and area hospitals are reportedly preparing for another infection spike after Saturday's rally. The director of Tulsa's health department called the rally a "perfect storm of potential over-the-top disease transmission" and said the city "can't afford" such a risky situation.
Today marks five years since a white supremacist walked into the Emanuel AME Church in Charleston, South Carolina and murdered nine Black church-goers. The shooter entered the church and was reportedly welcomed by parishioners before firing 70 rounds of ammunition. The horrific massacre sparked one of many national conversations on race and white supremacy in recent years, and the issues at hand are sadly just as prevalent today as they were in 2015. The shooter was able to buy the gun used in the attack by exploiting a loophole in federal law that allows gun dealers to sell a gun when a background check takes too long to complete. The House passed legislation to close this gap in the law in February 2019 (HR 1112); however, the GOP-led Senate has taken no action to address this deadly loophole in the law.
IN CASE YOU MISSED IT
At least four members of Congress have connections to companies which received money from the Paycheck Protection Program (PPP), a federal loan program intended to support small businesses during the pandemic. Like we pointed out yesterday, there's no telling how many other public officials or their friends may have profited from the PPP because Steve Mnuchin refuses to disclose the list of companies who received loans from the massive program.
Texas Governor Greg Abbott is refusing to allow city or local governments to implement mask wearing requirements. His refusal comes as the state's daily new coronavirus case count hit yet another record high yesterday with 2,518 additional patients hospitalized. Abbott signed an executive order in April preventing local jurisdictions from imposing penalties on individuals who fail to wear masks. "People are confused," said Austin Mayor Steve Adler, who has been critical of Abbott's actions. "They just don't know at this point if it's really important to wear face coverings or not…they're getting mixed messaging."
Meanwhile, a new report has confirmed what many of us already suspected: Mask wearing works. Based on the diligent mask-wearing practices in countries like Japan, the report suggests that coronavirus infections would plummet to nearly one-twelfth of their unfettered level if just 80% of Americans wore face masks.
The Montgomery, Alabama City Council voted down a proposal to require mask-wearing in public spaces last night. According to Jackson Hospital pulmonologist William Saliski, nearly 90% of critically ill coronavirus patients in his hospital are Black. Saliski and a number of his visibly frustrated colleagues testified before the vote, urging the Council to do the right thing and pass the mandatory mask ordinance.
WHAT WE'RE READING
Support Color of Change's work to hold police accountable and break down barriers for Black Americans by donating here.
Note: This is not a donation to CAP Action. We make no warranties regarding the tax deductible status of donations made to this link.
The positions of American Progress, and our policy experts, are independent, and the findings and conclusions presented are those of American Progress alone. A full list of supporters is available here. American Progress would like to acknowledge the many generous supporters who make our work possible.