"Trump has no idea what he's doing."
It's another day in Trump's America—and another day to stand up for what's right. Get the facts to fight back.
His ignorance is dangerous

Trump's reckless tweeting isn't just bombast; it's proof of the fact that he has no earthly idea what he's doing.
America's trade policies need rethinking, but there's been no apparent thought or strategy going into Trump's erratic trade war, which has lurched from tweet to tweet depending on his mood. And with more farmers going bankrupt every day and the stock market tumbling, Trump dug his heels in again last night on Twitter.
Meanwhile, asked whether Trump understands the fundamental fact that American consumers—not China—will pay for U.S. tariffs on Chinese goods, several administration officials gave an alarming answer: "There's little point trying to persuade Trump otherwise, because his belief in tariffs is 'like theology.'"
Trump has no idea what he's doing, and it's dangerous for our wallets, health, and security. Share this piece on Facebook and Twitter to spread the word: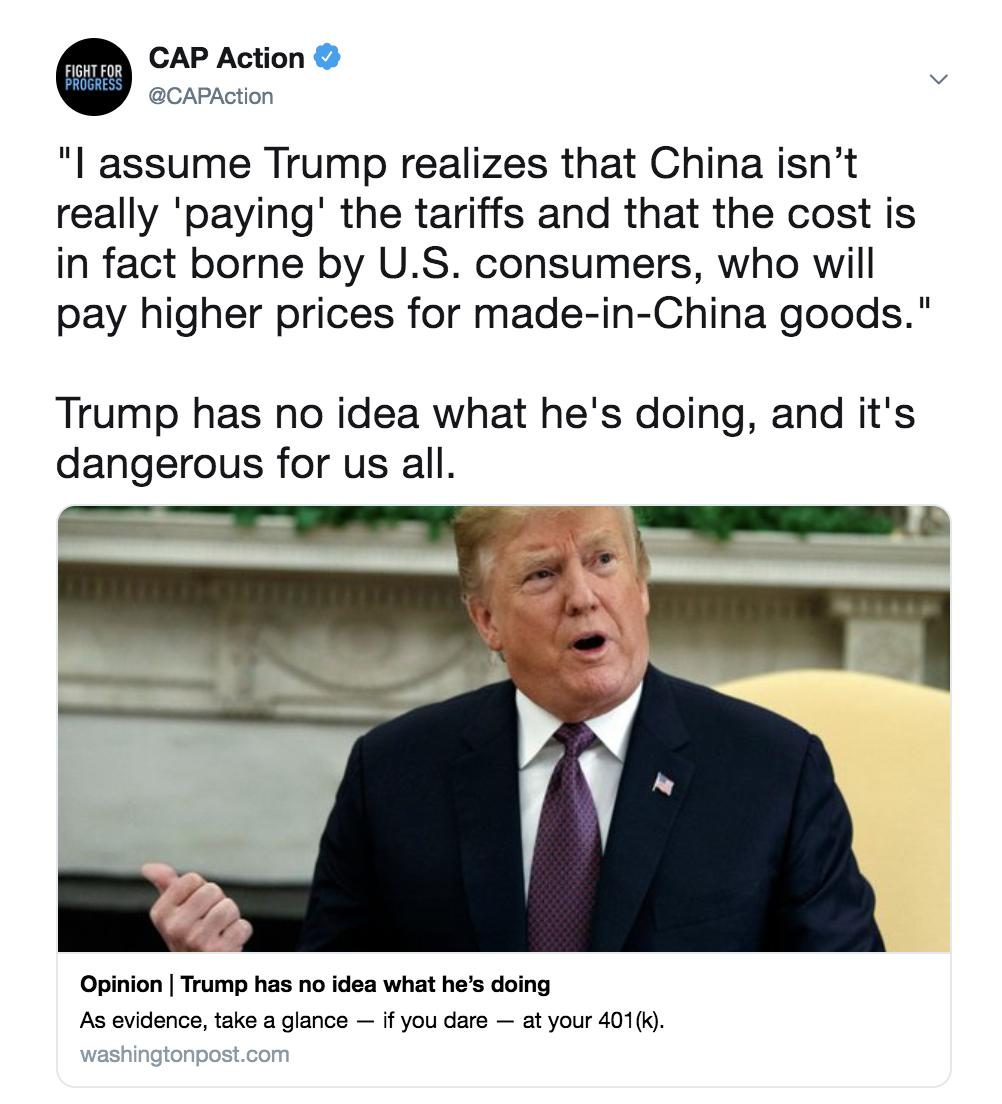 Trump's ineptitude on trade isn't the only thing endangering Americans:
IRAN: Trump abandoned the Iran nuclear deal with no alternative plan to be found, and reports suggest that his top advisers are discussing a plan to send 120,000 troops to the Middle East in response to Iranian attacks or advancements in nuclear development. Is there any actual strategy besides provoking war? As former CIA Director John McLaughlin put it, "Been trying to make sense out of the Trump policy toward Iran. Can't."
NORTH KOREA AND RUSSIA: Trump likes people who fluff his ego. In the case of Kim Jong-un and North Korea—as with Vladimir Putin and Russia—that's dangerous for the United States. Trump constantly ignores his intelligence agencies and cozies up to murderous dictators and defends their aggression against America, lifting up their stature in the world, undermining attempts to pressure them, and getting nothing in return. The only explanation given so far? Trump and Kim Jong Un are "in love," and Putin "was extremely strong and powerful in his denial" that Russia attacked our democracy.
HEALTH CARE: Trump is blindly pursuing repeal of the Affordable Care Act with no viable alternative, putting 20 million Americans at risk of losing their coverage. To make matters worse, he's lying about it, claiming that he is the head of the "party of health care" while simultaneously trying to rip protections away from 134 million people with pre-existing conditions. Rest assured, though: In March Trump confidently asserted "I mean it 100 percent, I understand health care now, especially very well."
FINANCES: Trump lost more than $1 BILLION in a decade, more than any other individual American taxpayer. Why in the world should we trust him to make important decisions for the economy?
The positions of American Progress, and our policy experts, are independent, and the findings and conclusions presented are those of American Progress alone. A full list of supporters is available here. American Progress would like to acknowledge the many generous supporters who make our work possible.