Trump "proud" to shut down government.
It's another day in Trump's America—and another day to stand up for what's right. Get the facts to fight back.
We've never seen anything like it. This morning, President Trump openly fought with Democratic Leaders Nancy Pelosi and Chuck Schumer in the Oval Office, demanding funding for his border wall and threatening a government shutdown if he doesn't get it.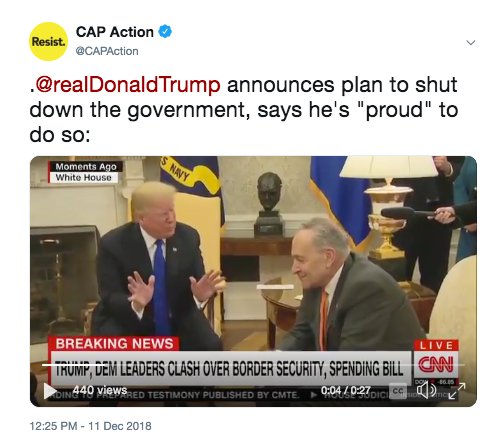 Democrats offered Trump a bipartisan compromise to keep the government funded through next year. Trump—interrupting and spouting lies—rebuffed it outright.
He also repeated one of his favorite lies, claiming the U.S. already started building the wall. This earns the Bottomless Pinocchio rating that we told you about yesterday. Trump has repeated this lie (or some version of it) 86 times.
Government funding expires in a little over a week, and rather than compromise on real border security measures, Trump's temper tantrum could mean suffering for Americans. And, hey, wasn't the wall supposed to be paid for by Mexico? Why are we in a massive funding fight for it anyways?
The wall is unpopular; a majority of registered voters (55%), including 34% of Republicans, say increased wall funding isn't worth a shutdown. Democrats just won a mandate from the American people, who resoundingly rejected Trump's demagoguery on exactly this issue.
HOW LOW CAN THEY GO?
President Donald Trump was implicated last week in two crimes committed by his former lawyer and longtime fixer, Michael Cohen. As Trump doubles down on attacking the Mueller investigation, Senate Republicans—including many who supported the impeachment of President Clinton—are sacrificing every claim to principle they ever had. A few samples:
Sen. Orrin Hatch (R-UT): "Okay, but I don't care; all I can say is he's doing a good job as President." And this: "President Trump before he became president, that's another world. Since he's become President, this economy has charged ahead…I think we ought to judge him on that basis rather than try to drum up things from the past that may or may not be true."
Sen. Chuck Grassley (R-IA): "They based it on what a liar says, so it hurts the credibility of it." This is the same man who rammed through Brett Kavanaugh's SCOTUS confirmation despite multiple credible allegations of sexual assault. Also, perjury.
Imagine their responses if President Obama had been accused of the same things.
As Republicans continue to abandon what little sense of public service they have left, new CNN polling shows that 57% of respondents disapprove of how Trump is handling the Russia investigation. Recent developments show that Mueller has identified collusion. With Maria Butina's supposed guilty plea and the walls closing in, Senate Republicans may be eating their words soon enough.
The positions of American Progress, and our policy experts, are independent, and the findings and conclusions presented are those of American Progress alone. A full list of supporters is available here. American Progress would like to acknowledge the many generous supporters who make our work possible.