Last night we saw President Donald Trump unleashed—and it was ugly.
Trump took the stage at a rally in Mississippi and proceeded to savagely attack Dr. Blasey Ford's credibility and her brave testimony.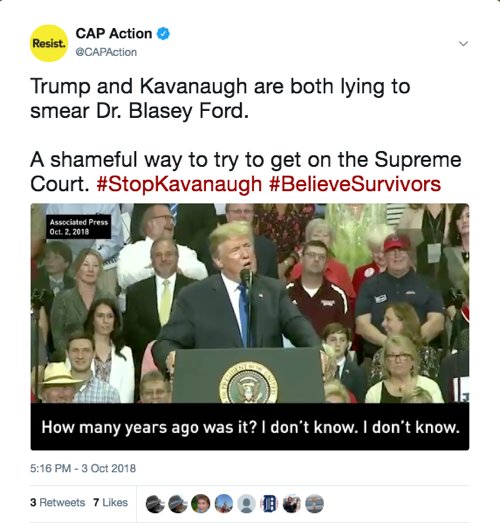 White House press secretary Sarah Huckabee Sanders falsely argued that "The President was stating the facts" last night as he mocked Dr. Ford. That's a lie.
Dr. Blasey Ford did, in fact, provide many of those specific details, and it was not at all unusual that she did not remember every single one. Above all she remained unshakeable on the one thing that mattered—her allegation that she was sexually assaulted and that Brett Kavanaugh did it.
More alarmingly, the President of the United States is engaging in a pointed smear campaign against a woman who is facing death threats and ridicule for her brave choice to come forward.
Trump isn't alone. His surrogates are on board, and Brett Kavanaugh himself smeared Ford under the guise of civility during his hearing before the Senate Judiciary Committee last week.
We can't afford to be silent. We can't allow survivors to be attacked and smeared by men in positions of power. We can't allow Brett Kavanaugh a seat on the Supreme Court.
TAKE ACTION: Join a national vigil to #StopKavanaugh tonight, and if you're DC-based, join a rally to #CancelKavanaugh and #BelieveSurvivors tomorrow at 12:30pm ET.
CORRUPT FROM INFANCY.
Yesterday's groundbreaking New York Times story found that Trump's fortune was built on tax fraud and shady dealings, "including instances of outright fraud."
Read the 11 biggest takeaways from the story:
"The Trumps' tax maneuvers show a pattern of deception, tax experts say"
"Donald Trump began reaping wealth from his father's real estate empire as a toddler"
"That 'small loan' of $1 million was actually at least $60.7 million — much of it never repaid"
"Fred Trump wove a safety net that rescued his son from one bad bet after another"
"The Trumps turned an $11 million loan debt into a legally questionable tax write-off"
"Father and son set out to create the myth of a self-made billionaire"
"Donald Trump tried to change his ailing father's will, setting off a family reckoning"
"The Trumps created a company that siphoned cash from the empire"
"The Trump parents dodged hundreds of millions in gift taxes by grossly undervaluing the assets they would pass on"
"After Fred Trump's death, his empire's most valuable asset was an I.O.U. from Donald Trump"
"Donald Trump got a windfall when the empire was sold. But he may have left money on the table."
Trump's attorney strongly denies the claims. For the public to be sure, we would need to see his tax returns.
However—and conveniently for Trump—just three weeks ago, 21 Republicans on the House Ways and Means Committee voted to keep Trump's tax returns a secret.
Trump's life story illustrates just how little the wealthy paid in taxes even before the first #GOPTaxScam. Now, many House Republicans are trying to pass a second and more permanent one, all while shielding the president from the law.
P.S. – Want to know how this Trump bombshell relates to the Russia investigation? The Moscow Project has you covered.