Trump: "Our wages are too high."
It's another day in Trump's America—and another day to stand up for what's right. Get the facts to fight back.
That was one of then-candidate Trump's repeated sentiments during the 2016 general election: "Our wages are too high." It might have just seemed like an odd slip of the tongue—it wasn't.
The latest example: President Trump's top economic advisor, Larry Kudlow, came out against the "terrible idea" that is the federal minimum wage and vowed to fight any attempt to increase it.
Trump has already kept the minimum wage at a paltry $7.25 an hour. He's blocked Americans from getting the overtime pay they deserve. He's fought to dismantle unions at every turn.
The reason is simple: Keeping wages low means more money goes to profits at the top for people like him and Republican donors. It's no coincidence that under Trump, corporate profits have skyrocketed, while real wages for American workers have stayed flat as a pancake: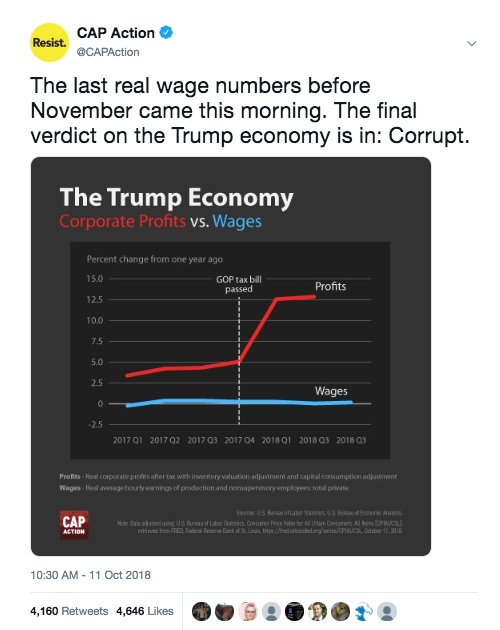 If the GOP stays in control for two more years, they'll keep doing everything they can to make sure Americans' wages don't increase. They'll come for our health care again. And that tax bill for themselves and their donors? They'll come to strip your Medicare, Medicaid, and Social Security to pay for it.
BIG PROGRESSIVE IDEA: END CHILD CARE DESERTS.
Did you know that many American families pay more for quality child care than for their mortgage? Infant and toddler child care deserts are everywhere, and they make it even more difficult for working parents to find suitable care for their children.
This is the kind of thing that a government working for the people, not against them, would be trying to solve.
A new report from the Center for American Progress breaks down just how pervasive the issue of shortages in child care options is in 9 different states.
How bad is it? Here's what they found:
There are more than 5 babies for each spot of licensed infant and toddler child care.
These shortages are especially pronounced in rural areas and counties with lower median family incomes.
More than 95 percent of the counties in this study would be classified as an infant and toddler child care desert.
The bottom line: "Policymakers should implement a comprehensive solution that ensures that working families can afford licensed child care, addresses the underpaid child care workforce, expands child care infrastructure, and guarantees that families can take the time they need to be with their newborns." Read the rest for a deeper dive.
THINKING CAP: AFTER A WEEK OF HATE, JEH JOHNSON ON WHY YOUR VOTE IS VITAL.
From racially motivated killings in Kentucky, to pipe bombs mailed to prominent officials, to murders in a Pittsburgh synagogue, the nation endured a particularly trying week.
In normal times, we might rely on our president to step in and serve as healer-in-chief—a task that past presidents of all political stripes have dutifully performed. But these are not normal times.
Five days out from the hugely consequential midterm elections, former secretary of homeland security Jeh Johnson joined the pod to break down the past week of hate, the ongoing threats to our election infrastructure, and the imperative of voting in the face of it all. Listen to the episode here.