How Trump's broken promises are hurting you
It's another day in Trump's America—and another day to stand up for what's right. Get the facts to fight back.
Trump's attacks on our health care and our wallets have serious consequences
Trump made big promises to American families, claiming he'd work for them, not the rich and powerful. Instead, he has attacked our health care and our wallets every day since he took office.
We're tracking Trump's broken promises—and how they're harming families like yours—on our new website, TrumpsBrokenPromises.org.
From lowering drug prices and protecting health care to saving manufacturing jobs and rebuilding our roads and bridges, Trump has failed to keep his word, and working families in every state are paying the price.
Share this tweet thread with your friends and family to spread the word.

Here are just a few examples of Trump's broken promises:
Health care: Trump promised to protect people with pre-existing conditions. Here's the reality: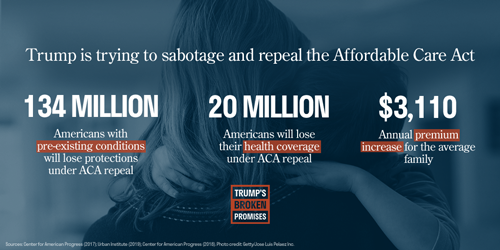 The Trump tax bill: Trump promised his tax bill would help working Americans. Here's the reality: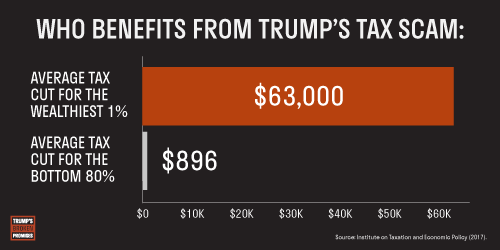 While Trump spends his time ranting on Twitter, golfing, and watching Fox News, his policies are hurting American families. Spread the word by sharing TrumpsBrokenPromises.org with your friends and family.
The Charleston church shooting: four years later

Four years ago today, a white supremacist entered the historically black Emanuel AME Church in Charleston and murdered nine congregants in a racist and targeted attack.
This marks the second time in less than a week that we've acknowledged the anniversary of a mass shooting. Meanwhile, 96 Americans die every single day from gun violence. That adds up to an average of 35,000 people a year.
When will it be enough for Senate Republican leaders to act?

It's been over 100 days since House Democrats passed two key bills to reduce gun violence. Senate Majority Leader Mitch McConnell refuses to allow a single vote on legislation to address gun violence.
One of those bills, H.R. 1112, is bipartisan legislation that would address the dangerous loophole that allowed the Charleston shooter to obtain his gun. The "Charleston Loophole" enables people prohibited from owning guns to purchase them before a background check is completed. For more information, check out this explainer.
Enough is enough. Call your senators today, and urge them to demand a vote on H.R. 1112: 202-224-3121