Trump's Broken Promises: Iowa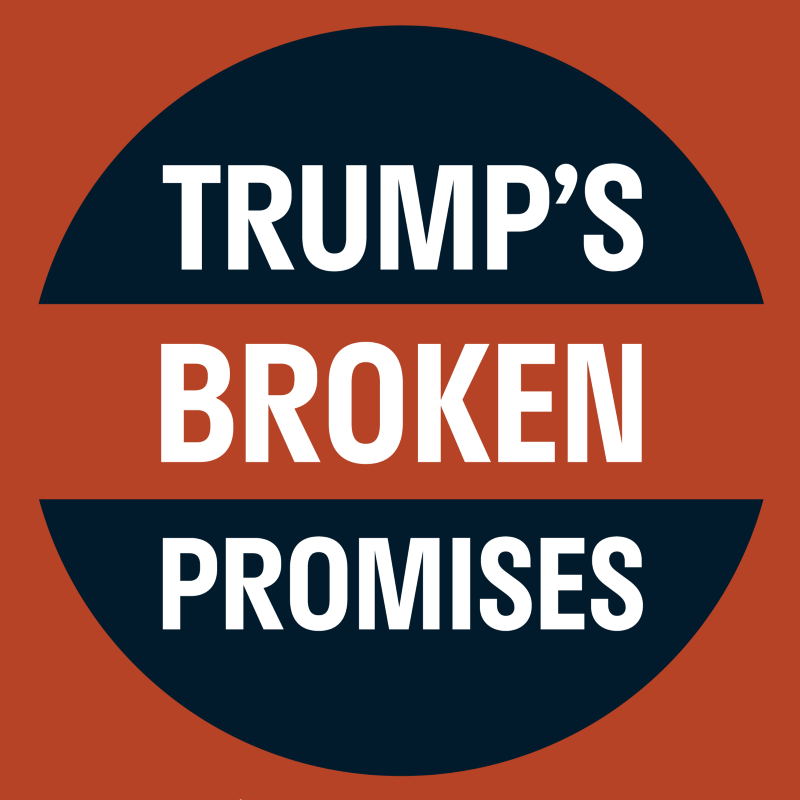 In September 2016, Donald Trump made a promise to a crowd in Clive, Iowa: "Prosperity will rise, poverty will recede, and wages will finally begin to grow, and they will grow rapidly."
In reality, the Trump administration is attacking the health care of millions of Iowans, worsening income inequality within the state, and wreaking havoc on Iowa farmers. In today's update, we highlight how the Trump administration's policies have hurt working-class families in the Hawkeye state.
Share this graphic on Facebook and Twitter to highlight how Trump's broken promises are a serious threat to Iowans' health care: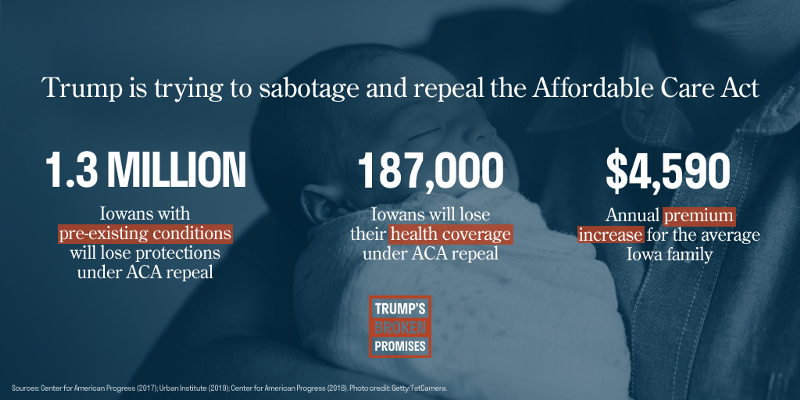 For more on the impacts of Trump's broken promises in Iowa and across the country, head to TrumpsBrokenPromises.org.
FIVE FACTS ON TRUMP'S RECORD IN IOWA
DEEP DIVE
HEALTH CARE
In November 2016, Donald Trump promised a crowd in Sioux City, Iowa, that he could "repeal and replace Obamacare and save health care for every family in Iowa." In recent months, however, the Trump administration has doubled down its commitment to stripping health care from millions of Americans without offering an alternative.
Because of the Trump administration's attacks on the Affordable Care Act, the average family of four in Iowa can expect to pay an additional $4,590 in premiums in 2019. If the ACA were completely repealed:
187,000 Iowans would lose coverage, causing the state's uninsured rate to increase by 126 percent.
1.3 million Iowa residents with preexisting conditions would face higher premiums or be barred from coverage altogether — a discriminatory practice that the ACA outlawed.
518,000 Iowans would face annual or lifetime cost limits on health care.
The state of Iowa would lose $1.4 billion in federal Medicaid funding.
Demand for uncompensated care — care provided to those who can't afford it — would increase by $684 million, placing a tremendous burden on hospitals and physicians.
And while many Iowans are forced to skip essential medications due to high costs, pharmaceutical companies spent billions on stock buybacks to enrich their own executives following the Trump administration's corporate tax breaks. The administration's proposed trade deal favors Big Pharma by effectively protecting these companies' monopolies on brand-name patents — stifling competition and preventing consumers from accessing lower-cost generic biologics.
CLIMATE CHANGE & INFRASTRUCTURE
The U.S. recently experienced its wettest 12 moths in recorded history, with Iowa — along with 17 other states — receiving record rain and snowfall. This spring, floods closed thousands of miles of highways and caused $12.5 billion in damage across the Midwest. Iowa communities have endured multiple '100-year floods' in a decade, and scientists expect the region to face more extreme weather in the coming years due to climate change.
Yet in a 2015 interview, Donald Trump said that he is "not a believer in man-made global warming."
Flooding in 2019 caused $1.6 billion worth of damage to infrastructure in Iowa. Current estimates put costs as follows:
$525 million to repair the state's levees;
$480 million to repair nearly 25,000 damaged or destroyed homes;
$300 million in business assistance; and
$214 million in agricultural assistance for farmers.
During this spring's floods, nearly 250 miles of Iowa's levees were destroyed or compromised, leaving communities along the Mississippi and Missouri Rivers exposed to rising waters. Without the levees' protection, areas remained inundated at flood stage for over 100 consecutive days.
The city of Hamburg, Iowa lost its water, sewer, and natural gas systems for weeks in March because it couldn't fund repairs for its 70-year-old levee following a previous flood. In Davenport, a riverside community with no flood wall, downtown businesses were flooded for weeks when temporary barriers failed.
As these events become more severe and frequent, Trump's failure to improve aging infrastructure has left Iowans needlessly vulnerable. As a candidate, Trump promised a $1 trillion federal investment to repair the nation's infrastructure, including its systems of dams and levees, which received D-ratings from the American Society of Civil Engineers. Yet even with two full years of a Republican-controlled Congress, Trump could not pass an infrastructure bill.
TRADE POLICIES
In September 2016, President Trump tweeted that he would "negotiate trade deals to help our farms, help them export their goods and make money doing it."
Instead, the Trump administration's trade policies have wreaked havoc on family farmers. Since Trump's inauguration, the number of chapter 12 bankruptcy claims filed in Iowa has spiked by 125%. Chapter 12 bankruptcy is unique in that it is available only to family farmers and family fishermen.
Profits for the farmers that do stay in business are shrinking, as the Trump administration continues to inflict economic damage through its disastrous trade policies. In Iowa alone, the federal government has paid $979 million to make up farmers' lost profits. But according to a new analysis of Department of Agriculture data by the Environmental Working Group, the subsidy payments — which come from an initiative known as the Market Facilitation Program — are excluding small and minority-owned farms. The analysis found:
54% of all MFP payments went to the top one-tenth of recipients.
Eighty-two individual farmers so far have received more than $500,000 in MFP payments.
The top 1 percent of MFP recipients have received, on average, over $183,000. The bottom 80 percent have received, on average, less than $5,000.
One individual farm in Charleston, MO, has received over $2.8 million through the MFP.
TAXES
Donald Trump promised to "lower the hell out of taxes for the middle class" to a crowd in Iowa in January 2016. As it turns out, the tax bill passed by the Republican-controlled Congress and the Trump administration is only exacerbating the problem of income inequality in Iowa.
The average tax cut for the wealthiest 1% in Iowa is $43,060, compared to $750 for the bottom 80%. Moreover, as a result of the Tax Cuts and Jobs Act, 188,000 households in Iowa either received no tax cut or experienced a tax increase after the law's passage.
CORPORATE PROFITS & WAGES
Two Iowa-based corporations, Principal Financial and Rockwell Collins, and 50 other Fortune 500 companies paid zero federal income taxes last year. Instead of spending this windfall to improve workers' wages or on capital investment — as the tax bill's supporters claimed the company would — Principal Financial announced a $500 million stock buyback program to enrich its executives and shareholders. The company then laid off employees, and it has warned workers to expect additional lay-offs this year, citing "challenging" financial performance.
The Trump administration has also taken away safeguards that ensure workers are paid overtime, protect retirees from exploitative financial advisors, and ensure that people pay less at the gas pump. An analysis from the Center for American Progress estimates that Iowans alone each year will lose:
$18 million in overtime wages;
$205 million in retirement savings; and
$78 million at the gas pump.
For more on the impacts of Trump's broken promises in Iowa and across the country, head to TrumpsBrokenPromises.org.
The positions of American Progress, and our policy experts, are independent, and the findings and conclusions presented are those of American Progress alone. A full list of supporters is available here. American Progress would like to acknowledge the many generous supporters who make our work possible.