Trump's Broken Promises: Labor Secretary nominee Eugene Scalia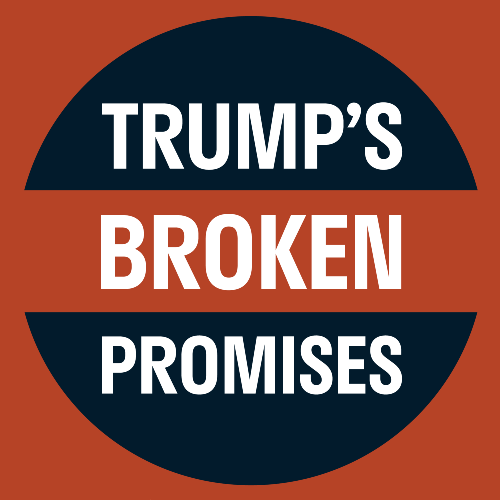 On April 27, 2016, Donald Trump stated that "the jobs, incomes, and security of the American worker will always be [his] first priority."
Yet by nominating Eugene Scalia to head the Department of Labor, he has proved once more that his loyalties lie not with the wellbeing of workers, but with maximizing profits for large corporations. In today's update, we highlight how the decision to nominate Eugene Scalia — a man who has spent his entire career fighting to strip workers of rights and enrich corporate behemoths — exemplifies how little the Trump administration cares about working Americans.
FIVE FACTS ON EUGENE SCALIA
Eugene Scalia, a partner at the law firm Gibson Dunn & Crutcher, was the counsel for the financial industry's lawsuit that resulted in a federal appeals court striking down the Department of Labor's fiduciary rule. As a direct result of Scalia's work, Americans are now at risk of receiving retirement investment advice that may not be in their best interest, costing them an estimated $17 billion annually.
In 2010 during the aftermath of the Great Recession, the Obama administration passed the Dodd-Frank Wall Street Reform and Consumer Protection Act, which was designed to prevent another financial collapse. By the end of 2012, Scalia had already filed six Dodd-Frank-related suits against the government on behalf of financial institutions, mostly on technicalities, meant to impede the law's implementation.
In the late 1990s and 2000s, UPS employees who suffered on-the-job injuries claimed that the company violated the Americans with Disabilities Act by not providing them with reasonable accommodations that would allow them to continue working. Scalia successfully argued in favor of overturning a lower court's ruling that certified the case as class action, which forced the plaintiffs to settle.
In a 2000 Wall Street Journal op-ed, Scalia railed against the Occupational Safety and Health Administration's "ergonomics" rule, stating that it would harm production levels by compelling employers to provide their workers with "more rest periods." In one of his most egregious cases, Scalia defended Ford Motor Co. against a complaint from a woman suffering from irritable bowel syndrome who requested permission to telework. Scalia's brief for the appellant noted that the woman declined to consider in conjunction or separately steps such as "[wearing] Depends."
As a student at the University of Virginia in the 1980s, Scalia wrote that gay parents were "in conflict with the traditional organization of society" and should not treated "as equally acceptable or desirable as the traditional family." When pressed about the piece, Scalia said he wouldn't make the same types of statements, though only because they would cause his friends and colleagues pain — not because he doesn't believe them. At a time when transgender workers live in poverty at a rate 41% higher and are unemployed at a rate 150% higher than the general population, appointing someone with such views to head the Department of Labor could seriously harm the already-precarious livelihoods of LGBTQ workers.
For more on how Trump has broken his promises, head to trumpsbrokenpromises.org.
The positions of American Progress, and our policy experts, are independent, and the findings and conclusions presented are those of American Progress alone. A full list of supporters is available here. American Progress would like to acknowledge the many generous supporters who make our work possible.