Trump's Broken Promises: Michigan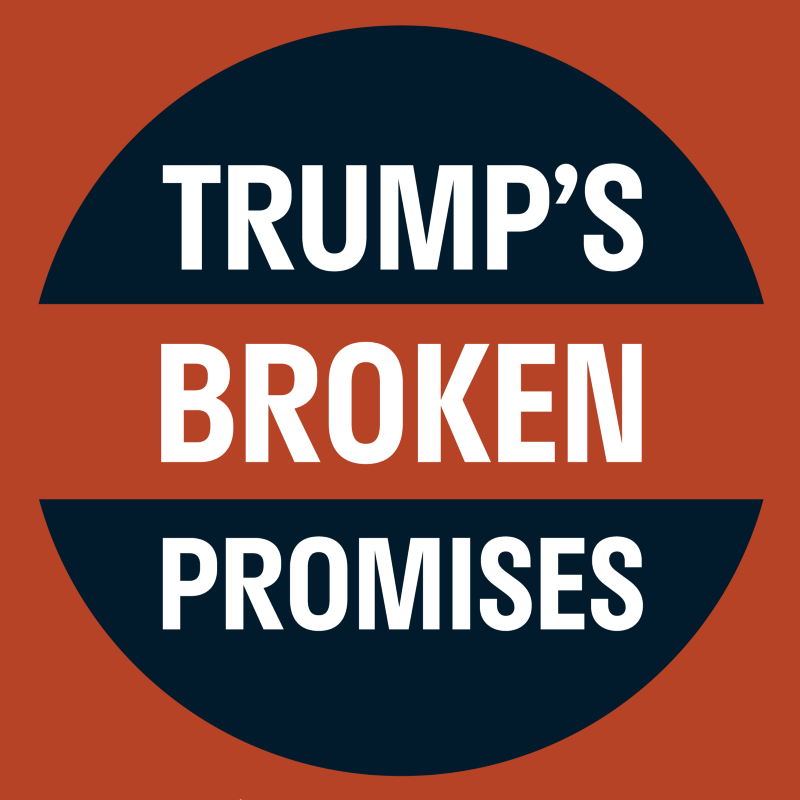 In October 2016, Trump promised Michigan voters, "you won't lose one plant… The long nightmare of jobs leaving Michigan will be coming to a very rapid end."
In reality, Michigan has lost thousands of auto manufacturing jobs under Trump, and GM is now set to close its Detroit-Hamtramck plant, costing the state up to 16,000 additional jobs. In today's update, we highlight how the Trump administration's policies have enriched the already-wealthy at the expense of working families in the Great Lakes State.
Trump's tweets and broken promises won't bring back jobs for thousands of Michigan autoworkers like Dnitra. Share her story on Facebook and Twitter.
FIVE FACTS ON TRUMP'S POLICY RECORD IN MICHIGAN
Michigan's manufacturing industry gained fewer jobs during Trump's first two years in office than in the last two years of Obama's administration. The Trump's administration's corporate tax breaks created loopholes that incentivize U.S. companies to outsource jobs.
The average family of four in Michigan can expect to pay an additional $1,590 in premiums this year due to Trump's efforts to sabotage the Affordable Care Act. As federal judges consider a Trump-backed lawsuit to repeal the entire ACA, the Trump administration has already made health care more expensive for Michiganders.
The opioid crisis kills Michiganders at a rate 30% higher than Americans overall. Michiganders die from drug overdoses at a rate of 27.8 per 100,000 residents, yet the Trump administration's ham-fisted approach to drug enforcement may be setting back efforts to stop the epidemic.
Michigan's agricultural sector lost over $193 million in profits due to Trump's trade war. As a result, net farm income in 2018 was down 16% from the previous year.
530,000 Michiganders receive drinking water from systems that violate the Safe Water Drinking Act. In the face of this crisis, Trump has proposed budget cuts totaling $600 million to water quality enforcement.
DEEP DIVE
MANUFACTURING
In March 2017, President Trump told an audience in Detroit, "I'm going to fight for Michigan workers. I'm going to fight to keep the automobile production in the United States of America, not outside — in the United States."
But Michigan's motor vehicle manufacturing sector has shed over 2,300 jobs since Trump took office, and the workers who have stayed on have lost on average $185 per week in wages. GM is set to close its Detroit-Hamtramck plant, costing Michigan up to 16,000 jobs, after raking in billions in profits and paying zero federal income taxes in 2018.
Make no mistake: Trump has not prioritized the interests of American workers. His corporate tax breaks include loopholes that encourage companies to relocate production and assets overseas. This year, foreign investors owning American corporate stock are expected to gain more financially from his tax cuts than all working-class taxpayers in the states that voted for Trump.
The tax cuts were designed to enrich the wealthy; the richest 1% of Michigan taxpayers will receive an average tax break 82 times larger than that received by the bottom 80% of Michigan earners.
HEALTH CARE
Trump stated in October 2016: "We are going to save health care for every family in Michigan." But in recent months, the Trump administration has continued efforts to take health care away from millions of Americans while offering no viable replacement plan.
As a result of the Trump administration's attacks on the Affordable Care Act so far, the average Michigan family of four can expect to pay an additional $1,590 in premiums in 2019. If ACA were repealed in its entirety:
720,000 Michiganders would lose health coverage, increasing the state's uninsured rate by 115%.
4.1 million Michigan residents with pre-existing conditions would face higher premiums or be barred from coverage altogether — a discriminatory practice that the ACA outlawed.
1.5 million Michiganders with employer-based coverage would face annual or lifetime cost limits on their care.
The state of Michigan, a Medicaid-expansion state with 2.3 million enrollees, would lose $5.1 billion in federal Medicaid funding.
Demand for uncompensated care — care provided to those who can't pay for it — would increase by $2 billion, placing a tremendous burden on government programs, hospitals, and physicians.
While Michiganders face the difficult decision to skip essential medications due to high costs, pharmaceutical companies spent billions on stock buybacks to enrich their own executives following Trump's corporate tax breaks. And Trump's proposed trade deal favors Big Pharma by effectively protecting these companies' monopolies on brand-name patents — stifling competition and preventing consumers from accessing lower-cost generic biologics.
OPIOID CRISIS
The opioid crisis killed 2,694 Michiganders in 2017, yet the Trump administration is dragging its feet to respond. According to the Centers for Disease Control and Prevention, Michiganders die from drug overdoses at a rate of 27.8 per 100,000 residents — nearly 30% higher than Americans overall.
Addiction is ruining lives in Michigan, yet more than two years into his presidency, Trump still hasn't appointed anyone to head the Drug Enforcement Administration. If the Trump-backed lawsuit to repeal the ACA and Michigan's Medicaid expansion succeeds, it will devastate treatment options for tens of thousands trying to overcome addiction.
TRADE WAR
In May of this year, President Trump tweeted in reference to the trade war with China that "our great Patriot Farmers will be one of the biggest beneficiaries of what is happening now."
Instead, Trump's trade war has forced his administration to compensate farmers for the economic damage his tariffs have caused. In Michigan alone, the federal government has paid $193 million in to make up farmers' lost profits. And while some large farming operations received hundreds of thousands of dollars, nearly 4,000 Michigan farms received less than $100 in compensation, and over 300 received less than $10.
Farmers' optimism surrounding Trump's tactics is waning, as net farm income in 2018 was down 16% from the previous year and is projected to $69 billion in 2019 — down 49% from its peak in 2013. Farm bankruptcies have spiked to levels not seen in a decade, and would-be Chinese consumers have started buying from Brazil and Russia instead.
More troublingly, tariffs aren't bringing in enough revenue to cover the payments made just to farmers harmed by the trade war: 130% of the tariffs is spent on compensating farmers for lost revenue.
INFRASTRUCTURE
In August 2016, Trump promised that "crumbling roads, bridges, and airports [would] be replaced with the infrastructure our country needs and deserves," but his administration has failed to provide meaningful investment.
Recent estimates show that more than 18 million people Americans receive drinking water from systems that violate lead and copper standards. In Michigan alone, 530,000 people receive drinking water from systems that do not comply with the Safe Water Drinking Act.
As communities across the country face public health crises due to aging infrastructure, Trump has proposed a 31% budget cut for the Environmental Protection Agency, the department responsible for monitoring water quality.
Michigan's communities of color would be especially affected by Trump's budget cuts. An EPA study released last year confirmed that people of color face disproportionate exposure to hazardous air and water pollutants. But the EPA's Environmental Justice Office, tasked with combatting environmental disparities, would be eliminated under the Trump administration's recent budget proposal.
The state's infrastructure challenges stretch beyond its water systems; Michigan is also home to some of the nation's worst interstate paving conditions, ranking 45th for urban areas and 41st for rural communities. Nearly 40% of Michigan's 120,000 miles of paved roadways is rated in poor condition, and more than 1,200 of the state's bridges are structurally deficient.
Yet even with two full years of a Republican-controlled Congress, Trump failed to pass an infrastructure bill to address any of these issues.
For more on how Trump's broken promises are impacting your state, head to TrumpsBrokenPromises.org.
The positions of American Progress, and our policy experts, are independent, and the findings and conclusions presented are those of American Progress alone. A full list of supporters is available here. American Progress would like to acknowledge the many generous supporters who make our work possible.