Trump's broken promises are threatening kids' lives
It's another day in Trump's America—and another day to stand up for what's right. Get the facts to fight back.
"I don't think he understands what kind of jeopardy it puts our kids' lives in."
Imagine: Your child is born with a serious preexisting condition. The Affordable Care Act's protections for those preexisting conditions are the only backstop that enables your child to get the health coverage they need.
Now, the Trump administration is actively fighting to rip that coverage away—even after promising to protect it.
For parents across the country, like Sarah, whose son Max has a rare neurological disorder, the Trump administration's failure to protect people with preexisting conditions is devastating.
Share this video on Facebook and Twitter to spread the word: Trump's broken promises have dangerous consequences.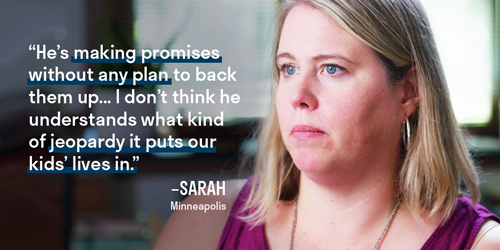 Every Trump ally in Congress should have to answer this question
"Is it acceptable for the president of the United States to ask a foreign country to investigate his political rival?"
The answer should be simple: NO. Yet Trump's allies in Congress refuse to condemn his extortion of a foreign government to interfere in our electoral process for his own political gain.
Take Senator Joni Ernst (R-IA), for example: When asked if she thought it's appropriate for Trump to ask a foreign power to investigate his domestic political opponents, Ernst refused to answer.
Her silence—and that of many of her colleagues—speaks volumes.
Share this video on Facebook and Twitter to hold Sen. Ernst and Trump's allies in Congress accountable: Will they stand with a president who extorts an ally to interfere in our elections on his behalf?