Trump's dangerous escalation with Iran
It's another day in Trump's America—and another day to stand up for what's right. Get the facts to fight back.
Trump ramps up Iran threats as American lives hang in the balance
After the Trump administration's strike killing Iranian Gen. Soleimani last week—and its apparent lack of any coherent strategy to deal with the fallout—Trump's Twitter feed once again put our national security at risk. Trump further escalated the threat of war by threatening additional attacks on Iran—including on Iranian cultural sites, which would likely be a war crime.
Share this article on Facebook and Twitter to get the facts out: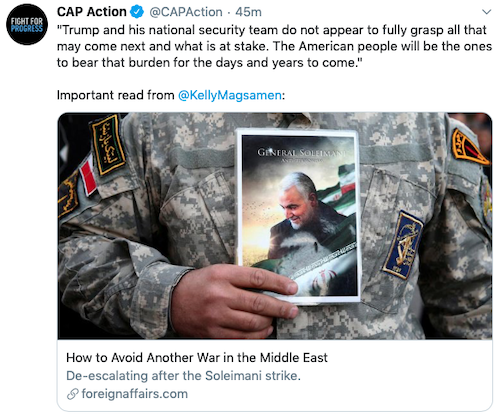 National security experts agree that Trump's actions have not made Americans safer, and that his administration owes the public and Congress an explanation ASAP: