Trump's desperation on display
It's another day in Trump's America—and another day to stand up for what's right. Get the facts to fight back
The White House letter to Congress was a desperate farce
Last night, Trump's White House sent a letter to Congress refusing to cooperate with the impeachment inquiry.
The letter was full of lies, but its message was clear: Trump is determined to obstruct any investigation into his impeachable abuses of power.
Trump can try to stonewall Congress all he wants, but we already know that he committed impeachable offenses: he admitted it in his own words. He undermined our national security and asked foreign governments to interfere in the 2020 elections.
Share this thread to make it clear: Congress must hold Trump accountable for his betrayal of the Constitution and his oath of office.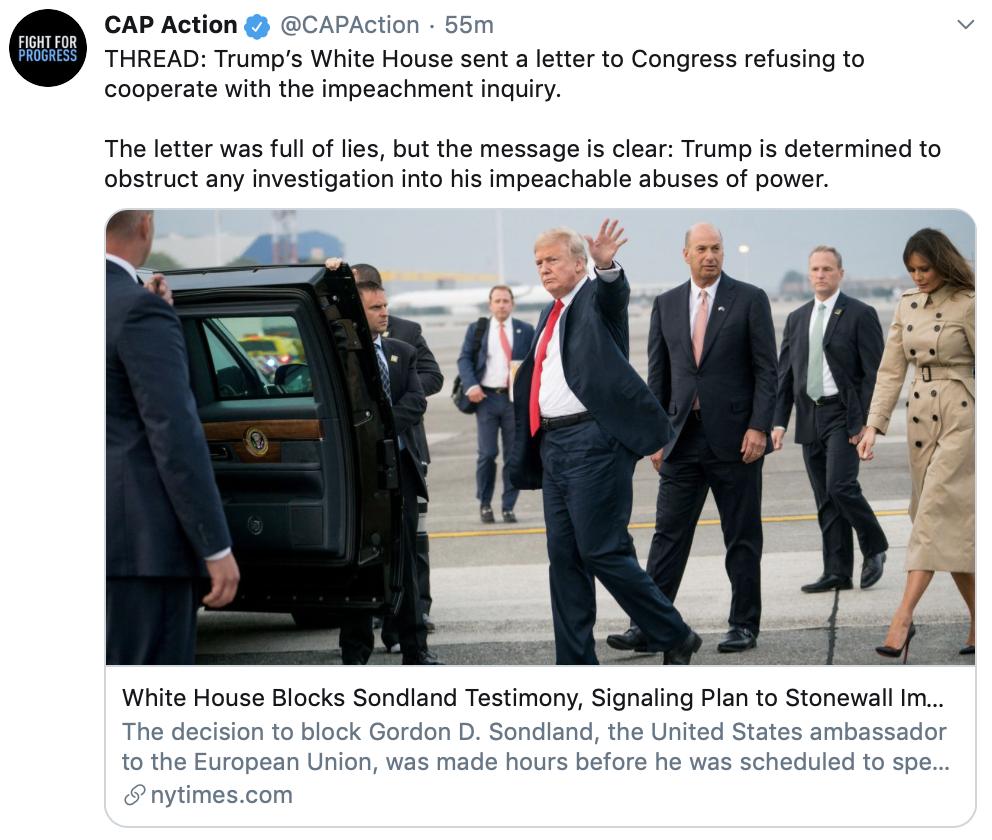 We fact-checked a few of the most flagrant lies in Trump's letter to Congress:
Impeachable offenses: Trump is still adamantly—and absurdly—claiming that he did nothing wrong, when we know from the White House's Ukraine call memo that he extorted a foreign power to interfere in the 2020 election.
Massive cover-up: Trump falsely claimed that he's been transparent. That couldn't be further from the truth. He, his White House, the State Department, and the Department of Justice have engaged in an extensive cover-up of his extortion campaign.
Threats: The White House claimed, with zero evidence, that government officials are being bullied. In reality, Trump threatened the first whistleblower: "You know what we used to do in the old days…[We] used to handle it a little differently than we do now."
Lies and distraction: Trump lied, bogusly claiming that the impeachment inquiry is a "naked political strategy" to overturn the 2016 election. Here's the reality: The investigation is about Trump extorting a foreign leader to interfere in the 2020 election.
The Constitution: Trump falsely claimed that the impeachment inquiry "lacks any legitimate constitutional foundation." Stopping foreign interference in U.S. affairs is one of the key reasons why the founders included the impeachment clause in the Constitution in the first place.
The positions of American Progress, and our policy experts, are independent, and the findings and conclusions presented are those of American Progress alone. A full list of supporters is available here. American Progress would like to acknowledge the many generous supporters who make our work possible.