U.S.-China, 40 Years After Nixon
Then as Now, the Bilateral Relationship Poses Challenges and Opportunities
Jacob Stokes and Nina Hachigian take a look at how progressives and conservatives view China today.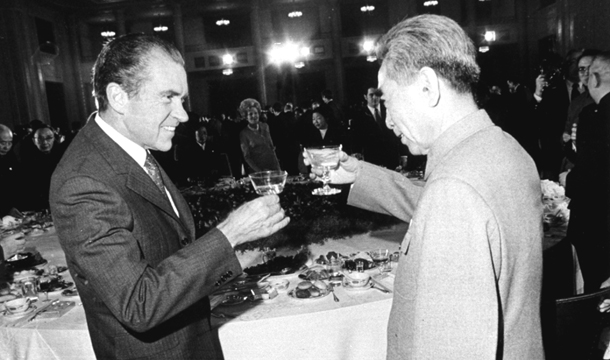 Today marks the 40th anniversary of President Richard Nixon's historic trip to China, a bold feat of diplomacy that changed the strategic orientation of two superpowers. That milestone should prompt policymakers today to consider, as President Nixon did then, both the challenges and the opportunities inherent in the U.S.-China relationship. While progressives demonstrate a capacity to look at both, today's conservatives tend to focus solely on the challenges and offer shortsighted responses.
Many conservatives, including most of the candidates for the Republican presidential nomination hoping to challenge President Barack Obama in this election year, are talking tough on China—a tactic designed to chip away at the president's high poll numbers on national security issues and distract from congressional obstructionism on key steps to improve our economic competitiveness at home.
Hostile approaches to China play well on the conservative campaign trail. Already the election has seen the two top candidates for the Republican nomination, former Massachusetts Gov. Mitt Romney and former Pennsylvania Sen. Rick Santorum, fighting about how quickly each would take actions that could result in a trade war. Or consider the conservative candidate for the U.S. Senate using racially tinged advertisements to scaremonger around Chinese ownership of U.S. debt. Most recently, in The Wall Street Journal, Romney warned of a China that's "a prosperous tyranny," saying such an outcome "will increasingly pose problems for us, for its neighbors, and for the entire world."
In contrast, the Obama administration's approach is steady, clear-eyed, and focused on results. The administration's bilateral relationship with China focuses on three objectives: building areas of cooperation; dealing directly and consistently with differences; and managing problems. The administration over the past three years worked closely to build a regional strategy in Asia, in close cooperation with friends and allies, to ensure that as China grows, it contributes to peace and stability and follows the rules of the international system.
This progressive stance offers the best approach to dealing with China. The reason: For the foreseeable future, China will be both a partner and a rival. Our policymakers in the executive and legislative branches have to play the long game, ensuring our strategies vis-à-vis China make sense not only for this week and this year but also for this decade and beyond. Fostering a working relationship with China requires a steady hand and a concerted effort to refrain from overheated tirades and knee-jerk responses.
A successful working relationship with China will serve American interests in creating jobs and sustainable economic growth. That's why the administration played host to Chinese Vice President Xi Jinping, the man in line to be China's next leader, for his American tour earlier this month. That focus on building strong diplomatic ties has not precluded the administration from bringing more major trade actions against China than any of its predecessors.
Steady U.S.-China relations will also promote stability in the Asia-Pacific region and security for the global commons. And it will enable both nations to help address transnational problems such as climate change, pandemic disease, energy security, and terrorism. The challenge for the United States is to work with China's leaders and the Chinese people to press them to make responsible choices that contribute to stability, prosperity, peace, and respect for human rights.
For their part, the American people do not want an antagonistic relationship with China. In a poll conducted at the end of 2011, 7 out of 10 U.S. respondents said strong relations between the United States and China are "somewhat" or "very" important. While Americans are rightly concerned with Chinese economic policies, when asked to choose in a 2010 poll whether to undertake friendly cooperation and engagement with China rather than actively working to limit the growth of China's power, more than two-thirds of those surveyed thought that the United States should pursue friendly engagement.
Still, Americans tend to see China through the prism of our economic hard times. A recent poll showed that 53 percent of Americans think China is the "leading economic power in the world today," compared with just 33 percent who said they believed America holds that spot. This is despite the fact that China's economy runs a distant second to that of the United States. In fact, China is not about to eclipse or "overtake" the United States anytime soon. China's rise does not portend American decline. Nor does it presage another Cold War conflict between two nations.
Moreover, China's future is not as certain as it might seem. China has its own share of problems—enormous problems. China has a shocking, disastrous lack of clean water. It faces a potentially devastating real-estate bubble. It has a future aging crisis that's been called a "demographic tsunami." And then there's China's political system, which is brittle and riddled with corruption. The Chinese people are demanding solutions to these problems—demands that are leading to thousands of local protests that the government works hard to keep from coalescing. Officials have been brutally suppressing any challenge to their authority that threatens to escalate—artists, lawyers, academics, and others have been targeted.
While these actions are loathsome, in the broad strategic realm, America should not seek to begin another Cold War or "contain" China. In fact, "only China can contain China," observes Joseph Nye, the former dean of Harvard University's Kennedy School of Government, by engaging in behavior that undermines the security of the region. This point is crucial—China's own behavior will determine whether other nations in the region and around the world will celebrate or defend against China's rise.
This means the way forward for the United States is to combine strong and forward-looking bonds with our Asian allies old and new with a strong relationship with China. The United States should welcome China's rise while at the same time insisting that China adhere to internationally accepted rules and norms of behavior at home and abroad.
As President Nixon had the strategic foresight to understand, no amount of posturing can make China go away.
Jacob Stokes is a policy analyst at the National Security Network. Nina Hachigian is a Senior Fellow at the Center for American Progress Action Fund.

The positions of American Progress, and our policy experts, are independent, and the findings and conclusions presented are those of American Progress alone. A full list of supporters is available here. American Progress would like to acknowledge the many generous supporters who make our work possible.
Authors Nina Hachigian
Senior Fellow