Under Trump, billionaires cash in while millions lose jobs
This piece was originally published in the June 16, 2020 edition of CAP Action's daily newsletter, the Progress Report. Subscribe to the Progress Report here.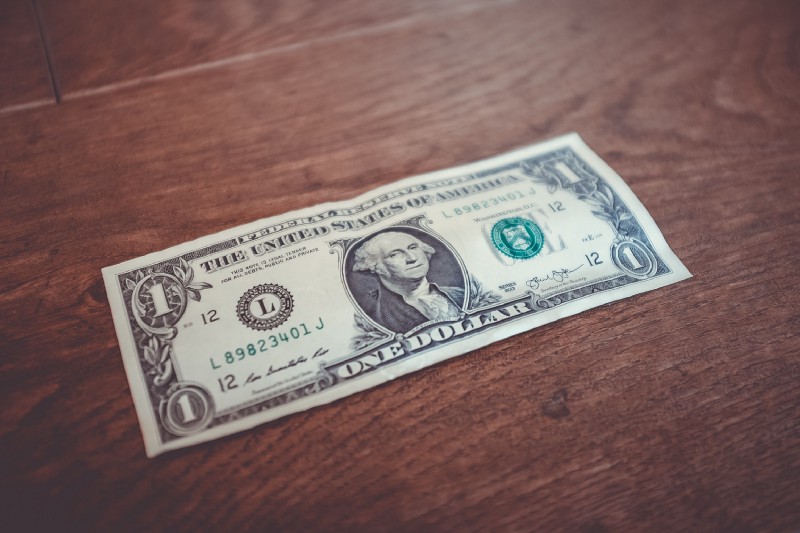 "WOEFULLY INADEQUATE."
— Vanita Gupta, former head of the DOJ's Civil Rights Division, reacting to Trump's new executive order on policing
This is Trump's economy: Billionaires are getting richer during the coronavirus pandemic while millions of hard-working Americans lose their jobs.
Watch the full video, then share it on Twitter and Facebook to get the facts out: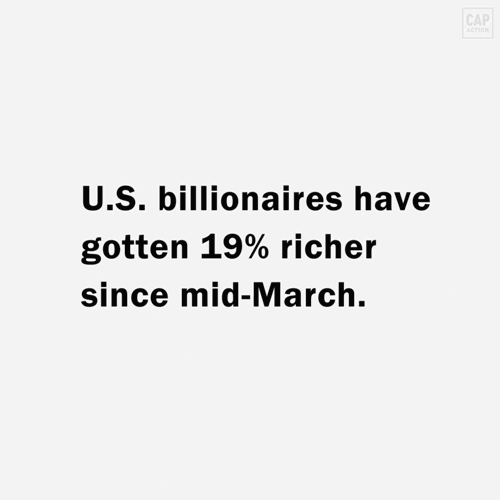 In keeping with the Trump administration's history of putting the interests of billionaires over the needs of working people, Treasury Secretary Steve Mnuchin is refusing to disclose which companies received taxpayer dollars from the largest small business relief program in our country's history. When the Paycheck Protection Program (PPP) was first rolled out, a handful of high-profile companies that aren't exactly "small" businesses — think Ruth's Chris Steak House and Shake Shack — were revealed to have received funding from this program intended to prevent small businesses from crumbling under the economic pressure of the pandemic.
Thankfully, those two companies ultimately returned the money after days of sustained public pressure. But until we have a full list of PPP loan recipients, we can't hold the Trump administration accountable for potential self-dealing or conduct proper oversight of who is benefitting from this massive sum of money.
The consequences of the Trump administration's failure to properly distribute more than $500 billion of small business aid are dangerous. A new report indicates that 95% of Black-owned businesses were excluded from the program. At the same time, another report is predicting 40% of all Black-owned businesses won't recover from the impact of the pandemic. Meanwhile, Trump donors and insiders benefitted while Black business owners suffered.
IN THE NEWS
Flanked by mostly white and entirely male police union chiefs, Trump took to the Rose Garden this afternoon to sign an executive order on police reform. The order has been heavily criticized by experts across the board for its failure to address critical issues around police accountability and institutional racism. The executive order failed to provide concrete steps to improve police accountability, including a provision that bans the use of chokeholds but also provides an exception for an officer who feels their life is in danger — effectively nullifying the provision. In addition, Trump failed to address the issue of racism during the speech. Instead, he chose to focus on the idea of "a few bad apples" rather than focusing on the lives lost to police violence and the need to change many underlying policies and practices within law enforcement departments.
In a speech before signing the executive order, Trump issued a wholehearted defense of the police, insulted protesters, and lied a number of times. He falsely claimed that President Obama "never even tried to fix" police violence; on the contrary, the Obama administration released a 116-page report from the President's Task Force on 21st Century Policing and initiated 20 agreements and 20 new investigations into law enforcement agencies. Trump also gave a nod to his fellow Confederate sympathizers, using a racist dog-whistle in suggesting we "build upon our heritage, not tear it down," an apparent criticism of efforts to take down Confederate monuments across the country.
Trump and his allies keep lying to the American people about the coronavirus in an attempt to cover up the administration's failed management of the crisis. Yesterday, Trump flat-out said that "if we stop testing right now, we'd have very few cases, if any." Then, during his speech today, he reiterated his desire to quickly reopen the country despite reports of rising new coronavirus cases and expert warnings that another surge is imminent. Mike Pence followed suit, urging governors to echo his false claim that increased testing is the reason for spikes in cases and penning an op-ed today titled "There Isn't a Coronavirus 'Second Wave.'" Let's get the facts straight: the pandemic is not over.
IN CASE YOU MISSED IT
A 19-year-old Black Lives Matter protester was found dead in Florida on Saturday. Oluwatoyin "Toyin" Salau, who friends describe as a self-taught artist and passionate activist, went missing a week earlier. On the day of her disappearance, Salau tweeted that she had been sexually assaulted by a man who'd offered her a ride. While police have arrested a suspect, it's unclear if he is the person who reportedly assaulted her. In a video circulating online, Salau can be seen giving a powerful speech at a recent protest demanding justice for Tony McDade, a Black trans man killed by police in Tallahassee.
Trump keeps running Facebook ads full of outright lies, according to an independent analysis by some of the company's own fact-checking sources. Facebook won't be acting on this any time soon, unfortunately, as they refuse to hold political ads to the same fact-checking standards as other ads.
The House will vote on a bill to make Washington, D.C. the fifty-first state this month. Although the bill has the support of Democratic leadership, the self-declared grim reaper Mitch McConnell is likely to strike again when the bill reaches the Senate. He and his Republican allies are apparently against the idea of extending our democratic values to the thousands of residents of our nation's capital.
WHAT WE'RE READING
Support the Okra Project's work to provide home-cooked meals to Black trans people by donating here.
Note: This is not a donation to CAP Action. We make no warranties regarding the tax deductible status of donations made to this link.
The positions of American Progress, and our policy experts, are independent, and the findings and conclusions presented are those of American Progress alone. A full list of supporters is available here. American Progress would like to acknowledge the many generous supporters who make our work possible.