A uniquely American crisis
It's another day in Trump's America—and another day to stand up for what's right. Get the facts to fight back.
We're the only wealthy country in the world with this problem
96 people are killed by guns every day in the U.S. That's a total of about 35,000 people each year—25 times higher than in other developed countries. After this weekend's spate of gun violence, other countries are even issuing warnings about travel to the U.S.
Why? As Brian Klaas, a political scientist and Washington Post columnist, said in a tweet this morning: "Specifically, it's the fault of Republicans who refuse to act and are blocking common sense gun safety reforms."
More Americans will die because Trump, McConnell, and NRA-beholden Senate Republicans refuse to take action to stop this senseless violence.
Share this video to hold Republican lawmakers accountable: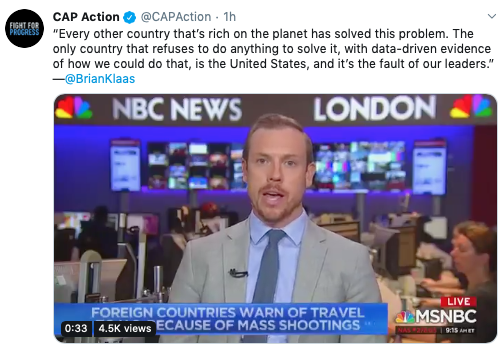 Republicans have made it clear that they won't take meaningful action to reduce gun violence. So, progressive leaders have—for decades—stepped up instead. Here are just a few of their plans: