Vital medications or your bills
It's another day in Trump's America—and another day to stand up for what's right. Get the facts to fight back.
Trump is forcing Americans to choose
No one should have to choose between the medication they need and paying their bills. Because Trump broke his promise to lower drug prices, people like Susie Christoff are forced to face that choice every day.
Susie has psoriatic arthritis, leaving her in constant pain that only a $3,000/month medication can alleviate. Like many Americans, Susie has to choose between the medication that gives her relief or wiping out all of her retirement savings to pay for it.
Watch and share Susie's story on Facebook and Twitter, because everyone should know the devastating impacts Trump's broken promises are having on Americans: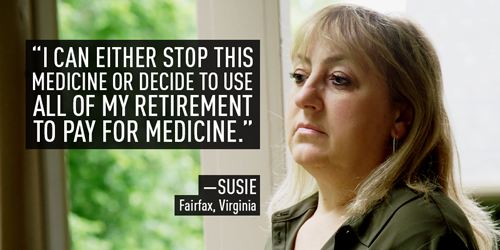 Trump's broken promises: Drug prices
As a candidate in 2016, Trump promised to lower prohibitively expensive drug prices. Instead, he gave Big Pharma a massive tax break and helped 23 health care company CEOs earn more than $632 million in 2018.
Meanwhile, millions of Americans are struggling to afford medications as drug prices skyrocket. Americans are dying on Trump's watch. Learn more about how Trump's broken promises are hurting American families at TrumpsBrokenPromises.org.