Who wants to ban assault weapons? Nearly everyone
It's another day in Trump's America—and another day to stand up for what's right. Get the facts to fight back.
So why do McConnell and Senate Republicans refuse to act?
Americans across the political spectrum overwhelmingly support banning assault weapons, which one study showed are responsible for "86% of the 501 fatalities reported in 44 mass shooting incidents" in the U.S. between 1981 and 2017. According to a recent POLITICO poll, 70% of Americans, including 54% of Republicans, are in favor of the common-sense measure.
Trump's claim in the wake of the El Paso and Dayton shootings that there's "no political appetite" is simply false. When Trump and Republicans claim that there isn't public support for an assault weapons ban, what they really mean is there's not support from their NRA donors—even gun owners overwhelmingly support a ban!
Share this graphic on Facebook and Twitter to spread the word: Americans across the political spectrum want to take weapons of war off our streets.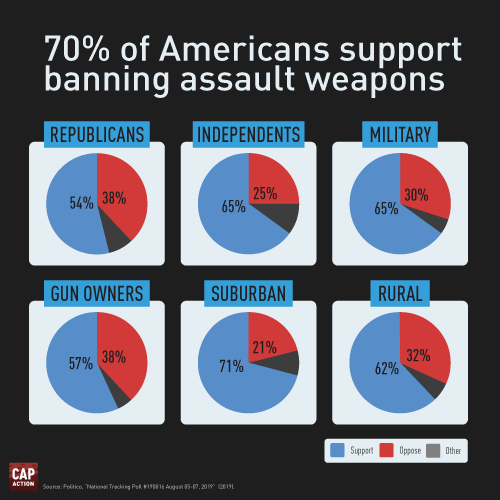 Banning assault weapons works: Assault weapons (semi-automatic firearms with additional functional features) are massively destructive. When combined with high-capacity magazines, as they often are, they're even more deadly. As the Gun Violence Prevention team at the Center for American Progress explained in a recent report, "a growing body of research finds that the federal assault weapons ban—though only in effect for 10 years—had a positive impact on reducing both the use of assault weapons in crimes and the numbers of firearm injuries and fatalities in mass shootings."
NRA influence: The NRA is leveraging its influence over Trump and Republicans to make sure assault weapons bans and other gun violence prevention measures don't become a reality. In the days after the El Paso and Dayton shootings that left 31 people dead, NRA President Wayne LaPierre was in constant contact with Trump, pushing the NRA's platform and lobbying against actions like background checks. It's no surprise that McConnell refuses to bring any meaningful legislation to the floor, considering he has received $1.3 million in campaign contributions from the NRA.
False arguments won't fly: Retailers who refuse to stop selling weapons of war because they think it will damage their profits should take note: Dick's Sporting Goods removed guns from its stores and just saw its best earning quarter in three years.
Democrats are taking action on gun violence: House Democrats already passed two key bills to address the gun violence epidemic. McConnell refuses to bring either up for a vote in the Senate. Now, 2020 candidates and Democratic lawmakers "are either calling to reinstate the [assault weapons] ban or are pressing for a new one." The House Judiciary Committee is returning from recess early next week to work on legislation that would ban high-capacity magazines and will hold a hearing on assault weapons on September 25.
The positions of American Progress, and our policy experts, are independent, and the findings and conclusions presented are those of American Progress alone. A full list of supporters is available here. American Progress would like to acknowledge the many generous supporters who make our work possible.