Welcome to McConnell's judge factory
This piece was originally published in the October 26, 2020 edition of CAP Action's daily newsletter, the Progress Report. Subscribe to the Progress Report here.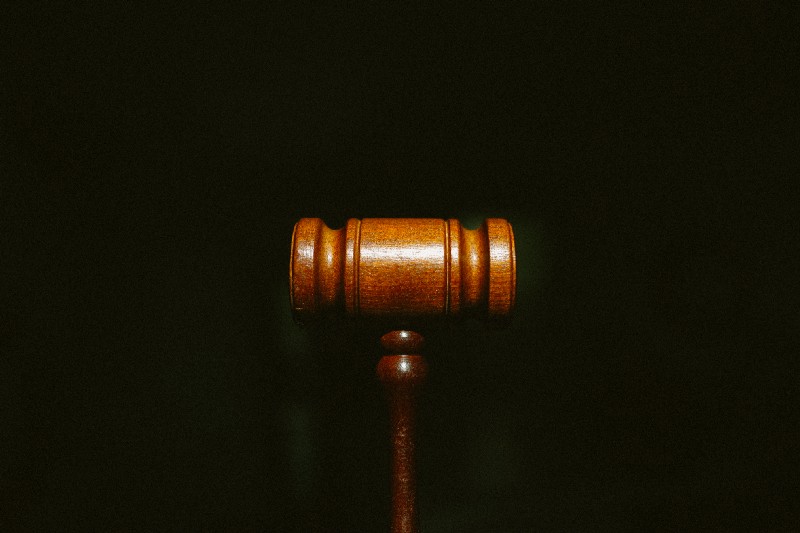 "No legislating is going on. We're just a little factory that approves federal judges."
— Brian Schatz on how Mitch McConnell has run things in the Senate
With each rally, Trump is recklessly endangering thousands of Americans across the country.
Chaos has a price. Share this on Twitter and Facebook to get the facts out: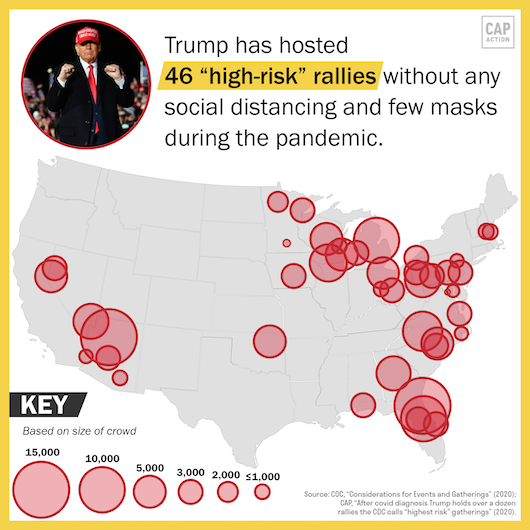 IN THE NEWS
On Sunday, the United States reported its highest seven-day average — 68,767 — of new daily coronavirus cases since the pandemic began. This news further confirms experts' fears that the U.S. would experience a "third peak" in COVID-19 infections as we enter colder months — although, to be honest, it feels like the first peak never ended. The national death toll has surpassed 226,000, and more than 83,000 new cases were reported on both Friday and Saturday.
Trump's Chief of Staff Mark Meadows just said the quiet part out loud. In an interview with CNN yesterday, Meadows made it clear that the White House appears to have little interest in trying to contain the spread of the coronavirus, telling Jake Tapper that "we are not going to control the pandemic." Meadows proceeded to double down, explaining that Trump's focus is on post-infection treatments rather than stopping the spread in the first place.
The Senate is set to confirm Amy Coney Barrett to be the next Supreme Court justice tonight. We all know what's at stake here: Health care, reproductive justice, voting rights, and even the outcome of next week's election. But despite all that hangs in the balance, Senate Republicans have once again failed to muster any remaining shred of shame or dignity that might be hanging around. They are expected to vote nearly unanimously to confirm Barrett. They think they can override the will of the American people, but the American people will have something to say about that soon enough.
Five members of Mike Pence's inner circle, including his chief of staff, have tested positive for coronavirus over the last few days. Pence was slated to preside over tonight's Senate vote, but he reversed course this afternoon after requests from Senate Democrats that he not attend. He is, however, still holding packed, in-person campaign events as of this afternoon.
Because history inevitably repeats itself, the White House is planning another crowded outdoor event to celebrate Amy Coney Barrett's confirmation. And by history, we mean [checks notes] exactly one month ago today. It seems Republicans haven't learned their lesson from the infamous superspreader event in the Rose Garden last month which resulted in dozens of attendees (including, we suspect, Trump) contracting COVID-19. We can only hope the non-political White House staff who have no choice but to work this event don't get infected in the process.
IN CASE YOU MISSED IT
With just over a week until Election Day, Trump stopped in Pennsylvania today for three non-socially distanced rallies. As is the case in 42 states, coronavirus cases are on the rise across the Keystone State. Trump's insistence on holding rallies across the country, including 10 in-person rallies last week and 19 this month, continues to demonstrate his dismissal of the pandemic and puts American lives at risk.
In her interview with 60 Minutes that aired last night, Kamala Harris was asked if she believes Donald Trump is a racist. Her answer, of course, was yes. But that question is starting to get a little tired considering everything Trump has said and done that proves Harris's point. If this discussion feels familiar, that's because it is: This isn't the first time in recent memory that a Democratic woman of color has been asked this question on 60 Minutes.
In his own portion of last night's 60 Minutes, Trump was asked about his lawsuit to overturn the Affordable Care Act and protections for people with preexisting conditions. When pressed repeatedly by Lesley Stahl, he finally answered bluntly, saying "I hope they end [the ACA]. It'll be so good if they end it." Shortly afterwards, Trump complained about the questions being "unfair" (they were not) and abruptly cut the interview short.
Vox is out with a new report that details the infuriating and far-reaching extent to which racism has propelled the spread of this pandemic. Not only have Black and brown Americans been disproportionately impacted by the pandemic, the report says, but the ways in which racism has worsened their outcomes have actually made outcomes worse for everyone else, too. This isn't a new concept. As Jeneen Interlandi discussed in last year's 1619 Project, our country has a history of actively suppressing policies that would benefit people of all races simply because they would uplift Black folks in the process.
WHAT WE'RE READING
Like the Progress Report? Our team relies on the support of grassroots progressives like you. Chip in $5 or whatever you can to power our work.
The positions of American Progress, and our policy experts, are independent, and the findings and conclusions presented are those of American Progress alone. A full list of supporters is available here. American Progress would like to acknowledge the many generous supporters who make our work possible.